Independent TD Mattie McGrath and Senator Rónán Mullen say they are actively considering whether there is any point in them remaining on as members of the Joint Oireachtas Committee on the Eighth Amendment.
In a statement this afternoon, they said the committee's work has become "skewed in favour of abortion".
Committee chairperson Senator Catherine Noone said this evening that the committee has been run impartially at all times.
She said that both Mr McGrath and Mr Mullen have been given extra time to speak at meetings on several occasions.
They said: "Over 20 groups and individuals pushing for abortion have been invited before the committee while only a handful of pro-life people have been invited.
"It's a disgrace that the multi-million dollar US Center for Reproductive Rights was invited to the committee but not a single person representing people saved by the Eighth Amendment got called up."
They said: "The Citizens' Assembly never considered for a second the positive and life-saving impact of the Eighth Amendment and now the Oireachtas is shirking its responsibility too."
They added: "We regret saying it but it's hard to argue with those who describe this entire process as a propaganda exercise in favour of abortion."
They have described the atmosphere as unfriendly and Mr McGrath said he was called a liar by a female TD last week.
The two politicians also said they feel that they do not get enough time to examine speakers appearing before the committee.
Mr McGrath said that he "didn't have much confidence" in Senator Noone.
They said it is their honest view that the credibility of the committee cannot be restored and called on the Taoiseach to intervene to ensure fairness at the committee hearings.
Senator Jerry Buttimer earlier urged Mr Mullen and Mr McGrath not to leave the committee.
Mr Buttimer, one of the members of the Joint Committee on the Eighth Amendment, urged all committee members not to undermine its work and allow a respectful debate continue.
Speaking on RTÉ's News at One, Senator Buttimer said that the committee under its chair, Senator Noone, has been "very fair and impartial" and managed time fairly in the questioning of all sides.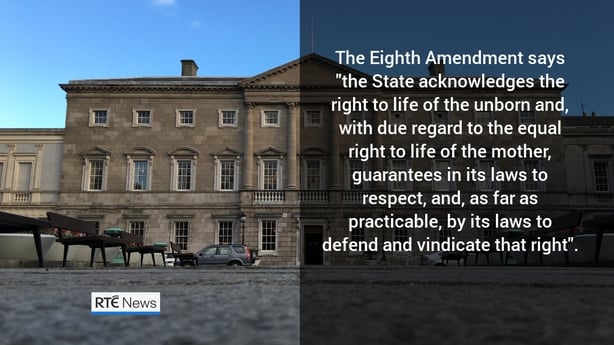 All members had been asked to submit a list of potential witnesses, he said, allowing them to have a discourse in who comes before the committee.
He said it is a "very complex and contentious issue and we must have a respectful debate".
Senator Buttimer said it is too early to pre-empt the outcome of the committee's hearings.
He said the selection of witnesses reflected the many different viewpoints that must be heard.
He described the process as fair and interactive, adding the quality of witnesses "has been exemplary".
Speaking on RTÉ's Drivetime, Mr McGrath said: "We are considering our positions in the hope that the chair and the secretariat and all of the committee members will have decent respect for all views.
"I'm on three other committees in the House. Everybody is allowed speak and there's decorum.
"There's no decorum in here. When we speak, we're ridiculed. There's sneers and there's all kind of undermining."