California fire officials have confirmed that the death toll from wildfires raging across the state has risen to 29.
Authorities have warned that the casualty count from more than 20 fires raging across eight counties could rise, with hundreds of people in Sonoma County alone still listed as missing.
Firefighters struggled to halt the spread of the fires as dry, gusty winds threatened to push flames into the evacuated town of Calistoga.
Nearly two dozen fires spanning eight counties have raged largely unchecked since igniting on Sunday, leaving hundreds of residents unaccounted for.
The National Weather Service has warned of persistent "critical fire weather conditions" in the area for the next three days, with no rain expected and dry winds from the north with gusts upward of 55 km/h.
The deadliest of California's blazes, known as the Tubbs fire, was within three kilometres of Calistoga, a community in the world-renowned Napa Valley wine country whose 5,000 residents were told to leave their homes yesterday.
Whether the town burns "is going to depend on the wind, "Calistoga's Fire Chief Steve Campbell said.
"High winds are predicted but we have not received them yet."
In Pictures: California wildfires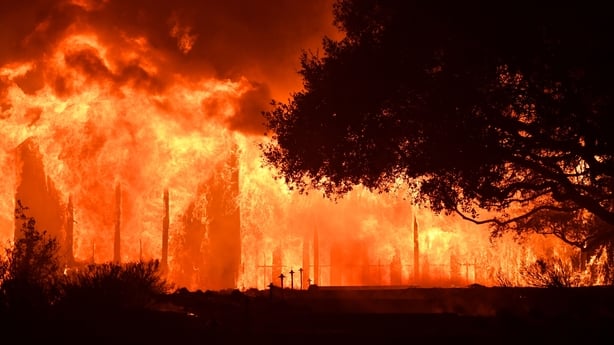 This surreal drone footage shows a postman in California delivering mail, in a neighbourhood destroyed by fire, at the request of locals pic.twitter.com/vcFzsBkZmj

— RTÉ News (@rtenews) October 12, 2017
"The Tubbs Fire has made slow progress to this point but significant winds are still forecasted," the city said in an online alert.
Flames were spread rapidly by hot, dry "Diablo" winds - similar to Southern California's Santa Ana winds - that blew into northern California toward the Pacific on Sunday night.
New evacuations also were issued in Sonoma County late yesterday for parts of Santa Rosa, the largest city in the wine-producing region, and Geyserville, an unincorporated town of 800 people.
The fires already have charred about 170,000 acres of land and destroyed some 3,500 buildings.
Neighborhoods have been reduced to ash, charred trees and burned-out cars.
While their cause has not been determined, the blazes are thought to have been sparked by power lines toppled by gale-force winds and fanned by arid winds that blew into Northern California toward the Pacific.
Wildfires have damaged or demolished at least 13 Napa Valley wineries, a vintners' trade group said on Tuesday.
About 25,000 people remained displaced as the fires belched smoke that drifted south over the San Francisco Bay area, where some residents donned face masks.
More than 285 people still were missing in Sonoma County late last night, the sheriff said on Twitter.
It was unclear how many might be fire victims rather than evacuees who had not checked in with authorities.
The Tubbs fire, which has accounted for 13 of the deaths, is the worst single blaze since 2003, according to state data.
In addition to high winds, the fires have been stoked by an abundance of thick brush left ready to burn by a dry, hot summer.
California Governor Jerry Brown has declared a state of emergency in several northern counties, as well as in Orange County in Southern California, where a fire in Anaheim destroyed 15 structures and damaged 12.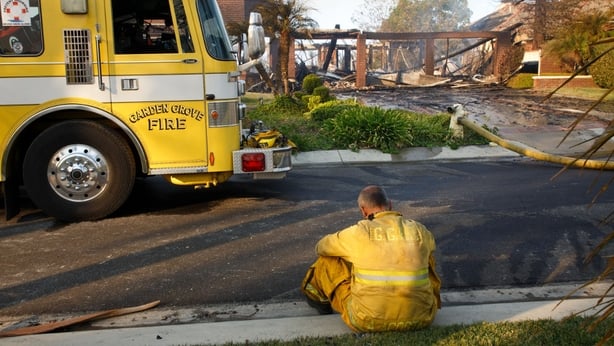 Officials urged displaced residents to let their family members know they were safe.
The Sonoma County town of Santa Rosa, the largest city in the wine country region, was particularly hard hit by the Tubbs fire.
Blocks of some neighbourhoods were nearly obliterated with nothing left but charred debris, broken walls, chimneys and the steel frames of burned-out cars.
In the town of Napa on the first night of a blaze dubbed the Atlas fire, nearly 50 people who were in danger of being overrun by flames were rescued by the crews of two California Highway Patrol helicopters.
The weather gave firefighters a bit of a respite on Tuesday as cooler temperatures, lower winds and coastal fog enabled them to make headway against the flames.
Fire crews laboured yesterday to strengthen containment lines as winds picked up again.
"We're not out of the woods and were not going to be out of the woods for a great number of days to come," Cal Fire Director Ken Pimlott told a news conference.
In addition to high winds, fires were stoked by an abundance of thick brush and other vegetation left tinder dry by a summer of hot, dry weather.
Matt Nauman, a spokesman for the region's main utility, Pacific Gas & Electric, acknowledged that fallen power lines were widespread during the "historic wind event," which he said included some hurricane-strength gusts.
At least 13 people were killed by the Tubbs fire in Sonoma County alone, officials said.
It is the deadliest single California wildfire since 2003, when the so-called Cedar fire killed 15 people in San Diego, according to state data.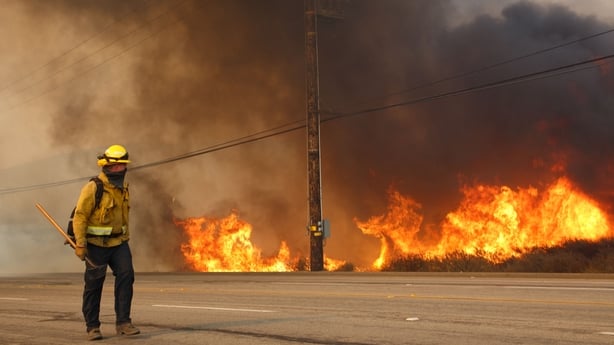 The latest overall death toll of 29, including six fatalities in Mendocino County and two more each in Napa and Yuba counties, marks the greatest loss of life from a California wildfire since 25 people perished in a firestorm that swept the Oakland Hills in October 1991.
California Governor Jerry Brown declared a state of emergency in several northern counties, as well as in Orange County in Southern California, where a fire in Anaheim destroyed 15 structures and damaged 12.