Workers from the Belfast plant of plane manufacturer Bombardier have unveiled a giant banner outside the Houses of Parliament in London, as they urge MPs from all parties to defend their jobs in the face of an ongoing trade dispute with the United States.
Bombardier employs more than 4,000 workers in Belfast.
It has been hit by a proposed 300% levy on exports following complaints by Boeing that the Canadian-owned company had dumped its C Series jets at "absurdly low" prices.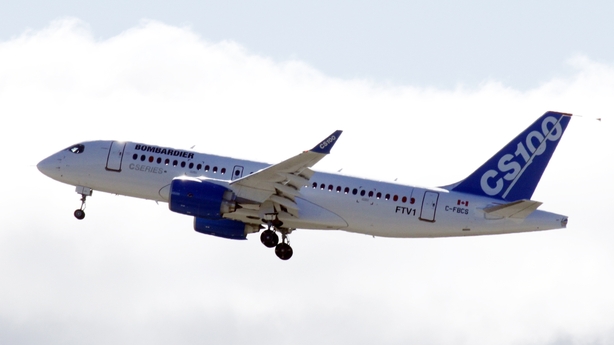 The Bombardier workers want British Prime Minister Theresa May to summon Boeing to a summit with her Canadian counterpart Justin Trudeau and workforce representatives.
Mrs May stressed in a phone call with US President Donald Trump last night "the importance of the jobs provided by the Bombardier factory to the people and economy of Northern Ireland".
Unite assistant general secretary Steve Turner said: "The British government has a duty to defend UK manufacturing jobs against the bullying behaviour of Boeing."
He said: "A failure to do so will signal that any ambition ministers have for a coherent industrial strategy is effectively in tatters and that they are happy to put Trump's America First policy ahead of UK manufacturing jobs.
"Boeing's case is without merit, a fact that Prime Minister Theresa May has herself admitted. Theresa May and her government need to be battling for Northern Ireland's Bombardier workforce which makes some of the most technologically advanced wings in the world.
"The UK government must heed the call of Bombardier's Northern Ireland workers and summon Boeing to an urgent summit involving prime minister Theresa May and the Canadian prime minister Justin Trudeau and trade unions.
"Ministers should leave Boeing in no doubt that a failure to do so will lead to sanctions on current and future work on behalf of the UK government."
Ross Murdoch of the GMB union said: "The priority here must be about giving reassurances and certainty to Bombardier workers now.
"Bombardier employees shouldn't be left in limbo until an International Trade Commission hearing, which most likely won't be heard until February."