The World Health Organisation is distributing 900,000 doses of cholera vaccine in Bangladesh's camps for Rohingya refugees fleeing from Myanmar, as authorities rush to prevent a major outbreak of the deadly disease.
More than 10,000 cases of diarrhoea have been reported in the past week alone, the WHO said.
Doctors in two clinics have told Reuters that there have been several cases of patients with the symptoms of cholera, a virulent diarrhoea that kills within 36 hours if not treated.
Cholera has not been identified in testing of patient samples by Bangladesh's health ministry, although clinics say they are waiting for results for some samples sent last week.
"There is a clear risk for cholera," said Dr N Paranietharan, the WHO's representative in Bangladesh.
"Sporadic cases are inevitable (but) we are not expecting a major outbreak like Yemen," he said.
War-torn Yemen is in the grip of a cholera crisis, with more than 750,000 sufferers afflicted by the bacteria, which is spread when contaminated faeces is ingested by humans, usually through the water supply.
The cholera vaccination campaign in Bangladesh, the second largest in history, will be crucial to containing any outbreak, said Dr Paranietharan.
More than 1,000 people will fan out across the sprawling camps on the southern tip of Bangladesh that are home to more than 519,000 Rohingya Muslims.
The Rohingya fled Buddhist-majority Myanmar when government forces launched a ferocious offensive, denounced by the United Nations as ethnic cleansing, in response to a series of Rohingya militant attacks on security posts on 25 August.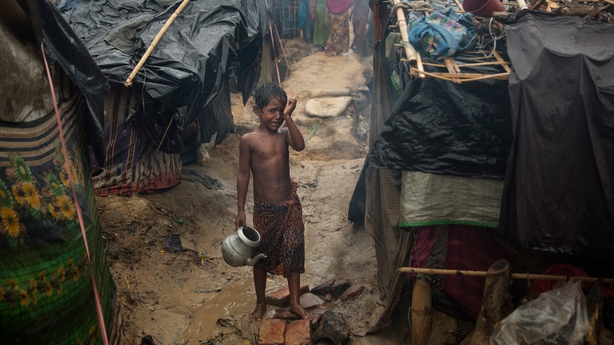 On Sunday, at least 12 people died and many more are missing after a boat packed with Rohingya refugees, most of whom were children, capsized.
The boat sank near Shah Porir Dwip, on the southern tip of Bangladesh, with up to 35 people on board, Bangladeshi police said.
Bangladeshi fishermen have been cramming their boats since late August with desperate Rohingya fleeing.