Taoiseach Leo Varadkar has paid tribute to former taoiseach Liam Cosgrave saying "we have lost someone great from our land".
The national flag is being flown at half-mast at all Government Buildings following the death of Mr Cosgrave. He was 97.
In accordance with the wishes of the Cosgrave family and the late taoiseach, there will not be a State funeral.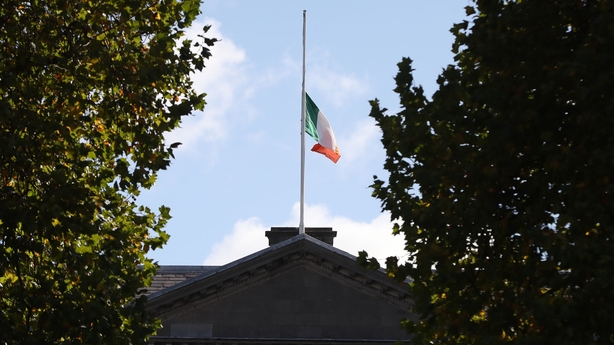 This afternoon, the Taoiseach signed a book of condolence for Mr Cosgrave at Fine Gael headquarters.
Dáil business was re-scheduled this morning to allow TDs to make statements on the death.
Paying tribute in the Dáil, Mr Varadkar said that Mr Cosgrave's "entire life was in the service of the State. He inspired so many with his quiet, showless determination, courage and fortitude".
"Today a grateful country thanks and honours him for always putting our nation first."
He said Mr Cosgrave consistently opposed violence and was a courageous voice against terrorism.
"He looked terrorism in the eye and did not flinch," he said.
He said Mr Cosgrave "was a man of great loyalty and kindness, a wonderful sense of humour, and strong personal dignity".
He said: "Because he was leader in the days before the Dáil was televised, the public did not get to see just how good he was in this chamber.
"Although a man of few words, who did not believe in making speeches in Cabinet, he chose his words carefully and he was able to make them count."
Mr Varadkar noted Mr Cosgrave's great interest in racing, saying that he "marked his Cabinet papers with the same attention to detail that he marked the racing page in the Irish Independent".
Varadkar: No matter how high the office he assumed he never forgot to serve his constituency and community #LiamCosgrave pic.twitter.com/haE1uIPs8N

— RTÉ News (@rtenews) October 5, 2017
Mr Varadkar said that throughout his life Mr Cosgrave "worked to protect and defend the democratic institutions of the State, and showed great courage and determination in doing so".
Read Leo Varadkar's speech in full 
The Taoiseach said that Mr Cosgrave "always believed in peaceful co-operation as the only way of achieving unity among the people on this island, and in the 1970s he celebrated that this country had embarked, in his own words, 'on a new career of progress and development in the context of Europe'".
Mr Varadkar said that "Liam Cosgrave is perhaps best summed up by paraphrasing one of his most famous speeches: he was a man of integrity who, totally disregarding self-interest, always served the nation."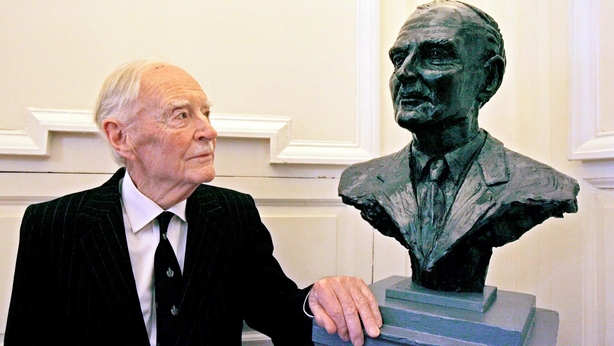 ---
---
Fianna Fáil leader Micheál Martin expressed condolences to all in Fine Gael who saw Mr Cosgrave "as a statesman central to their pride in the history of their party".
He added: "To be born the son of WT Cosgrave was to be born the son of an important figure in revolution and a central figure in the early decades of the State.
"There is no question that an absolute loyalty to his father's ideals formed the core of Liam's beliefs but he was also a major figure in his own right."
Sinn Féin leader Gerry Adams said: "He was for many people during turbulent and controversial periods of our history a controversial and divisive figure. But today is not the day to analyse this."
Mr Adams extended his sympathies and condolences to the Cosgrave family and the Fine Gael party.
He said Mr Cosgrave had "a long career in public office. I'm sure his family and his party, Mr Cosgrave himself and his late wife Vera were rightly proud of this record".
Labour leader Brendan Howlin said that Mr Cosgrave was described to him as "a generous man, who took the time to listen carefully, and to always act in the best interests of country rather than party".
He added: "We are in an age now where personality sometimes trumps substance. But Liam Cosgrave was a man of substance."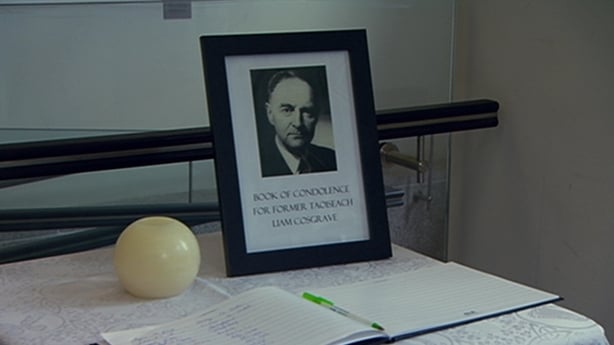 Green Party leader Eamon Ryan also paid tribute to Mr Cosgrave, and said that he got to know him in recent years.
Mr Ryan said: "He brings you back because of that accent. That slight kind of nasally accent, that could be at home in Plunkett or O'Casey. That kind of Dublin accent which has been replaced by a South California drawl in many instances.
"It was that wit and he had that relic of old decency touched to it. It brought you back to the foundation of our State because of his person history, because of age."
Solidarity-PBP TD Richard Boyd Barrett paid tribute to the work that Mr Cosgrave did for his native Dún Laoghaire, saying that "he shared a passionate love for the area".
He added: "While we may have had very different political views, he was somebody who had a great belief in public service."
The Dáil adjourned this afternoon as a mark of respect for the late taoiseach.