Twenty-two people who have been living at a building being used as a hostel in Dublin face having to find alternative accommodation following a High Court order that it be immediately vacated.
Mr Justice Seamus Noonan described the premises in Crumlin as a fire trap.
The court heard that the premises at 12-14 Old County Road, Crumlin came to the attention of the Dublin city fire officer last Friday after concerns were raised by RTÉ Investigates staff.
Inspections revealed there were no escape routes or fire alarms, along with a number of other safety issues, Conleth Bradley SC, with Karen Denning BL, for Dublin City Council, said.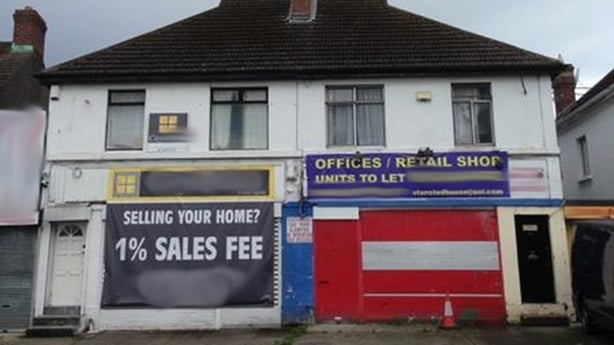 The order requiring that it no long be used for residential and multi-occupancy purposes, pending the fire issues being dealt with, applies to the owners John and Yvonne McEleney.
The court heard the McEleneys could not so far be contacted.
A man from Brazil called "Alex" appeared to be collecting the money on behalf of someone with the same name as the McEleneys, Mr Bradley said.
Most of the residents also appear to be from Brazil.
There had been up to 52 residents in the premises but that number, as of Wednesday, appeared to have dropped to 22, although the situation appeared fluid, counsel said. 
The layout of the premises appeared to be labyrinthine and the fire officer had serious concerns in the event of a fire, with pictures provided to the court showing one exit locked from the outside and another blocked by parked cars, he said.
Inquiries had been made with the Dublin Region Homeless Executive about possible alternative accommodation for the people living there, but there is "no accommodation for anybody in Dublin city tonight", counsel said. 
Judge Noonan said he was concerned about putting more than 20 people out on the street when no alternative accommodation was available to them.
He was disposed to granting the council the order it sought seeking the immediate end to its use for residential purposes, but he wanted the case to come back to court as soon as possible.
He said the order must apply to all people with knowledge of it and it is also to be posted on the premises.
The case comes back on Friday.
---
A special documentary by RTÉ Investigates on the rental accommodation market in Ireland is due to air on RTÉ One later this month.