Thousands of college students marched through Dublin city centre this afternoon calling for more public investment in third-level education.
The protest was organised by the Union of Students in Ireland.
The USI accused the Government of "kicking the can down the road on the issue of higher education funding" and said it was time to invest.
Expressing their opposition to a proposed student loan system, the union said this option would result in a drastic increase in fees from the current €3,000 to €5,000.
The union said this would saddle young people with a minimum of €20,000 in debt as they graduated.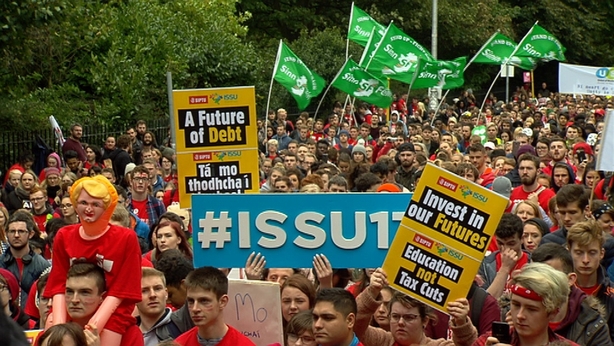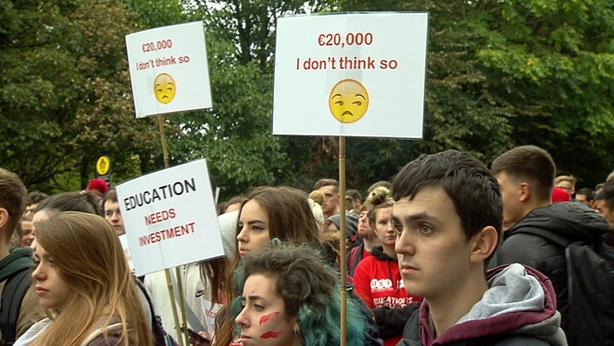 The USI believes that such a system would drastically reduce access to higher education and force many graduates to emigrate.
It says evidence from New Zealand shows that under such a deferred payment system, graduates would also be pushed out of the housing market, as student debt becomes a contributing factor in being rejected for mortgage finance by banks.
An income contingent loan system is one of a number of options put forward in a recent Government commissioned report on funding for the sector.
The country's universities favour the introduction of such a system - along with an increase in fees and the abolition of maintenance grants.
However, earlier this year the country's Institutes of Technology said they believed that the introduction of higher fees under a loan system would discourage poorer students from going to college. The institutes have called for the abolition of fees for undergraduates.
The USI is campaigning for the Government to rule out any possible introduction of an income contingent loan scheme in Budget 2018. The union is also calling for a €250 reduction in the current student fee, called the Student Contribution Charge.
The union also wants the Government to reverse cuts made to the student grant in 2011 and 2012.