The United States has ordered the expulsion of 15 Cuban diplomats, accusing the Cuban government of failing to protect US diplomats following a series of mysterious incidents in which embassy staff were sickened.
However, US Secretary of State Rex Tillerson said that the United States would continue to maintain diplomatic relations with Cuba, even though the size of the US mission in Havana also would be reduced to a minimum.
"The decision was made due to Cuba's failure to take appropriate steps to protect our diplomats in accordance with its obligations under the Vienna Convention," he said in a statement.
"This order will ensure equity in our respective diplomatic operations," he said.
"Until the government of Cuba can ensure the safety of our diplomats in Cuba, our embassy will be reduced to emergency personnel to minimize the number of diplomats at risk of exposure to harm," Mr Tillerson said.
The US will "continue to maintain diplomatic relations with Cuba, and will continue to cooperate with Cuba as we pursue the investigation into these attacks," Mr Tillerson added.
Cuban Foreign Minister Bruno Rodriguez has denounced the move as an "unjustified decision."
He accused the US of insufficient cooperation with Cuba's investigation of the incidents and urged Washington to stop politicising the matter.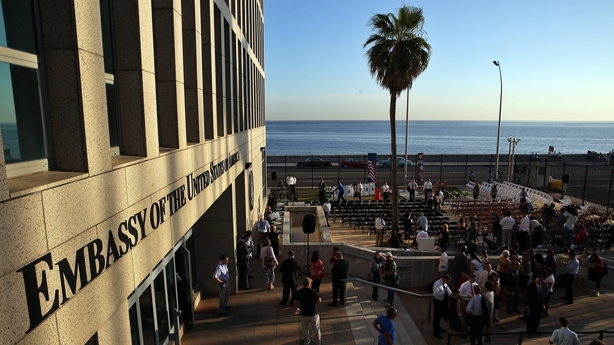 The US announced last Friday that it was cutting its diplomatic presence in Cuba by more than half because of unexplained incidents that have caused hearing loss, dizziness and fatigue among US embassy personnel.
The US State Department is expected to announce the expulsion today.
The steps being taken by President Donald Trump's administration mark a further blow to his predecessor Barack Obama's policy of rapprochement between Washington and Havana, former Cold War foes.
The State Department announced on Friday that in addition to drawing down staff in Havana to essential personnel, the embassy was halting regular visa operations for Cubans seeking to visit the US and would offer only emergency services to US citizens.
At least 21 US embassy employees in Cuba have been injured and reported symptoms such as hearing loss, dizziness, headache, fatigue, cognitive issues, and difficulty sleeping, the State Department said.
Cuba's Foreign Ministry Chief for US Affairs Josefina Vidal said last week that the US decision to reduce staff at its Havana embassy was hasty and will affect bilateral relations.
Cuba, the US and Canada have investigated the attacks, but the probe has not yielded any answers about how they were carried out or who was responsible for them.
Cuba has denied involvement in the attacks.
The State Department has not directly blamed Havana for them but asked two Cuban diplomats to leave Washington in May.