Charges have been formally dropped against ten people in relation to the 2014 water charges protest in Jobstown, while one person remains charged with criminal damage.
A number of people were due to go on trial this week but had been informed recently the Director of Public Prosecutions would not be going ahead with the prosecution. Another group were due to go on trial next April.
At the Dublin Circuit Criminal Court this afternoon, lawyers for the DPP told the court they were entering a "nolle prosequi", bringing an end to the prosecution against the remaining defendants.
The defendants included Carol Purcell (58), with an address in Kiltalown Green, Tallaght; Declan Kane (49), of Glenshane Green, Tallaght; Glen Carney (22), of Cloonmore Park, Tallaght; Keith Preston (38), of Sundale Lawns, Tallaght; Thomas Kelly (35), of Cushlawn Dale, Tallaght; Paul Kiernan (39), of Brookview Way, Tallaght; Peter Herbert (66), of Rossfield Park, Tallaght; Adam Lyons (22), of Drumcairn Drive, Fethercairn, Tallaght; Antoinette Kane (24), of Cloonmore Park, Jobstown; Calvin Carlyle (20), of Gleann na Hearna, Tallaght.
Dylan Collins (21) of Bawnlea Green, Tallaght still faces one charge of criminal damage and will appear in court in six weeks time.
A large crowd of supporters cheered and chanted in court after Judge Melanie Greally left the bench.
They called for a public inquiry into the prosecutions.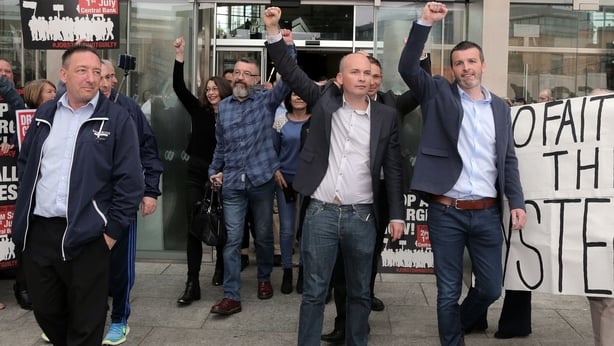 Speaking on behalf of the defendants Peter Herbert, whose charges were dropped, also called for a public inquiry and said: "We are delighted that all charges against protesters have now been dropped. These serious charges, which could have led to up to life imprisonment, have been hanging over our families for almost three years.
"It is an enormous relief for us all that this ordeal is over. We also consider it to be a significant victory in defence of the right to protest - with sit-down protest and slow march protected as a form of protest as opposed to being defined as false imprisonment."
Earlier this year six men, including a TD and two county councillors, were acquitted by a jury on charges of false imprisonment.
The charges arose after former tánaiste Joan Burton and her adviser Karen O'Connell were surrounded by anti water charges protesters after she attended a graduation ceremony in Jobstown in Tallaght in November 2014.
A teenage boy was tried separately by a judge in the District Court who found he had falsely imprisoned the two women.
However, the judge ruled the boy will not have a conviction recorded against him. He is appealing the verdict.