A Minister of State has called on the Government to call in the Spanish ambassador to Ireland and formally condemn the force used by the country's National Police and Civil Guard during Catalonia's unofficial independence vote.
John Halligan the Minster for Training, Skills, Innovation, Research and Development said the Government must "convey its horror at voters in any democracy being dragged from polling stations".
"No matter what ones views are on the legitimacy of the referendum, I cannot accept that the use of violence by the police force against peaceful voters is necessary in any situation."
Earlier, Taoiseach Leo Varadkar said that Ireland respects the territorial unity of Spain and does not recognise the result from the referendum held in Catalonia at the weekend, but said violence is never justified.
It is clear from history all around the world, he said, that when the state uses violence it leads to more division, disunity and radicalisation.
The Taoiseach said the Government here will communicate this view to the Spanish authorities at the "appropriate time".
The EU has urged all sides in the crisis over Catalonia's banned independence referendum to "move very swiftly from confrontation to dialogue" and said violence should not be part of politics.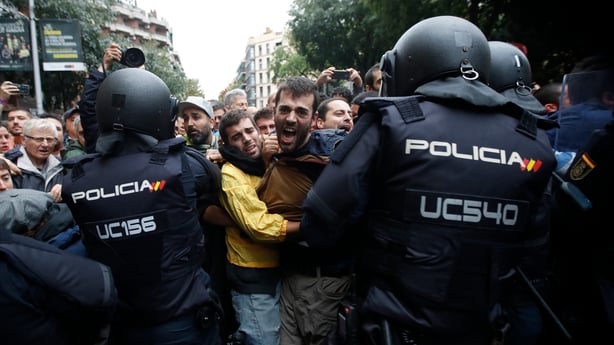 In its first reaction a day after scores were hurt in clashes in Catalonia, the European Commission said the referendum was "not legal" under Spanish law and was an "internal matter" for Spain.
An independent Catalonia would also have to leave the EU if it did vote for independence in a legal referendum, European Commission spokesman Margaritis Schinas said.
"Beyond the purely legal aspects of this matter, the commission believes that these are times for unity and stability, not divisiveness and fragmentation," Mr Schinas said in a statement to reporters.
"We call on all relevant players to now move very swiftly from confrontation to dialogue. Violence can never be an instrument in politics.
"We trust the leadership of Prime Minister Mariano Rajoy to manage this difficult process in full respect of the Spanish constitution and of the fundamental rights of citizens enshrined therein."
---
---
Spain said today it will do "everything within the law" to prevent Catalonia from declaring independence, a day after Catalonia's regional government declared victory in the referendum.
"Under the Spanish Constitution, yesterday's vote in Catalonia was not legal," Mr Schinas added.
"For the European Commission, as President (Jean-Claude) Juncker has reiterated repeatedly, this is an internal matter for Spain that has to be dealt with in line with the constitutional order of Spain.
"We also reiterate the legal position held by this commission as well as by its predecessors - if a referendum were to be organised in line with the Spanish constitution it would mean that the territory leaving would find itself outside of the European Union."
Germany's deputy foreign minister has said that developments in Catalonia were "worrying" and separatism was not the answer.
"Separatism doesn't solve any problems," said German Deputy Foreign Minister Michael Roth.
"All EU members should respect and strictly adhere to the principles and rules of the rule of law and democracy."
Mr Roth also said political conflicts in the EU should be solved via dialogue rather than with violence on the streets.
Spanish tennis player and world number one Rafael Nadal said he was stunned and felt like crying following the banned referendum and police crackdown.
Nadal, a national hero in Spain who spoke out before the referendum to condemn it, was visibly moved as he addressed a press conference in Beijing.
The 31-year-old, who grew up and lives on the Balearic island of Mallorca but is also a Catalan speaker, said he had watched events of the weekend unfold "with concern and sadness".
He said: "I want to cry when I see a country where we have known how to co-exist and be a good example to the rest of the world get to a situation like this.
"I think the image we have presented to the world is negative."
The 16-time Grand Slam winner added: "It was a sad moment, my heart sank all day.
"Moreover, from here, at a distance, you experience it differently.
"I have spent many parts of my life in Catalonia, important moments, and to see society so radicalised surprises and disheartens me."
Catalonia's leader Carles Puigdemont has said the region has won the right to break away from Spain after 90% of voters chose independence.
However, Spanish Justice Minister Rafael Catala has said Spain will do "everything within the law" to prevent Catalonia from declaring independence.