Ryanair has agreed to implement measures to ensure all passengers affected by recent flight cancellations are "fully aware" of their "rights and entitlements".
In a statement, Ryanair said its measures will include passengers receiving full refunds or being booked onto alternative Ryanair flights or "other comparable transport options", with reimbursement of "reasonable out-of-pocket expenses".
The airline made the statement after meeting with the Commission for Aviation Regulation (CAR).
In a statement, the CAR said it had "secured agreement from Ryanair that it will comply with the regulations and directly provide affected customers with the necessary information on refunds, rerouting, care and assistance and compensation".
We need your consent to load this rte-player contentWe use rte-player to manage extra content that can set cookies on your device and collect data about your activity. Please review their details and accept them to load the content.Manage Preferences
Meanwhile, the UK's Civil Aviation Authority (CAA) has accused Ryanair of "not complying with the law" over its handling of the fiasco.
CAA guidelines state that if an airline cancels a flight it must offer passengers an alternative flight under European Union law.
Customers "may have the right" to be booked onto flights by an alternative airline if it would mean reaching their destination "significantly sooner".
Ryanair said that if it is not able to offer a flight on the same or next day from the original or "suitable alternative airport", then it will book passengers onto flights by either easyJet, Jet2, Vueling, CityJet, Aer Lingus, Norwegian or Eurowings airlines.
If those options are not available then it will offer "comparable alternative transport" which may be a flight, train, bus or car hire, with costs "assessed on a case-by-case basis".
Ryanair said its statement met the requirement of the CAA to clarify the airline's obligations under EU261 rules.
It called upon the regulator to "now require UK airlines to comply", claiming the legislation "did not apply" to British Airways when 75,000 passengers were stranded following an IT meltdown in May.
Kenny Jacobs, Ryanair's chief marketing officer, said: "We apologise again sincerely for the disruption and inconvenience our rostering failure has caused some of our customers.
"We have taken on extra customer service staff and are moving now to process and expedite all EU261 claims from affected customers.
"We are committed to processing all such claims within 21 days of receipt and hope to have all such claims settled before the end of October."
Earlier this week the CAA launched an enforcement action against Ryanair for "persistently misleading passengers with inaccurate information regarding their rights in respect of its recent cancellations".
CAA chief executive Andrew Haines said he was "furious" after Ryanair cancelled an extra 18,000 flights for the winter season on Wednesday - a move that will hit 400,000 customers.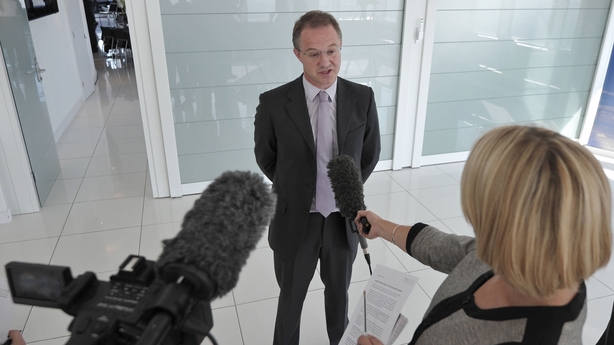 Speaking after Ryanair's decision to clarify its position, Mr Haines said: "Our job is to protect passengers' rights and ensure that all airlines operating in the UK are fully compliant with important consumer laws.
"Where we find that an airline is systematically flouting these rules, we will not hesitate to take action to minimise the harm and detriment caused to passengers, as we have done with Ryanair in recent days.
"It appears that Ryanair has now capitulated. We will review their position in detail and monitor this situation to ensure that passengers get what they are entitled to in practice."
A Ryanair internal memo allegedly instructed call centre staff to offer flights with other carriers - provided the price "does not exceed three times the value of the original Ryanair fare".
The document, unearthed by ITV News, was criticised by consumer group Which?.
Managing director Alex Neill said: "Ryanair appears to be plucking figures out of thin air as there is no legal basis for the arbitrary figure they've set.
"The law says passengers must be re-routed and there's no specified limit on cost. This yet again highlights the importance of the action which the Civil Aviation Authority has started.
"It must force Ryanair to immediately change its behaviour and comply with the law."
The General Secretary of the European Cockpit Association said that the cancellations show that the airline's model is not sustainable.
Speaking on RTÉ's Morning Ireland, Philip Von Schoeppenthau said: "It shows that the pre-carrier's employment practices used by this company are not sustainable and must stop. But it also shows that this is not just about annual leave, it's about poor management of a scheduling risk that was known about one year ago and it was entirely predictable."
He suggested that there is "something seriously wrong" with the Irish Aviation Authority and the way it oversees its airlines.
He said the IAA allows companies a more lenient interpretation of European safety rules on flight time limitations and the annual limit on flight hours per pilot per year.
Mr Von Schoeppenthau said across Europe this limit is counted over a calendar year whereas in Ireland it is counted from April to March, allowing certain airlines to use pilots more intensively over the summer period.
He further claimed that without this "deliberate wrong interpretation of European safety rules" mandatory cancellations would have been prevented.
The IAA categorically rejected what it said in a statement were "false, misleading and irresponsible" statements and said it does monitor Ryanair and no Irish airline can operate without adhering to all safety regulations.