A member of the Public Accounts Committee is calling for the Acting Garda Commissioner, the Secretary General of the Department of Justice, the head of HR for An Garda Síochána and the Justice Minister to appear before the PAC to answer fresh questions on the re-opening of Stepaside Garda Station.
Fianna Fáil TD Marc MacSharry has written to Committee Chairman Sean Fleming asking him to invite the four men to appear before PAC.
In an email sent this evening he writes: "The Acting Commissioner confirmed that the same criteria applied to closing as it did to reopening - how can this be if so quickly we are reopening that which was so recently closed?"
He said too that it is unacceptable that there is no commitment to publish in full the interim report that paved the way for the reopening of Stepaside.
Mr MacSharry said there needs to be clarity around what process was followed, what criteria was used, who was consulted and who was involved.
He believes there has to be a value for money analysis of this decision.
Labour's Alan Kelly backed Mr MacSharry's request.
Ó Cualáin quizzed over Stepaside decision
The Acting Garda Commissioner faced two hours of questioning at the PAC as to why Stepaside, in the constituency of Minister for Transport Shane Ross, was the only closed garda station being reopened.
Dónall Ó Cualáin said that an interim garda report had recommended that six stations be reopened on the basis of criteria such as crime and population trends, whether they were still in State ownership, and in Dublin, rural or other urban areas.
He said gardaí also took the opportunity to seek another four stations from Government, including two brand new builds.
However, TDs and senators criticised the fact that Stepaside was the only one proceeding at present.
Fianna Fáil's Shane Cassells pointed out the high crime rate in Meath, while Mr MacSharry pointed out that the cells in the regional station in Sligo cannot be used and prisoners have to be transported to Ballymote.
Sinn Féin deputy leader Mary Lou McDonald said the Cabinet had "cherry picked" from the report and given Stepaside the go-ahead over Rush, which was also on the list.
The acting commissioner said he "absolutely" stood over the decision to reopen Stepaside and apologised that he could not give the committee a report on the matter.
The Department of Justice said the interim report on garda stations is a lot more nuanced than what came out in PAC this morning.
It says the report recommended the reopening of Stepaside on a pilot basis as a first station.
A spokesperson said it suggested the likelihood that three more stations - Leighlinbridge, Donard, Rush -would be recommended for opening in the final report, subject to further analysis.
The report also referred to the desirability of opening new stations at Dublin Port and Dublin Airport.
The spokesperson said none of this is as clear cut as what was asserted at the PAC earlier.
In the statement, the department said a final report will be considered by Government and published in due course.
It says six garda stations were closed in the Dublin Metropolitan Region during the rationalisation programme: Harcourt Terrace; Whitehall; Rush; Dalkey; Kill O' the Grange and Stepaside.
Only four of these stations were still in State ownership and could be considered.
The statement read that an analysis which included an urban and rural focus was highly likely that some of these six would be considered for reopening.
Commitment 'made in error'
Mr Ó Cualáin informed the PAC that gardaí made the recommendation on Stepaside based on a series of standardised criteria, including crime patterns and population.
An Garda Síochána is liaising with the Office of Public Works about the proposed reopening of the former garda station at Stepaside.
When a report on this is finalised, it will be brought to Government, the statement added.
Mr Ó Cualáin had told a PAC meeting in July that an internal report would be published in a matter of days, but it has so far not been released.
The acting commissioner was summoned back before the PAC this morning to explain why the report had not been published.
Mr Ó Cualáin said he recognised that the matter was discussed last July and he indicated that a report could be provided to the committee.
"I made that commitment in good faith, but that report was prepared for the Department of Justice and Equality, and it is up to the department to release that," he said.
"There was a discussion about the criteria to be applied, and that is where my head space was, I had no idea with the criteria," he added.
I accept that the commitment was made, but it was made in error, and I apologise for that
Mr Ó Cualáin said that 139 garda stations were closed from the year 2011.
Sixty of those stations were sold, and the rest were retained by the Office of Public Works.
He said the Government decided that six stations would be reopened on a pilot basis, and he set out the criteria for choosing the six stations.
The criteria included ensuring there was an urban and Dublin dimension to the scheme, having regard to population and crime trends, limiting the choice to stations which were in State ownership, and considering those that can be opened with the least delay.
He said a critical part of the criteria was that local management would call out the priorities they would see in their local areas.
Some aspects of that were very detailed, and needed a lot of work to drill down into trends especially in crime and population.
Mr Cassells said the failure to publish the report was a blow for transparency, and that people in the towns and villages of Meath, Tipperary, or Sligo would be very angry at why their garda stations remain closed, and are not reopening.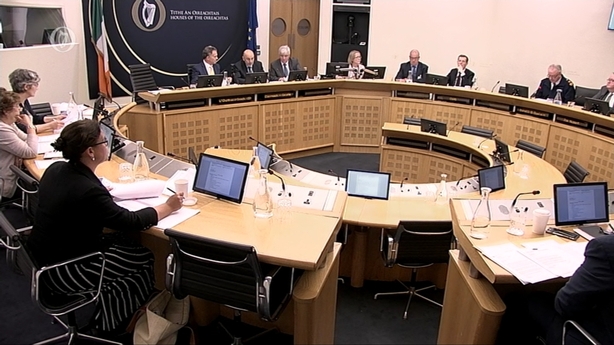 Asked if it had been decided by An Garda Síochána to open six garda stations that had been closed, Mr Ó Cualáin said no decision would be made until the final report on the matter is provided.
However, in a response to Mr Kelly, the acting commissioner said the process of re-opening Stepaside Garda Station had started through correspondence with the Office of Public Works based on an interim report.
"There's no decision made on six, but there's a decision made on one", he said.
It was confirmed by Mr Ó Cualáin that the station he referred to was Stepaside.
Asked by Mr Fleming whether it was a garda or a Government decision to re-open a station, Mr Ó Cualáin confirmed it was up to a garda commissioner.
Mr Ó Cualáin told Mr MacSharry that the criteria used to reopen garda stations were the same criteria used to close them.
He was asked why a decision was taken to reopen Stepaside, when no decision had been taken in relation to the five other garda stations to be reopened under the pilot scheme.
Gardaí 'thrown under a bus' - MacSharry
Mr Ó Cualáin said only four garda stations in the Dublin region had been closed, and the work of the assistant commissioner in charge of that area was less onerous.
Mr MacSharry suggested that the Department of Justice had "thrown gardaí under a bus" by asking them to design criteria which would see Stepaside reopened.
"I am bound to say that this is totally unacceptable and is making a mockery of transparency," Mr MacSharry said.
Mr Ó Cualáin said he "absolutely" stands over the reopening of Stepaside.
However, he pointed out to the PAC that the decision was made by his predecessor.
Ms McDonald asked if Stepaside was more worthy of being reopened than Rush from a policing and public safety point of view that.
Mr Ó Cualáin said the same criteria applied to any station in the report and his office did what it was asked to do.
The Sinn Féin TD said it was a "disgrace that political cherry picking of garda decisions happens".
Mr Ó Cualáin told independent TD Catherine Connolly that a recommendation to reopen Stepaside was made in an interim report submitted to the Government in July.
He said a final report, which would provide details of the six stations to be reopened, would be made available to the Department in the coming weeks.
He later said an interim report submitted to Government in July recommended four stations which could be considered for reopening.
Asked by Mr Cassells if any pressure was brought to bear on the assistant commissioner compiling the report to include Stepaside on the list of stations to be reopened, he said "I'm not aware of anyone bringing pressure to bear".
Fine Gael TD Peter Burke asked Mr Ó Cualáin if he thought it was a good idea to isolate the reopening of Stepaside station, considering the political realities and reports on An Garda Síochána in June.
Mr Ó Cualáin said he did not think it was fair to say anything was "isolated."
He said there are implications arising out of any decision to reopen garda stations, including seeking the cooperation and input of the OPW.
"It's not about turning the key in the door," he said, adding "a staggered approach is more prudent".
Mr Burke put it to Mr Ó Cualáin that he had a chance to "call things that should have been done better."
Mr Ó Cualáin said the only criteria he could apply regarding this duty was on a policing basis.
"I'm not involved in politics," he added.