The number of non-Irish nationals living in the country has shown a slight decrease, according to the latest Census publication.
However, the figures do not include around 100,000 people who were granted Irish citizenship since the last census.
The Migration and Diversity study shows there are 535,475 non-Irish living here, down 1.6% compared to the last 2011 Census.
Polish nationals were the largest group with 122,515, followed by 103,113 UK nationals and 36,552 Lithuanians.
Ballyhaunis in Mayo had the highest proportion of non-Irish nationals with 941 persons, representing 39.5% of its population.
The two next highest were both in Co Longford - Edgeworthstown with 32.3% and Ballymahon with 32.1%.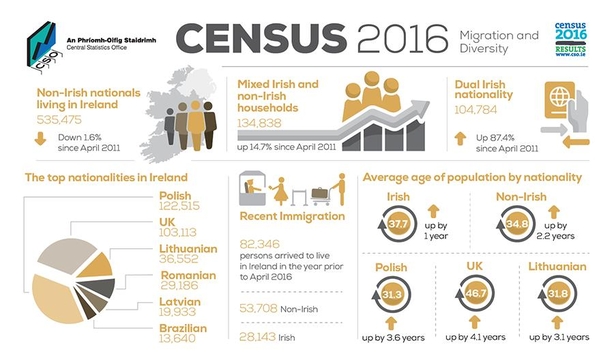 Those holding dual nationality has show an increase of more than 87% to 104,784 - Irish-Americans comprised the largest group, followed by Irish-UK and Irish-Polish.
There were nearly 40,000 people born in Ireland who identified as a nationality other than Irish. Polish nationals were the largest single group, followed by Lithuanians and UK nationals.
Of these more than 14% were aged between 25 and 34 years.
Dublin City (91,876), Fingal (46,909) and Cork County (42,002) had the largest numbers of non-Irish national residents while Leitrim (3,526) and Sligo (5,892) had the lowest.
---
Further reporting - RTÉ Religious and Social Affairs Correspondent Joe Little

A Senior Statistician at the CSO has said that the increase in the 2016 census in the number of households with both Irish and non-Irish members indicates that more people of foreign extraction are putting down roots here and having children.
Speaking on RTÉ News at One, Deirdre Cullen said that there has been a virtual doubling since the last census of the number of people classifying themselves as having dual Irish and other nationality.
The figure in 2011 was 55,905 while last year it stood at 104,784, marking an increase of 87%.
She said that this could account for the 1.6% drop in non-Irish nationals recorded in the most recent census.
People may identify as having a dual nationality based on what citizenship they hold, where they were born, where they live or where their parents are from. In the case of the dual Irish nationals identified in last year's census, 66,440 - or 63.4% of them - were born abroad. However, this ratio varied depending on which other nationality they identified as.
When asked which of today's finding she, as a statistician, thought was the most interesting, Ms Cullen said: "To me, it's the increase in the mixed Irish-non-Irish households and that idea that people who have arrived are here to stay, they're putting down roots, they're having children.
"We've seen a small increase in the number of Polish, Lithuanian and Latvian households who are homeowners now. The populations are slowly ageing.
"So the average age of the Polish in Ireland has increased by 3.6 years in just 5 years whereas the average age of Irish nationals has increased by just a year."
The returns show that 86% of Irish-UK nationals were born abroad, and comprised the largest group in this category. Over 80% of Irish-Filipino, Irish-Indian and Irish-South African nationals were born abroad while Irish-Canadians and Irish-Australians were most evenly split between persons born in Ireland and born abroad.
At the other end of the scale, over 70% of the Irish-Lithuanians, Irish-Spanish and Irish-Polish people were born here.
The CSO says the largest cohort of dual Irish nationals was under the age of 15 followed by persons in their 40s.
Over 70% Irish-Polish nationals were under the age of 15 compared with just 14.1% of Irish-UK nationals.
---
Among the cities, Galway was the most multicultural, with 18.6% of its resident population recorded as non-Irish.
Slightly more than 17% of Dublin City residents and one in six of Fingal residents were non-Irish nationals.
Non-Irish nationals are more likely to be unemployed, with a rate of 15.4% compared to 12.6% among the Irish population.
They are also more likely to work in more manual jobs - 46.9% were in non-manual, manual skilled, semi-skilled or unskilled compare to 39.2% of Irish nationals
Non-Irish nationals are also younger - half of non-Irish nationals were aged between 25 and 42 years of age, compared to just a quarter of the Irish population.
The number of people speaking a foreign language at home has increased by 19% since the last census, with the top languages being Polish, Lithuanian and Romanian.
Of those speaking a foreign language at home - more than 600,000 people - 40% were Irish citizens.