French President Emmanuel Macron has said attacks on Myanmar's Rohingya minority amounted to "genocide".
He said France will work with other members of the UN Security Council for a condemnation of "this genocide which is unfolding, this ethnic cleansing".
Mr Macron's use of the word "genocide" marks his strongest verbal attack yet on the military drive against the Rohingya.
More than 420,000 members of the Muslim minority have fled Myanmar for the safety of neighbouring Bangladesh.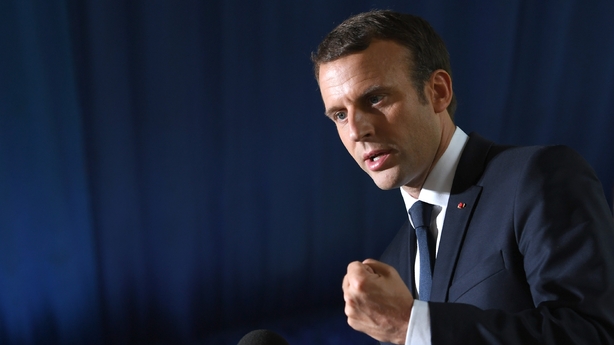 "We must condemn the ethnic purification which is under way and act," Mr Macron said. 
He added that "asking for the violence to end, asking for humanitarian access ... progressively enables an escalation" under UN auspices.
"When the UN issues a condemnation, there are consequences which can provide a framework for intervention under the UN," he said.
Rohingya, who are predominantly Muslim, are reviled by many in Buddhist-majority Myanmar.
UN human rights chief Zeid Ra'ad Al Hussein has described the systematic attacks against the Rohingya minority by the security forces as a "textbook example of ethnic cleansing".
Special report: Crisis in Myanmar
Meanwhile, hundreds of Buddhists in Myanmar tried to block a shipment of aid in Rakhine state.
The aid shipment, being organised by the International Committee of the Red Cross, was bound for the north of the state where insurgent attacks on 25 August sparked a military backlash.
Several hundred people tried to stop a boat being loaded with about 50 tonnes of aid at a dock in the Rakhine State capital of Sittwe last night.
Protesters, some carrying sticks and metal bars, threw petrol bombs and about 200 police were forced to disperse them by shooting into the air, a witness said, adding that he saw some injured people.
Eight people were detained, the government information office said in a statement.