Ryanair pilots have rejected the company's proposed bonus scheme to encourage them to work through annual leave, and have called for improvements in their employment terms and conditions.
On Monday, Ryanair offered pilots bonuses of up to €12,000, deferred for a year, if they would give up some of their annual leave entitlements to address staff shortages which have triggered the cancellation of thousands of flights over the next six weeks.
However in a response to the airline the Employee Representative Councils, representing 17 Ryanair bases, said the majority of their colleagues had rejected the proposals.
RTÉ News has also seen other documents which raise the possibility of a work-to-rule by pilots, which would significantly worsen the current disruption to flights at the airline.
In today's memo to management, the ERCs say they wished to put forward a simpler, more constructive "counter offer" to address the airline's operational problems and create a positive future.
They say a stable future for both the company and the pilots requires changes including implementation of a regional system with permanent local contracts for all employees according to the national law and rights.
They want regional teams to operate in a coordinated manner to achieve common working conditions throughout the Ryanair network, but allowing for differences in local law such as pay scales.
They also want the regional teams recognised by Ryanair management as negotiating partners.
They say that if contracts are based on benchmarks with comparable competitors for each individual region, this should help stop the large number of colleagues who are leaving for "greener pastures".
They are also demanding that when the new regional system is set up, there must be negotiations with the goal of designing new contracts, by 1 January next.
They add that as pilots are not trained as negotiators, they will be bringing "professional assistance" to the negotiations.
They say they look forward to hearing from Ryanair by Friday 22 September.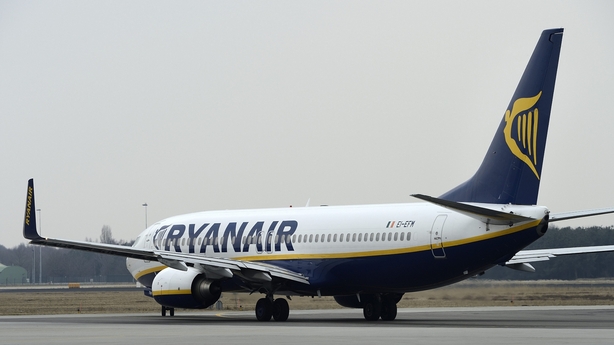 The airline does not permit unions, but has established Employee Representative Councils for staff issues to be addressed.
It's understood that in analysing the bonus scheme, the pilots noted that to qualify for a bonus ranging from €6,000 to €12,000 in a year's time, a pilot would have to accumulate 800 flight hours over the next year.
However, they found that after checking log books over many years, many have never been able to achieve 800 flight hours in a single 12 month period.
They say that regardless of willingness, the pilot would have no control over how many times he would be offered the opportunity to work a day off, and through no fault of their own, may never reach the target.
They believe there is ambiguity about the deal's requirement for ten working days off to be worked - and query whether this means ten working days in total, or ten plus a further 5 during their month off.
They say the payment offered for working a day off is no different from what a pilot would receive at any normal time.
They also note that contractor pilots would receive no reward for forfeiting leave.
Given that four unauthorised absences would mean a pilot would not be entitled to the bonus, they are likely to seek clarification of what constitutes an unauthorised absence.
Some pilots also fear that if uncertified sick leave were included in this, it could cause pilots to operate when not fit to fly in order to attempt to meet the bonus target.
They also query the "ambiguous" increase in "out of base" payments, as there is no mention of travel between bases.
Asked about the Ryanair pilots' rejection of the bonus offer, a spokesperson for the company said they would address this at the Annual General Meeting tomorrow.