The Disclosures Tribunal has heard that Garda Keith Harrison threatened to burn his partner and her children during an argument.
The threat was reported to gardaí by Marisa Simms' sister, Paula McDermott.
The inquiry is investigating contacts between Tusla and the gardaí in relation to Garda Harrison.
Garda Brendan Mahon told the inquiry that Ms McDermott, called to Letterkenny station on 30 September 2013.
Garda Mahon said that Ms McDermott told him that during a verbal argument between Garda Harrison and Ms Simms on the night of 28 September 2013, he shouted at her that he was going to burn her and her children in the house and bury her.
Garda Harrison will tell the tribunal that during the argument he told Ms Simms that because of the actions of her family, she would be the person getting burnt, meaning that she would suffer the consequences.
Garda Mahon said today that Ms McDermott seemed visibly upset and was concerned for her sister.
He said he took it seriously but in order to begin an investigation, Ms Simms would have to make a statement.
Counsel for the Tribunal Diarmuid McGuinness said the threat to burn and bury Ms Simms seemed to be unequivocally a threat to kill her.
Garda Mahon did not enter the incident in Pulse as he said that would be a decision for the Sergeant. He filed a report to Sergeant Jim Collins.
Sgt Collins spoke to Paula McDermott on 1 October. She was getting married three days later.
Sgt Collins said that while the threat was serious, he feared that gardaí were being used as a pawn because Paula McDermott was worried that Garda Harrison would turn up uninvited at the wedding and make a scene.
He told the tribunal that he felt the emphasis was on Garda Harrison turning up and causing a problem.
He said different options were given to Paula McDermott in order to facilitate getting a statement from her sister, but Ms McDermott indicated that no statement would be made before the wedding.
Garda Harrison's lawyer Mark Harty SC said that no Garda spoke to Garda Harrison regarding the threat.
Conor Dignam SC for the gardaí said the matter was immediately referred to the Garda Siochana Ombudsman Commission.
In addition, an investigation was begun under Garda regulations, but that was stopped by a successful legal action taken by Garda Harrison which prevented statements being taken.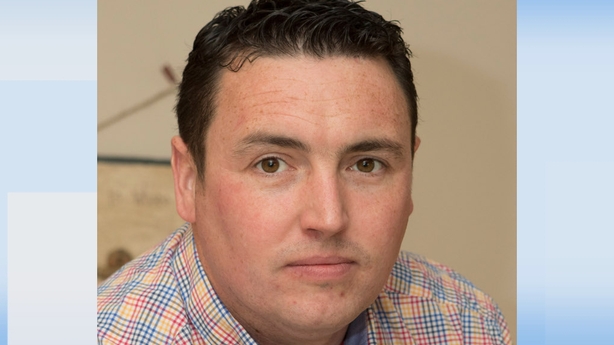 Earlier, Detective Sergeant David Durkin said that in June 2011 he was told by Superintendent Jimmy Coen that Garda Harrison would be transferred to his unit in Donegal town from Buncrana.
The detective said he was told this was because Garda Harrison was in a relationship with Ms Simms, whose brother Martin McDermott was facing trial after the death of a garda following a high speed chase.
Sgt Durkin said that Garda Harrison was mistaken that Sgt Durkin had been involved in extraditing McDermott from Northern Ireland.
Sgt Durkin said Garda Harrison was not treated differently to anyone else in the station party.
He said that in February 2012 he was a witness in a case when Garda Harrison did not have car insurance.
Garda Harrison has said that this case confirmed his suspicions that there was "a concerted effort by garda management in Donegal to scrutinise his every move".
Sgt Durkin said the previous year he had given Garda Harrison a caution over having no car tax, but considered driving without insurance a more serious offence.
In August 2013, Sgt Durkin said he received a phone call from Rita McDermott about her daughter, Marisa Simms.
"She was reporting concerns she had with her daughter and in particular Garda Harrison's relationship with her daughter," Sgt Durkin said.
Rita McDermott told the sergeant that a few days earlier Garda Harrison had thrown Ms Simms out of the family home in her pyjamas in the early hours of the morning, and this was the third such incident in as many months.
Sgt Durkin said he advised Rita McDermott that if Ms Simms "wished to pursue a complaint she would have to go into a garda station and make a formal complaint."
Sgt Durkin said he stressed if children were at risk, "gardaí would be duty bound to intervene".
"She said children weren't in the house, and that alleviated some of my concerns," Sgt Durkin said.
Because the report involved a garda, Sgt Durkin said he thought it was appropriate to report the conversation to his superintendent, Michael Finan.
In September 2013, Sgt Durkin again spoke to Rita McDermott. She told him that Ms Simms wanted Garda Harrison to leave their accommodation in Churchill, Co Donegal, but he was refusing to do so.
Rita McDermott said that it was planned to move Garda Harrison's belongings out of the house when he returned to work from sick leave the following month.
Rita McDermott also told him that Garda Harrison had not been invited to a family wedding, and this was causing extra tension.
Rita McDermott also told Sgt Durkin that Garda Harrison had gone to a Mayo hotel looking for footage of a hen party.
Sgt Harrison said he initially understood that Garda Harrison had presented himself as a garda to obtain footage, but when he interviewed the hotel staff, he was told Garda Harrison did not do this, and had said he was looking for the footage to make a gift showing everyone enjoying themselves.
The tribunal said that if he took this innocent explanation, then this incident was "really a bit of a storm in a teacup."
"Obviously Rita McDermott got it wrong, that is what I am taking from this," the chairman said.
Sgt Durkin said that in October 2013, following threats received by gardaí, Garda Harrison was put on "indoor duty" on instructions from the divisional office.
On 9 May 2014, Garda Harrison approached Sgt Durkin saying he was "a victim of bullying and harassment by garda management", both prior to and after his arrival in Donegal.
Sgt Durkin noted that the report Garda Harrison gave him made no complaints about Donegal town, and asked him if he had any complaints about Donegal town.
"He said no, he hadn't any issues with Donegal town," Sgt Durkin said.
Judge 'disappointed' at lack of instructions to barristers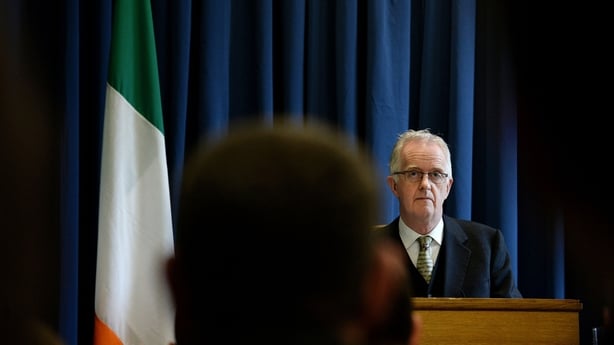 The chairman of the tribunal has said he is "disappointed" at the lack of instructions to barristers at the inquiry.
Supreme Court justice Peter Charleton said that correspondence was still outstanding to some parties at the tribunal, which began in February.
He said that it was only on Thursday of last week that a reply was received from one party to "highly pertinent" correspondence sent seven months ago.
Barristers had a duty to cross-examine only on the basis of instructions from their clients, the judge said, and were "not entitled to invent defences or put matters at variance with instructions."
He said there was a legal obligation to cooperate with the tribunal, and to put forward the case they were making.
"It has always been part of the law that counsel should put a case as opposed to examining at large," he said.