Rescue crews and volunteers searched through rubble for survivors in central Mexico, including the capital, where the death toll from a major earthquake is believed to be around 224.
The country's Civil Protection Agency earlier put the death toll at 248.
The magnitude 7.1 quake toppled dozens of buildings, broke gas mains and sparked fires less than two weeks after another powerful quake killed at least 98 people in southern Mexico.
It also hit just hours after emergency drills marked the anniversary of a quake that killed thousands in 1985.
Emergency personnel in Mexico City searched with picks and shovels for survivors beneath the rubble of what the city's mayor calculated to be as many as 44 collapsed buildings, including at least one primary school.
Mexican President Enrique Peña Nieto said soldiers and firefighters found at least 22 dead children at the school and two adults, while another 30 children and 12 adults were missing, he added.
Mr Peña Nieto and US President Donald Trump spoke at length today following the earthquake, according to the White House.
White House spokeswoman Sarah Sanders gave no other details but said more information would come soon about the call. The two leaders also spoke last week.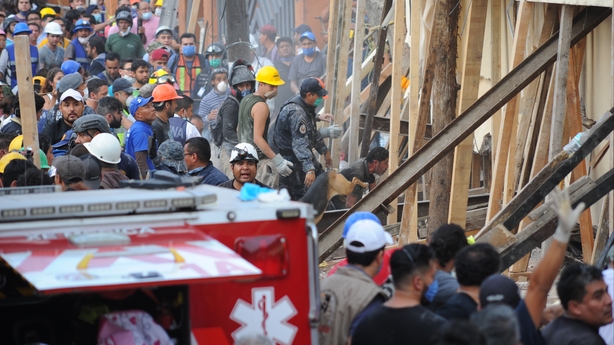 There were chaotic scenes at the school as parents clung to hope their children had survived.
Three survivors were found at around midnight local time.
"Relatives of Fatima Navarro," one soldier shouted through cupped hands at the school. "Fatima is alive!"
Rescuers search for survivors as over 20 children killed in Mexico after part of a primary school collapsed following 7.1-magnitude quake pic.twitter.com/9ol1o9xOiP

— RTÉ News (@rtenews) September 20, 2017
Emergency personnel and equipment were being deployed across affected areas so that "throughout the night we can continue aiding the population and eventually find people beneath the rubble," Mr Peña Nieto said in a video posted on Facebook last night.
Rescue workers and soldiers worked around collapsed buildings where heat-sensing equipment suggested survivors could still be trapped.
Bystanders joined in where they could, clearing debris with their bare hands or whatever tools they could find nearby.
Around the same time that the earth shook, Mexico's Popocatepetl volcano had a small eruption.
On its slopes, a church in Atzitzihuacan collapsed during Mass, killing 15 people, Puebla Governor Jose Antonio Gali said.
Residents of Mexico City, home to some 20 million people, slept in the streets while authorities and volunteers distributed food and water at tented collection centers.
In Obrera, central Mexico City, people applauded when rescuers managed to retrieve four people alive, with cheers of "si se puede" - "yes we can" - ringing out.
Volunteers continued arriving throughout the night, following calls from the civil protection agency, the Red Cross and firefighters.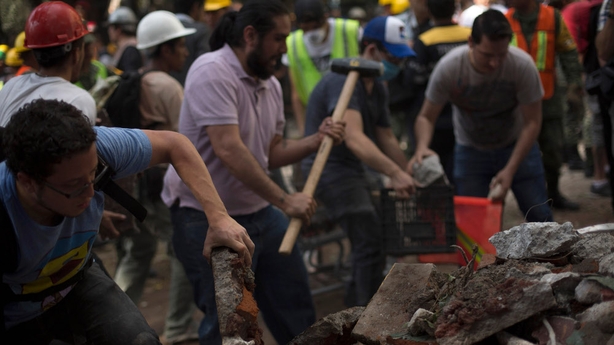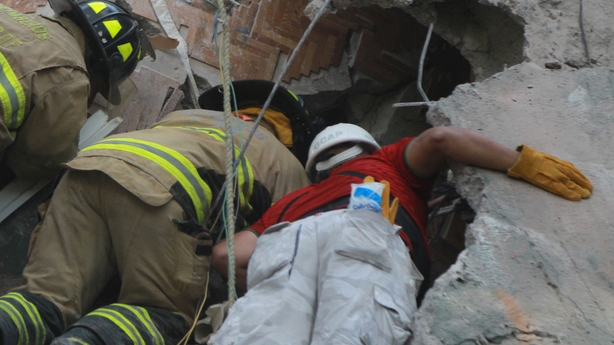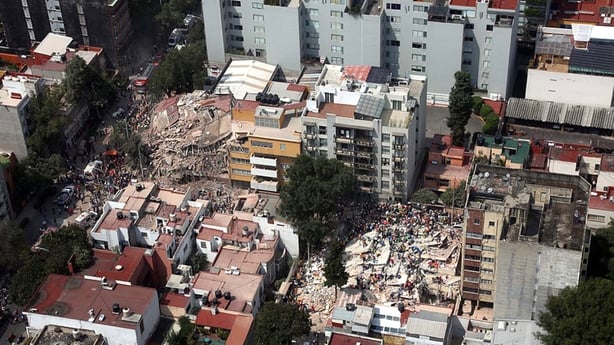 The quake had killed 49 people in the capital by last night, according to a civil defence spokesman.
The highest toll, he said, was in Morelos State, just to the south, where 55 people were killed.
Another 13 people were reported killed in the neighbouring states of Mexico and Guerrero.
Thirty-two deaths had been counted in the central state of Puebla, also to the south, where the US Geological Survey (USGS) located the quake's epicentre.
As many as 4.6 million homes, businesses and other facilities had lost electricity, according to national power company Comisin Federal de Electricidad.
Most of them were in the greater Mexico City area and in the states of Guerrero, Morelos, Puebla, Oaxaca, and Tlaxcala.
In the capital, ambulances and fire engines confronted gridlock as millions of workers tried to get home, many of them after participating in annual readiness drills that commemorate the previous disaster on the same date in 1985.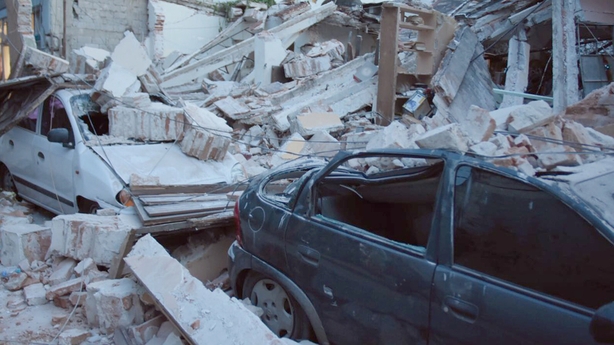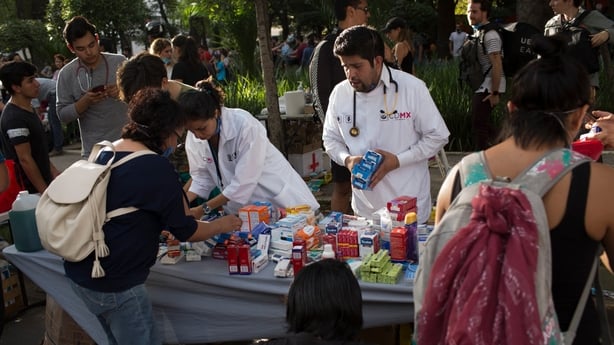 Much of the country was also shaken when an 8.1 magnitude quake, the strongest in more than eight decades, struck southern Mexico on 7 September, killing at least 98 people.
Earthquakes of magnitude 7 or above are regarded as major and are capable of causing widespread heavy damage.
Another 11 aftershocks were registered after the initial quake, the most powerful of which measured 4.9, according to the USGS.
In addition to the school, a supermarket and a factory collapsed in the capital. Much of the damage was in the fashionable Condesa and Roma districts near the city centre.
Mexican media showed images of desperate locals forming human chains in search of people still trapped in collapsed buildings after nightfall.
With power out in much of the city, the work was carried out in the dark or with flashlights and generators.