Prolonged rain earlier in the day has caused spot flooding and very muddy conditions on the second day of the National Ploughing Championships in Screggan, Co Offaly.
Sections of the tented village area have been closed as muddy water flowed between marquees and pooled in areas. 
There are also widespread difficulties in fields used as car parks around the site.
Vehicles are sinking into the grass surfaces and getting stuck, with many having to be towed from grass areas onto hard surfaces before they can proceed under their own power.
Condtions underfoot continue to worsen #ploughing17 more later on #rtenews pic.twitter.com/2vqkkHHFln

— Joe Mag Raollaigh (@joemagraollaigh) September 20, 2017
Staff using tractors and 4x4 vehicles are this evening continuing to assist drivers and their vehicles out of car parks, with most now clear.
The clean-up of areas of the site that have flooded is ongoing.
Tractor-towed tankers are being used to take up flood water and drive it off site.
Staff are expected to continue with the clean-up operation throughout the night to be ready for day three of the championships tomorrow morning.
A record crowd of more than 112,500 people attended the event yesterday, up 12.5% on the previous record opening attendance, recorded last year.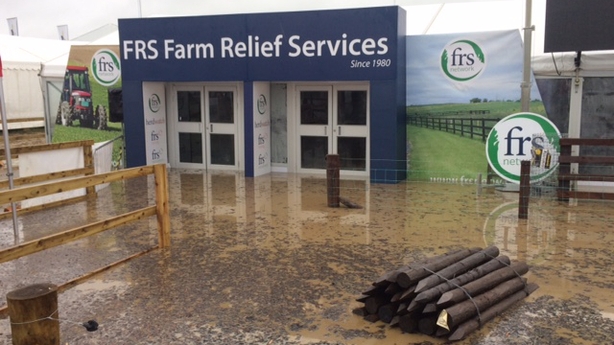 The issue of farm safety was high on the agenda today, following the death in a farm accident in Co Wexford yesterday of Martin Kehoe Junior. 
He is the 16th person to die in a farm accident so far this year.
A former National Ploughing title winner, he was the son of Martin Kehoe Senior, who won the World Ploughing Championships for Ireland on three occasions.
Carpak chaos and  flooded tent village at  #ploughing17 today. ..rain has stopped tho #rtenews pic.twitter.com/kcj1chbg3k

— Joe Mag Raollaigh (@joemagraollaigh) September 20, 2017