The UN Security Council has strongly condemned North Korea's "highly provocative" launch of a missile that flew over Japan and demanded that Pyongyang immediately halt such actions.
In a unanimous statement backed by China, the council said the launch was carried out just three weeks after a first missile overflew Japan and less than two weeks after Pyongyang's sixth and biggest nuclear test.
The council "strongly condemned these launches, condemned further the DPRK for its outrageous actions, and demanded that the DPRK immediately cease all such actions".
The statement however did not threaten further sanctions.
North Korea fired the intermediate ballistic missile over Japan that landed in the Pacific, responding to new UN sanctions with its furthest-ever missile flight.
We need your consent to load this Facebook contentWe use Facebook to manage extra content that can set cookies on your device and collect data about your activity. Please review their details and accept them to load the content.Manage Preferences
The US Pacific Command confirmed today's rocket was an intermediate range ballistic missile (IRBM) and said it did not pose a threat to North America or to the US Pacific territory of Guam, which Pyongyang has threatened to bracket with "enveloping fire".
US President Donald Trump said that he is "more confident than ever that our options in addressing this threat are both effective and overwhelming".
Speaking to a group that included military personnel at Joint Base Andrews near Washington, Mr Trump said North Korea "has once again shown its utter contempt for its neighbours and for the entire world community".
Warning announcements about the missile blared around 7am local time (11pm Irish time) in parts of northern Japan, while many residents received alerts on their mobile phones or saw warnings on television telling them to seek refuge.
The missile reached an altitude of about 770km and flew for about 19 minutes over a distance of about 3,700km, according to South Korea's military, far enough to reach the US Pacific territory of Guam.
There has been widespread condemnation of the missile launch.
Earlier, US Defence Secretary Jim Mattis said North Korea is deepening its economic and diplomatic isolation with its latest ballistic missile launch, adding the United States was still assessing the new test by Pyongyang.
"I believe it will further North Korea's isolation, diplomatic and economic isolation, because more and more nations are realising there's simply no collaboration (by Pyongyang)with the international community," Mr Mattis told reporters travelling with him to Mexico City.
A spokesman for British Prime Minister Theresa May said she is "outraged" by the firing of the missile, and Britain will keep pressing China to increase the pressure on the state.
EU diplomatic chief Federica Mogherini described the launch as an "outrageous provocation" and vowed to step up sanctions on the rogue regime.
She said: "Today's launch by the Democratic People's Republic of Korea (DPRK) of another Ballistic Missile over Japan is a new outrageous provocation."
The Kremlin has said that the missile test was part of a series of unacceptable provocations and that the United Nations Security Council was united in believing such launches should not be taking place.
Kremlin spokesman Dmitry Peskov said: "In Russia we are deeply concerned about these provocative launches which are further stoking tensions.
"Clearly demonstrating that our position is that such launches are unacceptable is the most tangible thing we can do right now."
Meanwhile, a spokesperson for the German government said: "The government condemns the latest missile test from North Korea in the strongest terms."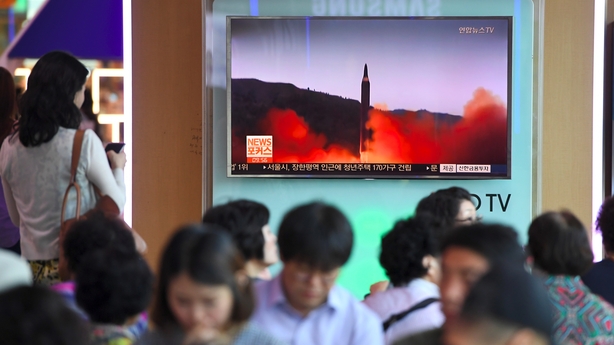 Mr Mattis said the launch "put millions of Japanese into duck and cover", although residents in northern Japan appeared calm and went about their business as normal after the second such launch in less than a month.
The US military said soon after the launch it had detected a single intermediate range ballistic missile but the missile did not pose a threat to North America or Guam, which lies 3,400km from North Korea.
The North had previously threatened to launch missiles towards Guam.
"The range of this test was significant since North Korea demonstrated that it could reach Guam with this missile," the Union of Concerned Scientists said in a statement.
However, it said the accuracy of the missile, still at an early stage of development, was low so it would be difficult to destroy the US Andersen Air Force Base on Guam.
US officials repeated "ironclad" commitments to the defence of its allies.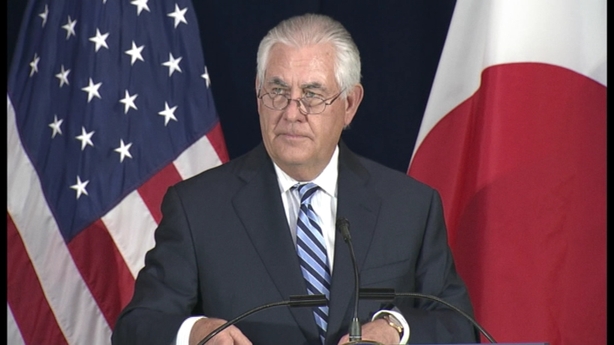 Secretary of State Rex Tillerson called for "new measures" against North Korea and said the "continued provocations only deepen North Korea's diplomatic and economic isolation".
South Korean President Moon Jae-in echoed that view and said dialogue with the North was impossible at this point.
He ordered officials to analyse and prepare for possible new North Korean threats, including electro-magnetic pulse and biochemical attacks, a spokesman said.
The United Nations Security Council meeting comes just days after the 15-member council unanimously stepped up sanctions against North Korea over its 3 September nuclear test.
Those sanctions imposed a ban on North Korea's textile exports and capping imports of crude oil.
"The international community needs to come together and send a clear message to North Korea that it is threatening world peace with its actions," Japanese Prime Minister Shinzo Abe told reporters in Tokyo, describing the launch as "unacceptable".
North Korea has launched dozens of missiles under young leader Kim Jong-un as it accelerates a weapons programme designed to give it the ability to target the US with a powerful, nuclear-tipped missile.
Two tests in July were for long-range intercontinental ballistic missiles capable of reaching at least parts of the US mainland.
Last month, North Korea fired an intermediate range missile from a similar area near the capital Pyongyang that also flew over Hokkaido into the ocean and said more would follow.
"The first time was unexpected, but I think people are getting used to this as the new normal," said Andrew Kaz, who works in Kushiro City in Hokkaido. "The most it seemed to disrupt was my coffee."
South Korea said it had fired a missile test into the sea to coincide with North Korea's launch and the presidential Blue House has called an urgent National Security Council meeting.
Japan also convened a National Security Council meeting.
North Korea had threatened a day earlier to sink Japan and reduce the US to "ashes and darkness" for supporting the Security Council's latest resolution and sanctions.
The US general overseeing America's nuclear forces said he assumed that North Korea's latest nuclear test was in fact a hydrogen bomb, as it had had claimed, based on the size of the blast.
"I'm assuming it was a hydrogen bomb," Air Force General John Hyten, head of the US military's Strategic Command, told a small group of reporters who were accompanying Mr Mattis on a trip to Hyten's headquarters in Nebraska.
The North accuses the US, which has 28,500 troops in South Korea, of planning to invade and regularly threatens to destroy it and its Asian allies.
Mr Trump has vowed that North Korea will never be allowed to threaten the US with a nuclear-tipped missile, but has also asked China to do more to rein in its neighbour. China in turn favours an international response to the problem.
"China and Russia must indicate their intolerance for these reckless missile launches by taking direct actions of their own," Mr Tillerson said.
The US and South Korea are technically still at war with North Korea because the 1950-53 Korean conflict ended with a truce and not a peace treaty.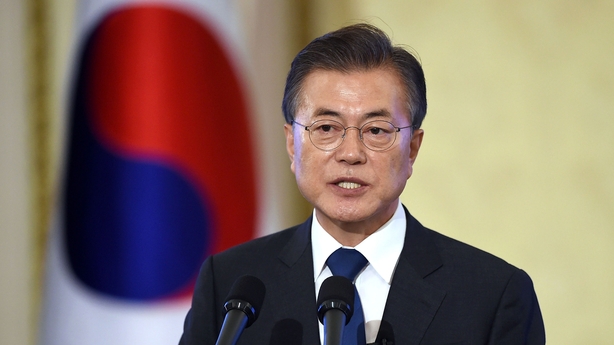 Seoul's military carried out a ballistic missile drill of its own today in the East Sea, Korea's name for the Sea of Japan, the Yonhap news agency reported.
In July, Pyongyang fired two intercontinental ballistic missiles that appeared to bring much of the US mainland into range.
It followed that up with an announcement it was planning to send a salvo of rockets towards the US Pacific territory of Guam, home to significant military facilities.
Mr Trump threatened it with "fire and fury", heightening fears of conflict.