European Commission President Jean-Claude Juncker has said that the "wind is back in Europe's sails" as the continent becomes more united and economic momentum picks up a year after Brexit.
"All this leads me to believe the wind is back in Europe's sails," Mr Juncker said in his annual State of the Union speech to the European Parliament in Strasbourg.
We have now a window of opportunity but it will not stay open forever. Let us make the most of the momentum, catch the wind in our sails
Mr Juncker recalled that when he gave the same speech last year that the European Union was "not in a good state".
It was a year when the 28-nation bloc was "shaken to our very foundations," he said, following the British vote to leave, the rise of populism, the migration crisis and economic troubles.
"We only had two choices, either come together around the positive European agenda or each retreat into our own corner," the former Luxembourg premier said.
"Faced with this choice I argued for unity," he said, "I proposed a positive agenda to create a Europe that protects, a Europe that empowers, a Europe that defends."
.@JunckerEU : 29 March 2019 will be a tragic moment in EU history when the UK leaves the Union, but says Brexit is not the end of Europe pic.twitter.com/JFp41H51iC

— RTÉ News (@rtenews) September 13, 2017
He said that growth in the EU has outpaced the US in the past two years, and unemployment is at a nine-year low.
He said that the EU Commission cannot take credit for this alone, but that if nine million jobs had been lost "we'd have taken the blame".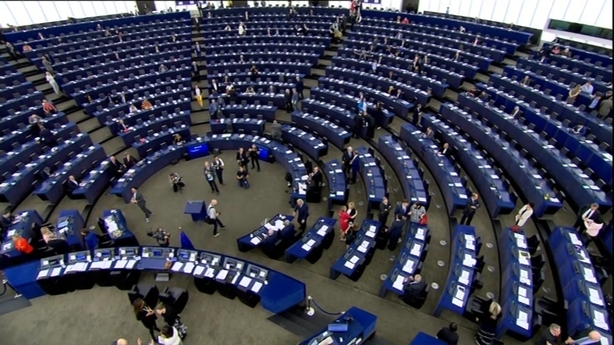 Mr Juncker also proposed that the EU create its own Europe-wide finance minister, a big step towards deeper integration of the eurozone.
.@JunckerEU #SOTEU: one year ago we had two choices, come together under a European agenda or retreat into our own corners

— Tony Connelly (@tconnellyRTE) September 13, 2017
.@JunckerEU #SOTEU: EU27 chose unity, chose to rally around our common values

— Tony Connelly (@tconnellyRTE) September 13, 2017
The EU chief extended an olive branch to eurosceptic eastern European nations that have been in open conflict with Brussels over issues such as migration.
Mr Juncker said he would fight for equal rights for their consumers, but their workers would not be allowed to unfairly undercut those in western members.
"In a union of equals, there can be no second class consumers. I will not accept that in some parts of Europe, people are sold food of lower quality than in other countries, despite the packaging and branding being identical."
"Slovakia, the Czech Republic, Bulgaria and Romania have complained that food products sold by multinational producers on their markets are often of poorer quality than the same ones in the west.
In another gesture towards the eastern states, Mr Juncker said it was time to let Bulgaria and Romania into the EU's Schengen zone of passport-free travel.
Jean-Claude Juncker says it's high time that Bulgaria and Romania are brought into the Schengen area pic.twitter.com/neCyj4kl17

— RTÉ News (@rtenews) September 13, 2017
But he also said the bloc would go ahead with reforming its labour rules, which now allow workers from the poorer EU east to work in the wealthier west for low salaries.
Mr Juncker said he was "saddened" with the refusal by the ex-communist eastern states to take in refugees arriving in the bloc to help their western and southern peers.
"The rule of law means that law and justice are upheld by an independent judiciary," Mr Juncker said. "The judgments of the European Court of Justice have to be respected by all."
"To undermine them, or to undermine the independence of national courts, is to strip citizens of their fundamental rights. The rule of law is not optional in the European Union. It is a must."
EU to seek free trade deals with Australia and New Zealand
Mr Juncker also said that the EU wants to launch and conclude free trade negotiations with Australia and New Zealand in the next two years, opening up a potential race with Britain.
If his timeframe is achieved, the EU could nip in ahead of the UK, which is also courting both countries but cannot negotiate independent trade deals until it leaves the EU in March 2019.
Mr Juncker said there was a good chance that the EU would agree the main elements of a new free trade with the Mercosur countries of Argentina, Brazil, Paraguay and Uruguay and of an updated trade partnership with Mexico by the end of this year.
"And today, we are proposing to open trade negotiations with Australia and New Zealand," he told EU lawmakers.
"I want all of these agreements to be finalised by the end of this mandate. And I want them negotiated in the fullest transparency," he added. The current Commission's term of office runs until 31 October 2019.
The EU is seeking to capitalise on new trade opportunities in response to a more protectionist 'America First' stance from the United States under President Donald Trump.