Northern Ireland and the border counties should be designated a "special economic zone" to challenge poverty and help limit the damage of Brexit, Fianna Fáil leader Micheál Martin has said.
The Cork South Central TD warned that if the region is to break out of a cycle of low incomes and poverty it needs a new economic model.
Speaking at the British-Irish Association in Cambridge, Mr Martin said: "Northern Ireland will not break out of a cycle of low incomes and poverty - in fact things will get worse - unless there is a move to address its structural problems.
"I believe the answer is the creation of a Special Economic Zone in Northern Ireland and at least the border counties in the South.
"This can be done while fully respecting the constitutional rights protected in the Good Friday Agreement and incorporated into both UK and Irish law."
Mr Martin said an SEZ could be recognised by the EU as being distinct from the rest of the UK in terms of Single Market and Customs Union access.
He pointed out that the terms of the Good Friday Agreement set Northern Ireland in an EU context.
"It should not be hard to design a mechanism for certifying that Northern Ireland businesses conform with EU standards relevant to market access.
"UK sovereignty would remain intact - in fact it is the UK government's official policy to support such zones in countries with structural development issues in defined regions," Mr Martin said.
He added: "There is a solution available to the economic threat to Northern Ireland from a Brexit vote passed solely on an English majority.
"It is a solution which has the potential to prioritise and kick-start long-delayed and urgently needed development in the most disadvantaged region of these islands."
Mr Martin also warned that the ongoing political deadlock at Stormont was causing "enormous concern".
"It is deepening political disengagement and leaving Northern Ireland voiceless during Brexit negotiations," he said.
"We have to understand that we have to do things differently if we are to break out of the ongoing cycle of crises which we have been caught in.
"We have to do things differently if we are to prevent Brexit causing deep destruction to relations and progress in these islands."
Anti-Breixt march held in London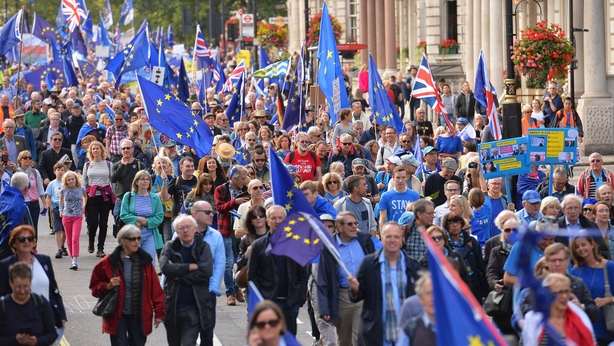 Thousands of anti-Brexit marchers descended on Westminster in London today to demand that Britain stays in the European Union.
Organisers estimated at least 50,000 protesters were marching through the city centre before converging on Parliament Square for a rally.
The People's March For Europe carried the message "unite, rethink and reject Brexit" and organisers said leaving the EU "no longer holds credibility inside Westminster, let alone on the streets of Britain".
The march came days after politicians returned to parliament following the summer recess and ahead of a critical Brexit vote.
MPs are set to vote on the repeal bill, formally known as the EU (Withdrawal) Bill, on Monday for the first time, amid concerns over the progress of Brexit negotiations.
A sea of blue and yellow Remainers amassed outside the Houses of Parliament, some draped in EU flags, while others held them aloft.