Police in Houston say they have recovered the bodies of six family members whose van was swept away in flooding unleashed by Harvey over the weekend.
"We have a total confirmed six dead here at the scene inside this van," Harris County Sheriff Ed Gonzalez told a press conference after receding floodwaters allowed them to locate the vehicle.
Manuel and Belia Saldivar and four of their great-grandchildren, ranging from six to 16 years in age, went missing Sunday as they were attempting to escape rising waters.
Tropical Storm Harvey has bore down on eastern Texas and Louisiana, bringing the catastrophic downpours that paralyzed the city of Houston, where record rainfall drove tens of thousands of people from their homes.
The storm, which first came ashore last Friday near Corpus Christi, Texas, is the most powerful hurricane to hit Texas in more than 50 years.
Damage has been estimated at tens of billions of dollars, making it one of the costliest US natural disasters.
Clear skies in Houston today brought relief to the fourth-largest US city after five days of downpours, as Harvey headed northeast, drenching cities including Port Arthur, Texas, and Lake Charles, Louisiana.
Some Houston residents began to leave emergency shelters, apprehensive about discovering what remained of the flooded homes they had fled.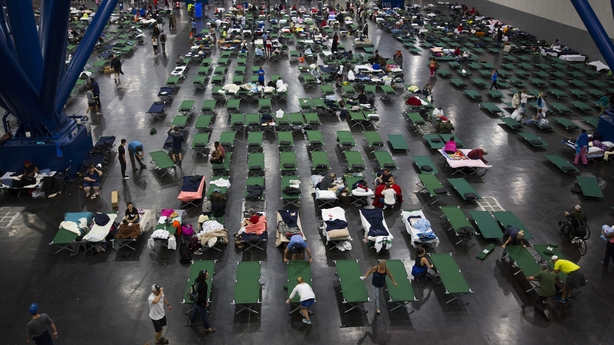 The National Hurricane Center has said the storm is expected to weaken into a depression in less than 12 hours.
"The forecast weakening will not eliminate the risk of continued heavy rainfall and flooding along Harvey's path, although the system's faster motion will keep subsequent rainfall totals well below what occurred over southeastern Texas," the NHC said.
It may take days for Houston's flood waters, which haves pilled over dams and pushed levees to their limits, to recede, local officials said.
As of Wednesday morning, Texas officials said close to 49,000 homes had suffered flood damage, with more than 1,000 destroyed. Some 195,000 people have begun the process of seeking federal help, FEMA said.
Houston Mayor Sylvester Turner imposed a curfew from 12am to 5am amid reports of looting, armed robberies and people impersonating police officers.
Texas is investigating hundreds of complaints of price gouging involving loaves of bread offered for $15, fuel for $100 a gallon and hotels raising room rates, the states attorney general has said.
US President Donald Trump visited Corpus Christi and Austin on Tuesday to survey damage from the first major natural disaster to test his crisis leadership and discuss the response with state officials.
"After witnessing first hand the horror & devastation caused by Hurricane Harvey, my heart goes out even more so to the great people of Texas!" Trump said on Twitter on Wednesday.
Moody's Analytics is estimating the economic cost from Harvey for southeast Texas at $51 billion to $75 billion.
The nation's largest refinery, Valero Energy Corp's 335,000 barrel-per-day facility in Port Arthur was shut, said sources familiar with plant operations.
The storm has affected nearly one-fifth of US refining capacity, sparking concerns about gasoline supply. The national average gasoline price rose to $2.404 a gallon, up six cents from a week ago, with higher spikes in Texas.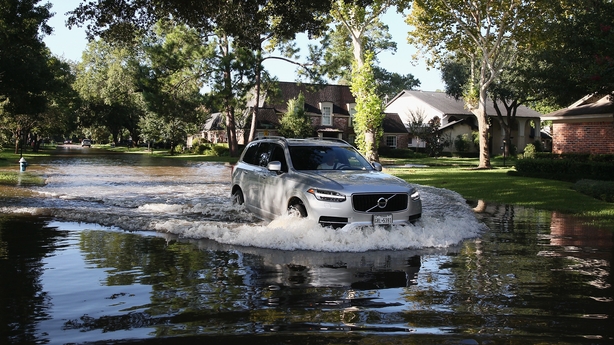 Area around Texas chemical plant evacuated
Earlier, People living near a chemical plant that produces organic peroxides in were been evacuated as a precautionary measure, in the wake of the storm.
The plant in Harris County is owned by the French group Arkema.
"As a protective measure Harris County has evacuated all residents within 1.5 miles of the Arkema facility," the Harris County Fire Marshal's Office tweeted.
The facility is flooded and some chemicals made there might react and start a fire that would belch black smoke, Arkema had warned.
Organic peroxides are compounds commonly used in the plastics manufacturing process.
In a statement Tuesday the company said all personnel had been evacuated as the situation "had become serious".
"At this time, while we do not believe there is any imminent danger, the potential for a chemical reaction leading to a fire and/or explosion within the site confines is real," the company said.
The products on site must be refrigerated, the statement said, but electricity had been cut off by torrential rains and back-up generators had been flooded.
Chemicals had been transferred into diesel-powered refrigerated containers, according to the statement, but some of that refrigeration had also "been compromised due to extremely high water."
Arkema said it was monitoring remotely the temperature of each refrigerated container.