The Irish-Filipino family caught up in last week's Barcelona terror attack have spoken of their relief at returning safely to Ireland.
Speaking to RTÉ News on their return to Dublin last night, Norman Fernandez Potot described how he turned to see the van bearing down on his family along Las Ramblas, and how he passed out after it hit him.
Thirteen people were killed in the attack and more than 100 injured.
Mr Potot suffered a fracture to his forehead after the force of the impact threw him head first to the ground, and also sustained bruising to his kidneys.
We need your consent to load this rte-player contentWe use rte-player to manage extra content that can set cookies on your device and collect data about your activity. Please review their details and accept them to load the content.Manage Preferences
His wife Pearl remembers the police telling them to get to safety and spoke of how she could see both her children had been hurt.
She spoke of the moments after the impact, saying she looked around to see where her family were: "I saw my daughter first, and then my son, and then him [pointing to her husband]."
She added: "I was scared when I saw him, with a bloody face. I thought he was dead."
"So, I went to him [Norman] first because I saw he was unconscious. I tried to wake him up. By the time he woke up, I went to my kids. That's the time the police told us to run away from that place, to hide somewhere."
Once Mr Potot regained consciousness, he and his family were taken to a restaurant basement for safety, amid fears the attackers could be armed.
He recalled a brief conversation with his wife: "While she's wiping my forehead, I told her 'My love, hopefully this is only a dream.' And she replied: 'No my love, it is real.' That's what I remember."
The couple's son Nathaniel suffered a broken femur in the attack and their daughter Nailah a fractured arm.
The family was taken to hospital where Spain's King Felipe and Queen Letizia spoke with them.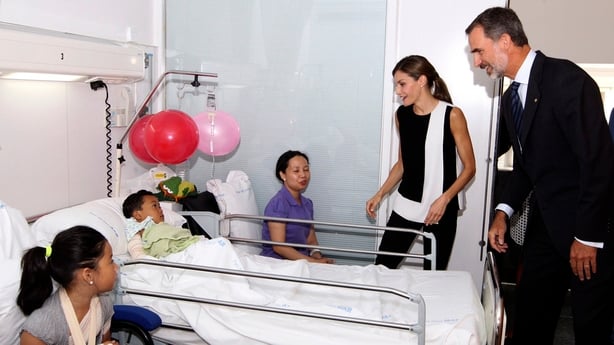 Even though he is glad to be home, Mr Potot said he is still traumatised and in pain following the terrible experience.
He said: "I am still coping, but still traumatised. I'm still in pain … but we're glad that we're home."
I feel I am very safe here. It was a really horrible experience, which no one would like to experience.
When asked how she is now, Ms Potot said: "Very sad, but I'm trying to be OK for my kids."
Ms Potot said she is determined to be okay for her children, who still do not really understand what happened to them.
Mr Potot said their children "are OK but they're not fine."
If they hear a small noise they will shout and cry. They are really traumatised.
He added: "When we were in the plane, she [his daughter] asked me. 'What is a terrorist victim?' I said: 'Forget about it, there is no such thing'."
Mr Potot thanked people for all their support and asked for privacy at this time.
He concluded: "I would like to thank everyone for their continuous support and prayers. Please continue to pray for us and for the other victims. Thank you, thank you very much to everyone."