Donegal County Council is continuing to assess the extensive damage caused by unprecedented levels of flooding in the north west.  
Remedial works are being carried out across the Inishowen area and a number of roads are due to re-open later today.  
The junior minister with responsibility for flood relief has pledged to "do all in my power to assist the households, businesses and communities" affected by severe flooding Co Donegal.
Heavy rain yesterday left homes flooded and roads damaged, with counties Donegal, Derry and Tyrone badly hit.
Bridges collapsed, roads gave way and cars were washed away in overflowing rivers during a night when 63% of August's average rainfall fell within nine hours.
Speaking from Co Donegal, Minister of State with responsibility for the Office of Public Works and Flood Relief Kevin "Boxer" Moran said: "I am in contact with my ministerial colleagues to ensure that every possible assistance is available to persons affected by the event and to ensure that damaged road and bridge infrastructures are addressed as soon as possible. 
"My colleagues Shane Ross, Minister for Transport, Tourism and Sport, and Joe McHugh, Government Chief Whip and Minister of State at the Department of Culture with responsibility for Gaeilge, Gaeltacht and the Islands, are with me tonight in Donegal and together we will see at first hand the effects of the flooding."
Mr Moran advised householders affected by the floods to contact their local Department of Social Protection Intreo Centre for assistance.
More than 100 people had to be rescued from vehicles caught in flash floods in Donegal, Derry and Tyrone.
On the Inishowen peninsula in north Donegal, roads turned into rivers of water as rain battered the area.
Staff from Donegal County Council have been inspecting the roads on the peninsula, with a number of roads impassable.
The council this evening issued road updates for the Inishowen area:
R239 Muff to Quigley's Point road will remain closed overnight to allow for further remedial works due to extensive damage.
Clashygowan Road in St. Johnston - from Rankins towards McGills - closed.
R238 Cockhill - Debris Removal & Assessment - Reopened 
R244 Craignahorna - Masonary Arch Collapse - Projected open to traffic not feasible in the short term , local diversions in place
R240 Riverside - Concrete Structure Collapse - Projected open to traffic not feasible in the short term , local diversions in place
R238Gortaran - Debris Removal, assessment & parapet replacement -  Reopened.
Video footage from James Sweeney shows extent of flooding in Burnfoot, Co Donegal last night pic.twitter.com/JWs4qETQLE

— RTÉ News (@rtenews) August 23, 2017
Government Chief Whip Joe McHugh said his thoughts are with the families affected and paid tribute to the emergency services, Donegal County Council, and "the incredible volunteers who worked through the night to save property and to save lives".
He said the flooding in Donegal will be treated as a priority case.
Sinn Féin's leader in Northern Ireland has pressed for a concerted multi-departmental response to the floods.
Michelle O'Neill said questions need to be answered about the level of preparedness and the response of statutory agencies.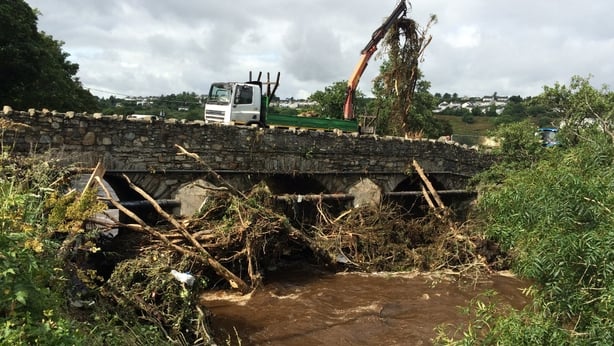 "Everything's gone, ruined, lost. I'm really gutted and very emotional" - Donegal residents react to devastating floods across northwest pic.twitter.com/wRVh0j7ju0

— RTÉ News (@rtenews) August 23, 2017
Meteorologist Gerry Murphy said there was 33mm of rainfall at Malin Head between 7pm and 9pm.
Speaking on RTÉ's News at One, he said the intensity of the rainfall was "too much" over such a short period of time, causing significant damage.
He said moist air and the interaction of colder air sparked the thunder storms, which are associated with the large amounts of rainfall. 
Asked if it is likely to happen again, Mr Murphy said "It's got a return period of 100 years". 
Inishowen Fine Gael Councillor Bernard McGuinness said he had never seen anything like last night's weather.
 It was a weather event not seen here in living memory with 70mm of rain in just a few hours.
Nicholas Crossan, an independent councillor on Donegal County Council, said the Inishowen Peninsula was one of the worst hit areas and also paid tribute to the number of people who came out to help their neighbours.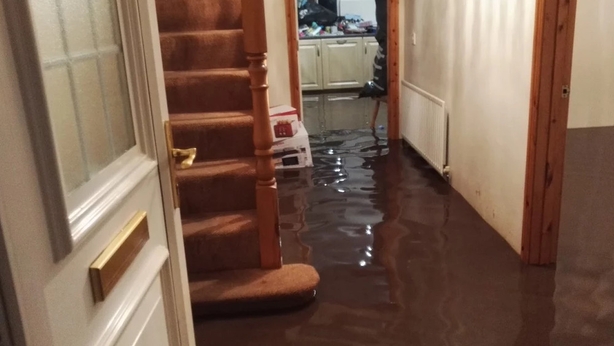 He said around six bridges were destroyed and others have been badly damaged.
There are fears one of Inishowen's most spectacular natural attractions, the Glenevin Waterfall Park, has suffered "extensive damage".
The park, close to Clonmany village, features a walking trail which ends at the waterfall.
We need your consent to load this Facebook contentWe use Facebook to manage extra content that can set cookies on your device and collect data about your activity. Please review their details and accept them to load the content.Manage Preferences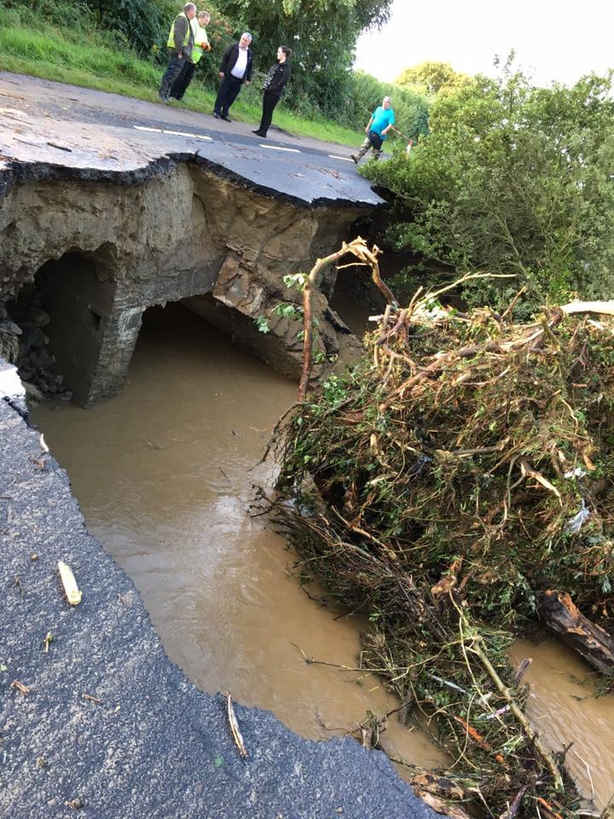 All flights in and out of Derry City Airport have been cancelled after the airport building was severely flooded.
Photographs on its Facebook page show waiting areas, security gates and offices under water.
The airport services flights to and from Majorca, Glasgow, London Stansted and Liverpool.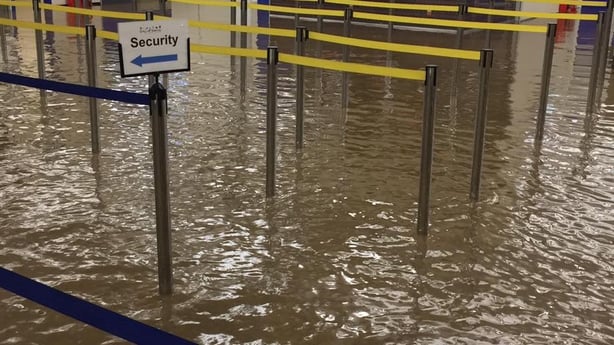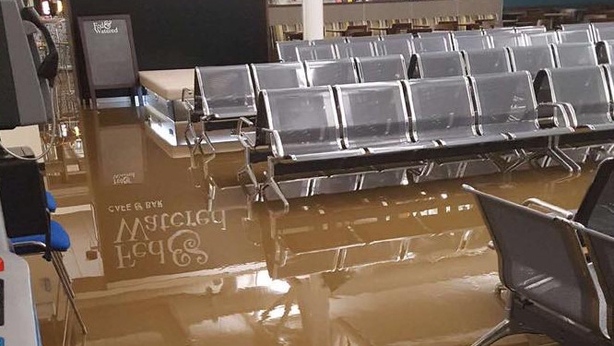 The downpours swept in from the Atlantic Ocean, triggering floods in Co Donegal before moving into Derry and other counties.
The Divisional Controller with the coastguard at Malin Head said it was a very busy evening.
Also speaking on the News at One, Derek Flanagan said one man had to be rescued from a field, where he was checking on livestock.
While he said the coastguard is always ready to respond, Mr Flanagan said conditions were exceptional.
He praised the people of Donegal who "came out to help and worked together in extreme circumstances".
@rtenews #floods People in Burnfoot Inishowen say they have lost everything after flooding pic.twitter.com/BGKVhKX8KA

— TERESA MANNION (@TeresaMannion) August 23, 2017
Firefighters in Northern Ireland responded to 85 separate flooding incidents last night and into the early hours of this morning.
Coastguard helicopters from Scotland, Wales and Sligo took part in operations and Derry and Strabane were among the worst-affected areas.
Several community halls opened their doors to stranded motorists who had to abandon their cars and to families who had to leave their homes because of rising waters.
Carrickmore GAA club badly hit last night. Both fields flooded. Nally heritage museum and gym destroyed. Worst floods in recent memory. pic.twitter.com/TXzUXqReUw

— Ryan McAleer (@RyanMcAleerUH) August 23, 2017
A Sinn Féin councillor in Derry said the conditions last night were "unprecedented".
Colly Kelly said it seems that preparation was not done properly, despite weather warnings.
Alan Walmsley, Assistant Chief Fire Officer at the Northern Ireland Fire and Rescue Service, said: "Firefighters rescued 93 people who were trapped by flood water either from their cars or from properties.
"Our regional control centre (RCC) received 402 emergency 999 calls between 7pm last night and 4am this morning.
"At its peak time, between 9pm and 11pm, RCC handled an emergency call every 45 seconds".
An example of the sheer destruction and damage the heavy rain caused overnight. This is the main Quigley's Point to Muff road in #Donegal pic.twitter.com/ogX4hxY7am

— Barry Whyte (@BarryWhyte85) August 23, 2017
DONEGAL: Number of routes still closed after yesterday severe weather. List here: https://t.co/pdsEzJTRQr

— AA Roadwatch (@aaroadwatch) August 23, 2017
Mr Walmsley said: "We worked closely with colleagues from the Irish Coastguard Agency, PSNI, ambulance service, Foyle Search and Rescue and local councils to respond to incidents to assist members of the public.
"Our specialist teams, including the water rescue teams and specialist rescue team from Belfast, were deployed and worked alongside local operational crews".
Wow. Streets of Eglinton flooded tonight. Photos by Judith Campbell & Georgie Healy. pic.twitter.com/Hkfvl7SkFp

— Barra Best (@barrabest) August 22, 2017
Soul Destroying.

Further announcement to follow to see where we go from here :( pic.twitter.com/8oI8Ww9Elj

— Institute F.C. (@Institute_FC) August 23, 2017
Heavy rain continuing in #Derry. Water gushing onto the main road in Prehen near the Everglades Hotel pic.twitter.com/LTluWk7pda

— Barry Whyte (@BarryWhyte85) August 22, 2017
Due to the high number of faults we are unable to provide ETR's at this time. We are working hard to restore supplies quickly & safely.

— NIE Networks (@NIElectricity) August 23, 2017
Whitehouse, Derry City.... flooded @barrabest pic.twitter.com/T5vaWXEXL8

— Daniel O'Connell (@oco_daniel) August 22, 2017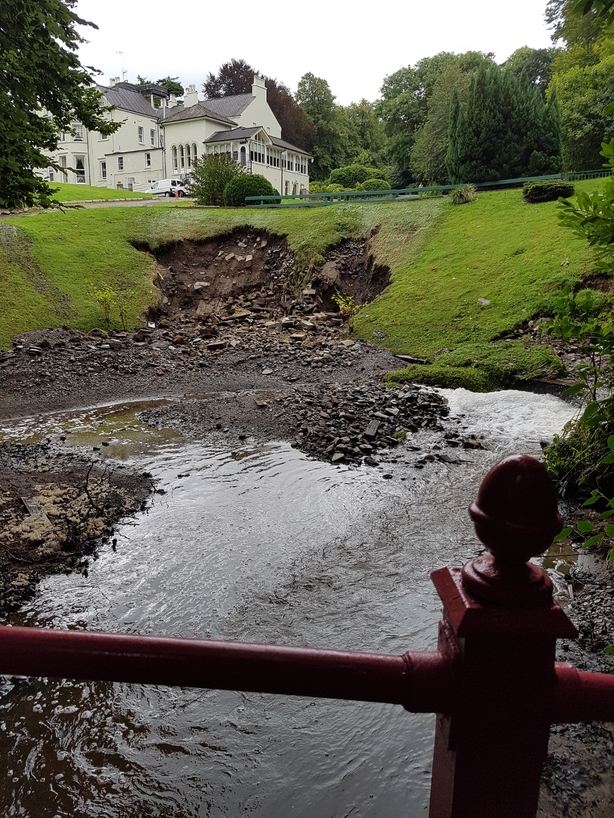 Did you capture any images of the storm? Send your pictures to yourphotos@rte.ie