The Minister of State at the Department of Education has said she believes teachers who do the same job should get the same pay.
Asked initially about the fact that she was not being paid as much as other 'super junior' ministers, Mary Mitchell-O'Connor said she believed "everyone who does the same job deserves the same pay".
Asked by RTÉ News did this apply to teachers on different pay scales, the Minister of State for Higher Education said: "I think they do and I'm going to stand by that, and that's my comment."
Recently-qualified teachers are on a lower pay scale to their older colleagues.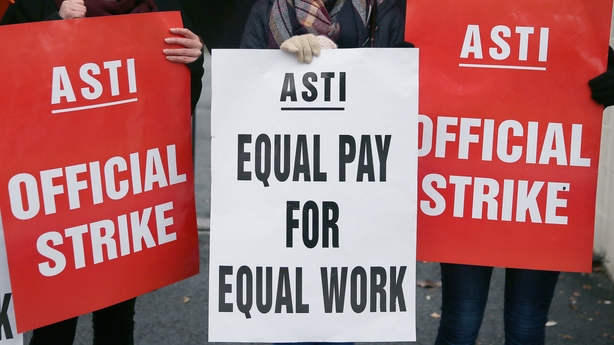 'People who do the same work deserve the same pay,' Mitchell O'Connor says. @Emma_okelly then asks if teachers should get the same pay... pic.twitter.com/pJZ9FTAkTy

— Gráinne Ní Aodha (@GAodha) August 23, 2017
The minister was speaking to journalists at the announcement of new multi-million euro initiatives to widen access to third-level education.
Minister for Education Richard Bruton and Minister Mitchell O'Connor outlined details of new grants for students who come from "non-traditional backgrounds".
They were also to give details of funding for other schemes aimed at encouraging those from disadvantaged backgrounds to enter college and complete their courses.
In all, €16.5 million will be spent on the initiatives over the next three years.
200 students will begin to benefit from the additional grants this year, according to the Department of Education, with 400 more expected to join the scheme over the subsequent two years.
The grants will be worth €5,000 to individual students.
Lone parents from disadvantaged backgrounds will be especially targetted by the schemes.
This bursary scheme will cost €6 million over the next three years.
Additional funding of €10.5 million is also being offered to colleges, over this year and the next two years, to pay for support programmes for students, and to make hardship funds available to those in need.
Third-level institutions will have to compete to draw down this funding, with the Department of Education saying that the "most innovative" proposals will be supported.
The funding will target lone parents in disadvantaged circumstances as well as others from disadvantaged backgrounds, students with disabilities; mature entrants, Travellers and people from ethnic minorities.
The latest data available from the Higher Education Authority shows that access to third-level by disadvantaged groups is improving.
The proportion of students from disadvantaged backgrounds rose from 22% to 26%, and of students with a disability rose from 7% to 11% between 2012 and 2014.
This extra funding is designed to accelerate this progress.