The chief executive of Independent News & Media Robert Pitt has abstained in a vote to re-appoint chairman Leslie Buckley to the board of the company. 
Despite the abstention, Mr Buckley retained his position on the board. 
At the company's annual general meeting today Mr Buckley said that a protective disclosure, which is being examined by the Office of the Director of Corporate Enforcement, would be dealt with in a "proper legal way". 
There has been a dispute between Mr Buckley and Mr Pitt about a potential takeover of Newstalk, which is owned by INM's largest shareholder, businessman Denis O'Brien. 
The discussions about a takeover of Newstalk never resulted in a formal proposal to the board of INM but the internal dispute reportedly prompted Mr Pitt to make a whistleblower disclosure.
At the AGM one shareholder, Giles Kerr, said that he was "happy Mr Pitt raised the issues he raised." 
Mr Buckley responded that the company was "working night and day" to get the issue resolved.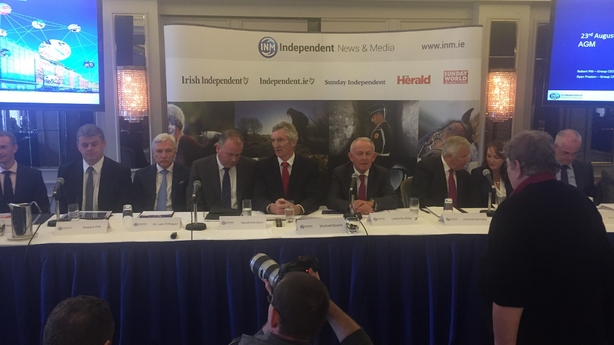 Also at the meeting a trustee of the pension fund, Harry Allen, thanked politicians for their efforts during discussions with the company to resolve issues with INM's pension fund. 
INM sees fall in pre-tax profit
INM today reported its pre-tax profit was down nearly 20% for the first six months of the year to €14.9m. The company said this was mainly due to continued challenges in revenue, which was 8.5% lower at €148m.
Distribution revenue was 9% lower and the group recorded a decline in total advertising revenue of nearly 8%.
Ad revenue in its printed publications was down almost 11% but that was partially offset by digital advertising revenue growth of 6.3%.