Two landmark court challenges against the ban on same sex marriage in Northern Ireland have been dismissed.
Mr Justice O'Hara rejected both cases, insisting the ban did not violate the rights of LGBT couples in the region.
Delivering judgment at the High Court in Belfast, he said it was for the Stormont Assembly not a judge to decide social policy in Northern Ireland.
The judge heard the cases together due to the similarities of the legal arguments.
The first case - known as Petition X due an anonymity order - involved two men who married in London in 2014 and were attempting to get their union recognised in Northern Ireland.
Their marriage was changed to a civil partnership in law when they moved to Northern Ireland.
In the second case, two couples in civil partnerships - Grainne Close and Shannon Sickles and Chris and Henry Flanagan-Kane - argued the prohibition breaches their human rights.
Both couples were, respectively, the first and second in the UK to enter into a civil partnership after Northern Ireland became the first part of the UK to make that option available in December 2005.
They took a case against Stormont's Department of Finance and Personnel, which regulates the region's marriage laws, on the grounds that the ban contravenes entitlements to marriage and a family life under the European Convention on Human Rights.
Outside court Ms Close said she was "devastated".
"For us, this is a personal matter," she said.
"We have families and our children are being treated differently because of today's result."
Her partner Ms Sickles vowed to appeal against the judgment and urged supporters to contribute to a fighting fund to sustain the legal campaign.
"This is a long term, many years ahead appeal process to bring human rights to all citizens in Northern Ireland," she said.
Asked for his reaction, Chris Flanagan-Kane unfurled a rainbow flag from his pocket and vowed to challenge the outcome.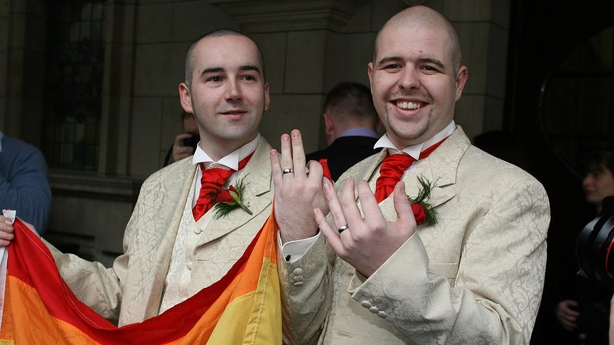 "You know what - we are here for the long haul," he said.
The couple in the X petition case issued a statement expressing their disappointment.
"What it shows is that more work needs to be done to explain a truth that, to us, is self-evident - the love two men or two women share is never a threat to society, in fact the world could do with a little more love today," they said.
"Today we are calling on the mums, dads, siblings and friends of LGBT+ people to no longer remain on the side lines. Speak, write or tweet to our political leaders reminding them that the majority of people in Northern Ireland support same sex marriage.
"Our fight to have our love recognised continues and we will discuss our options with our legal team."