Rescue workers have uncovered nearly 400 bodies so far from a mudslide on the outskirts of Sierra Leone's capital Freetown, its chief coroner Seneh Dumbuya told Reuters this evening.

He said that he expected at least 500 bodies to be uncovered as the search continues.
Sierra Leone's president earlier made an emotional appeal for help after it became clear hundreds of people were killed and thousands displaced following the mudslide.
Dozens of houses were covered in mud when a mountainside collapsed in the town of Regent yesterday morning.
It is one of the deadliest natural disasters in Africa in recent years.
President Ernest Bai Koroma said the country needed "urgent support now".
Addressing the media in Regent Mr Koroma fought back tears as he said the devastation "was overwhelming us".
"Entire communities have been wiped out," he said at the disaster site, where heavy rains streaming down the hillside engulfed homes three or four stories high on Monday.
Many of the houses had been built illegally.
The Red Cross has said it is struggling to bring enough equipment to the site to excavate those buried deeply in the mud, but several bodies were extracted by available machinery at the site yesterday morning.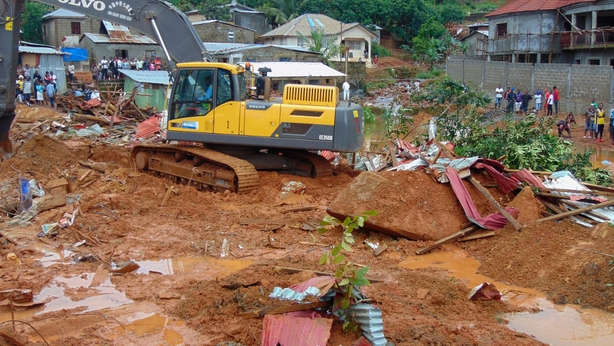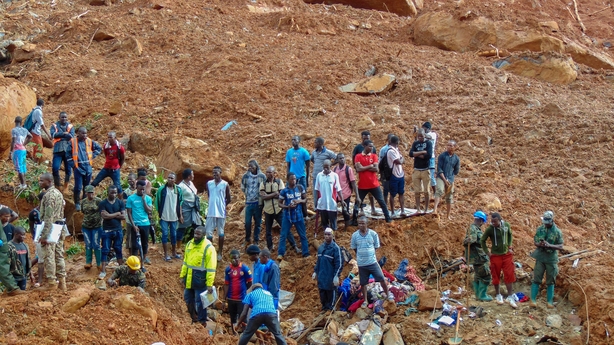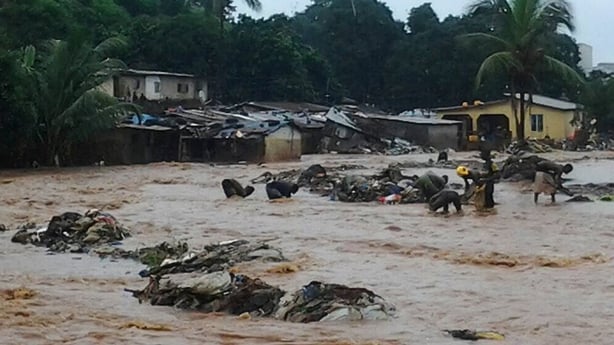 Mr Koroma urged residents of Regent and other flooded areas around Freetown to evacuate immediately so that rescue workers could continue to search for survivors who might be buried underneath debris.
Rescue centres have been set up around the capital to register and assist victims, he said in a television address last night.
The country's Vice President, Victor Foh, yesterday said it was likely that hundreds were lying dead underneath the rubble.
He said a number of illegal buildings had been erected in the area.
"The disaster is so serious that I myself feel broken," he said.
Mudslides and floods are fairly common during the rainy season in west Africa, where deforestation and poor town planning has put residents at risk.
Goal's director in Sierra Leone has said difficult terrain and a lack of adequate machinery is hampering rescue efforts in the area of the mudslide.
Speaking on RTÉ's Drivetime, Anna Franzel said there have been varying death toll figures reported but that 265 bodies recovered from the area were taken to Connaught Hospital morgue in Freetown.
Ms Franzel said housing is largely unregulated near the town of Regent, and the town is surrounded by steep mountains, on which she said people had built significant structures.
She added that deforestation is making terrain difficult for rescuers, and that a lack of heavy machinery "means people are having to do digging by hand".
Ms Franzel said thoughts now turn to the possible outbreak of disease.
She said: "The big risks can be after large floods like this, and particularly in the informal settings, and slum communities which are dotted around Freetown there is risk of disease outbreak. So health actors are now trying to mitigate some of those potential negative effects."