US Defense Secretary Jim Mattis has said North Korea must stop any action that would "lead to the end of its regime."
Mr Mattis added that the United States and its allies have precise defensive and offensive capabilities.
"The DPRK must choose to stop isolating itself and stand down its pursuit of nuclear weapons," Mr Mattis said in a statement. DPRK is short for the North's official name, the Democratic People's Republic of Korea.
"The DPRK should cease any consideration of actions that would lead to the end of its regime and the destruction of its people.
"The DPRK regime's actions will continue to be grossly overmatched by ours and would lose any arms race or conflict it initiates," he added.
It comes after US President Donald Trump said his first order as president was to renovate and modernise the US nuclear arsenal, which he said was "now far stronger and more powerful than ever before".
He added: "Hopefully we will never have to use this power, but there will never be a time that we are not the most powerful nation in the world!"
His comments, in two tweets, came after North Korea said it is considering plans for a missile strike on the US Pacific territory of Guam, where US strategic bombers are based.
My first order as President was to renovate and modernize our nuclear arsenal. It is now far stronger and more powerful than ever before....

— Donald J. Trump (@realDonaldTrump) August 9, 2017
...Hopefully we will never have to use this power, but there will never be a time that we are not the most powerful nation in the world!

— Donald J. Trump (@realDonaldTrump) August 9, 2017
Yesterday, Mr Trump warned Pyongyang that any threat to the United States would be met with "fire and fury".
Donald Trump vows new North Korea threats will be hit with 'fire' https://t.co/iO2SHp7H9S pic.twitter.com/m7jiX5uWHp

— RTÉ News (@rtenews) August 8, 2017
US Secretary of State Rex Tillerson said Mr Trump was simply using language "that Kim Jong-un would understand".
"What the president is doing is sending a strong message to North Korea in language that Kim Jong-un would understand, because he doesn't seem to understand diplomatic language," he said.
Mr Tillerson was talking to journalists aboard his plane en route to the US territory of Guam, where North Korea had warned it was considering missile strikes.
North Korea said it was "carefully examining" a plan to strike Guam, an island in the western Pacific and site of a US military base that hosts a submarine squadron, an airbase and a Coast Guard group.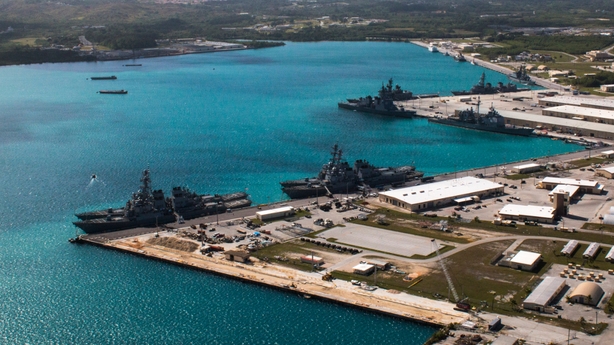 A Korean People's Army spokesman, in a statement carried by state-run KCNA news agency, said the plan would be put into practice at any moment once leader Kim Jong-un makes a decision.
In another statement citing a different military spokesman, North Korea also accused the United States of devising a "preventive war".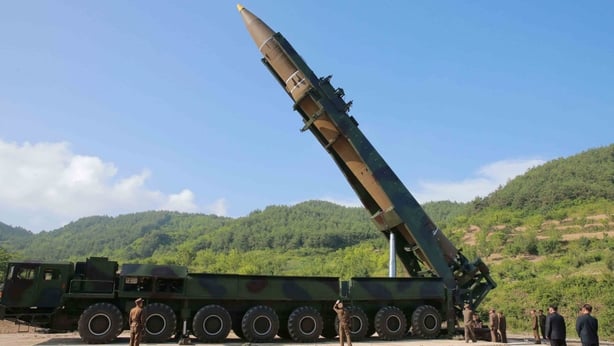 It said any plans to execute this would be met with an "all-out war wiping out all the strongholds of enemies", including the US mainland.
Washington has warned it is ready to use force if need be to stop North Korea's ballistic missile and nuclear programmes but that it prefers global diplomatic action, including sanctions.
Speaking to reporters in New Jersey, Mr Trump issued his strongest warning yet for North Korea.
"North Korea best not make any more threats to the United States. They will be met with fire and fury like the world has never seen," Mr Trump said.
The UN Security Council unanimously imposed new sanctions on North Korea on Saturday over its continued missile tests.
The governor of Guam said North Korea's warning of a possible missile strike was no threat and the island was prepared for "any eventuality", with defences strategically placed to protect its people.
"Guam is American soil ... We are not just a military installation," said Governor Eddie Calvo.
Mr Calvo said in an online video message he had contacted the White House and had been told by the defence and homeland security departments there was no change in the threat level.
He said he would convene a meeting with Guam's military commander and first responders to discuss their state of readiness.
Guam, home to about 6,000 US troops, is strategically located midway between the Korean Peninsula and the South China Sea and houses two US military installations - the Andersen Air Force Base and the Naval Base Guam.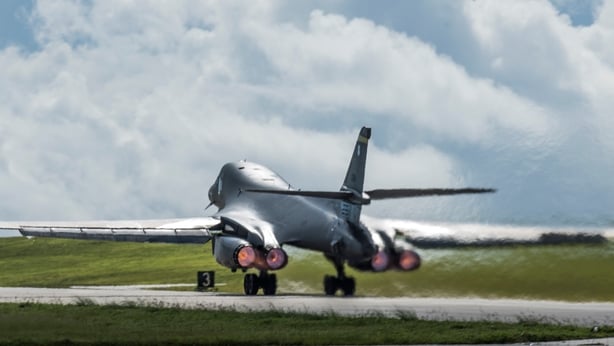 It was described by President Barack Obama's defence secretary Ashton Carter as "an important strategic hub for the US military in the Western Pacific".
On the streets of Guam capital Hagatna, there was a sense of calm.
"It's not like there's anything we can do anyway. This is a small island. There's nowhere to run to," resident James Cruz said AFP.
Madeleine Bordallo, Guam's delegate to Congress, said North Korea's nuclear capabilities were "deeply troubling," but she was confident the island was safe and protected.
Guam's local population numbers 162,000 and its economy depends primarily on tourism and the US military.
---
Minister for Foreign Affairs Charlie Flanagan has said the rhetoric coming from both sides is worrying and "quite scary."
Speaking on RTÉ's Drivetime, Mr Flanagan said both North Korea have been very liberal in their rhetoric, adding he hopes in the next number of days there will be a de-escalating of what is "a worrying scenario emerging."
Mr Flanagan said that as Minister for Foreign Affairs he was always conscious of the need to ensure that language is diplomatic and that issues of international controversy and difference are dealt with around the table, saying there are a number of such forums, including the United Nations.
He also said it would be unhelpful for Ireland to be involved in a blame-game.