The Health Service Executive has said there are currently more than 1,200 people, most with disabilities, who are under the age of 65 and yet living in nursing homes for the elderly.
The Disability Federation of Ireland has said this accommodation is totally unsuitable.
One 45-year-old man has been in a Co Dublin nursing home for close to nine years and says he is losing hope of ever getting out.
As of 30 June this year, the HSE said there were 1,222 people under the age of 65 who are accessing nursing home care via the Fair Deal nursing homes support scheme.
It says that while a substantial number of this vulnerable group do have a disability, it is critically important to note that this can be a clinically appropriate intervention in the case of complex medical and social needs.
Some individuals also have early onset dementia or Parkinson's, which is typically an older persons condition.
However, the HSE said it was very conscious of the fact that people with a disability who are in nursing home care and who wish to should be supported to move back to a home of their choice.
It says it is working through its network of community healthcare organisations to facilitate this within the resources available.
Michael McGealy, whose disability impacts on his ability to move and speak, was 36 and had been living with his family in north Co Dublin when he was placed in a nursing home, initially on a temporary basis.
He is now 45 and says he feels like he has lost nine years of his life.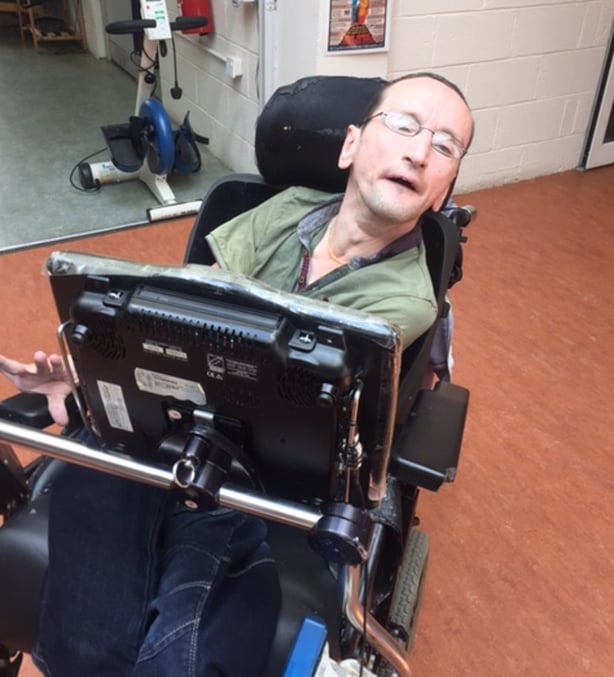 The Disability Federation of Ireland has called on the Government to urgently address the issue.
But it said a lack of suitable housing is having an impact, with 4,500 people with disabilities currently on the social housing list.
The head of operations at the HSE's Disability Service has said there are people in nursing homes that do not need to be there, but that appropriate housing and adequate funding are required to be able to move such people back in to their own homes.
Speaking on RTÉ's News at One, Dr Cathal Morgan said assessment is currently under way to establish how many people no longer need nursing home care, and he hopes to have accurate figures by October.
Dr Morgan said the goal of the HSE's Disability Service is to have individualised care plans for people to live in their own homes.
However, he said the housing crisis is leaving it mark on this area of care. He also said "budgets need to be realigned" to be able to provide individualised care for people in their own homes.
He said: "Obviously there are people who are in nursing homes who do not need to be there. What we have to get right is to identify absolutely who no longer requires that and have individualised plans for each individual around a move on.
"To do that we need a number of things to work with us, in particular to have an adequate supply of housing and being able to provide these support packages to people in their own homes."
Meanwhile, the CEO of the Disabilities Federation of Ireland called on the Government to urgently address the issue.
Speaking on the same programme, Senator John Dolan suggested that these people will experience a negative psychological impact by living with the elderly who are in the latter stages of life.
He said: "The great majority of people in nursing homes spend the last two, three, four years of their lives when they're quite frail in various ways, and you have somebody, who is decades younger than that, in that environment and they know very well that the doors of nursing homes only swing one way, in."