South African President Jacob Zuma has survived a no-confidence motion against him in parliament by garnering 198 votes to the opposition's 177 votes as African National Congress MPs rallied to his support.
There were nine abstentions in the secret ballot.
Mr Zuma, 75, who has held power since 2009 but whose time in office has been dogged by allegations of corruption, has now survived nine no-confidence votes thanks to loyal voting by ANC lawmakers.
Speaking after his latest success, Mr Zuma said the party was united and the opposition could not take power through parliament.
"They are pumping propaganda through the media that the ANC is no longer supported by the people. It is their own imagination," he told a cheering crowd.
"The ANC is supported by the overwhelming majority," he said, before breaking into song and cracking jokes with the crowd.
The South African rand fell by 1% after the announcement of the vote outcome.
This morning MPs from the ruling ANC party resolved at a meeting to support Mr Zuma in the motion.
Mr Zuma, who also attended the meeting, was described as being calm and jovial by the party's chief whip Jackson Mthembu.
Several party members could be heard singing as they walked out of the meeting having agreed to support Mr Zuma, he said.
The speaker of parliament decided to allow anonymous voting in the motion of no confidence.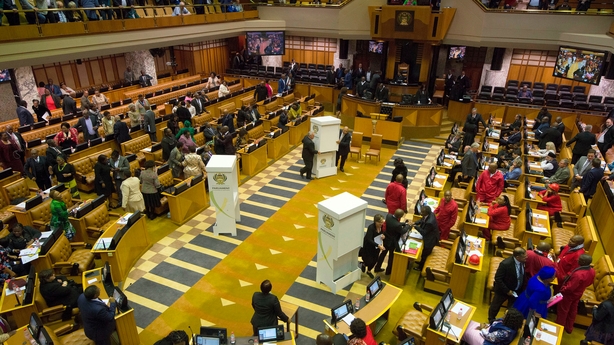 Mr Zuma's critics had been calling for a secret ballot in the hope it will embolden MPs from his ANC party to support his removal by shielding them from pressure.
Mr Zuma said in June that a secret ballot would be unfair.
But Speaker Baleka Mbete's decision yesterday to allow one changed the landscape.
Markets welcomed the decision. The rand, bonds and banking shares surged after Ms Mbete's announcement, buoyed by the prospect of Mr Zuma's removal.
In the past year, President Zuma has upset investors, in particular by removing popular finance minister Pravin Gordhan.
South Africa, meanwhile, had its credit rating downgraded to junk by two of the top three credit rating agencies.
Unemployment is at a 14-year high of 27.7% and the economy is back in recession.
"Jacob Zuma has brought our nation to its knees. We call on all members of parliament to do the right thing and remove Jacob Zuma," the main opposition Democratic Alliance (DA) party, which brought the motion to parliament, said in a statement.
Opposition parties have planned a march in the streets of Cape Town where parliament is located to push for Mr Zuma's removal.
ANC party members are also expected to march on the same streets in support for him.
Mr Zuma's tenure as South Africa's president is due to run until 2019 when national elections will be held.