Former Sunday Times columnist Kevin Myers has apologised to BBC presenters Vanessa Feltz and Claudia Winkleman and said he accepted that what he wrote in an article at the weekend should not have been written.
The article on gender pay gaps was criticised for being anti-Semitic and the Sunday Times later said that Mr Myers would not write for them again.
In the column, Mr Myers suggested that Ms Feltz and Ms Winkleman are well paid because they are Jewish.
He wrote of Ms Feltz and Ms Winkleman: "Good for them. Jews are not generally noted for their insistence on selling their talent for the lowest possible price, which is the most useful measure there is of inveterate, lost-with-all-hands stupidity".
Kevin Myers apologises to Vanessa Feltz and Claudia Winkelman over article in Sunday Times pic.twitter.com/7UToWtnzVt

— RTÉ News (@rtenews) August 1, 2017
Speaking on RTÉ's Today with Sean O'Rourke, Mr Myers apologised and said: "I have many flaws. One of my flaws is to … deal with major issues in throwaway lines. And I did that with regard to the two women whom I identified within the BBC hierarchy who were particularly well rewarded."
We need your consent to load this rte-player contentWe use rte-player to manage extra content that can set cookies on your device and collect data about your activity. Please review their details and accept them to load the content.Manage Preferences
Mr Myers also said he was "a great admirer of the Jewish people".
When asked how the article got published, Mr Myers said: "I am the author of that article. I am the author of my own misfortunes. I am the master of my soul. And I must answer for what I have done.
"But I don't think it right or proper for me to start saying some how or other, other people are responsible for what happened. I must do nothing that will bring ruin or unhappiness to other people."
He said he believed his career as a columnist was over as a result of his controversial piece and said he did not want anyone else to lose their jobs. "Enough damage has been done," he said.
He said he would guess five or six people - some in Ireland and some in London - would have read a column before it was published.
Last Friday and Saturday, he said, a number of people "nodded on duty and let something through that shouldn't have got through". "But I am the author of this."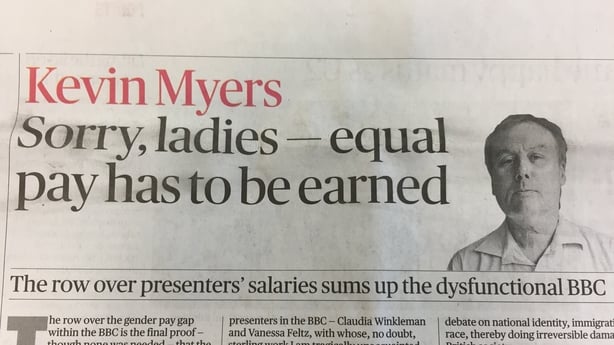 Apologising to Ms Feltz and Ms Winkleman he said: "I am very, very sorry that I should have so offended them and I do utter an apology, not for any reason other than out of genuine contrition for the hurt I caused them but I uttered those words out of respect for the religion from which they come. And for the religion that I still hold in high regard, particularly the Irish members of that religion who have been so forthright in their defence of me generally."
Yesterday, Ms Feltz said the article was "horrifying racism" and was "every vile stereotype about what Jewish people have ever been deemed to be by racists".
She also questioned how something "so blatantly racist" was allowed in the paper.
The article had appeared online and in the Irish print edition of the paper on Sunday.
It was taken down from the paper's website following a furious reaction on social media and a formal complaint from the Campaign Against Anti-Semitism to press regulator Ipso in the UK.
Aside from the Jewish remarks, Mr Myers also drew criticism and accusations of misogyny for other points in the column arguing that men justified higher salaries than women.
On Su nday, the paper apologised both for the column and the "error of judgement" that led to publication.