White House communications director Anthony Scaramucci, who was appointed just ten days ago, has been removed from the post.
The White House said that Mr Scaramucci will leave the role to give Chief of Staff John Kelly a "clean slate". Mr Kelly was sworn in earlier today.
"Anthony Scaramucci will be leaving his role as White House Communications Director," the White House said in a statement.
"Mr Scaramucci felt it was best to give Chief of Staff John Kelly a clean slate and the ability to build his own team. We wish him all the best."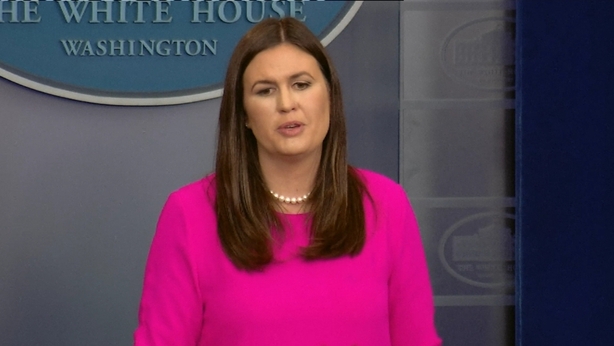 White House press secretary Sarah Huckabee Sanders said in a press conference that Mr Trump felt Mr Scaramucci's comments in an interview were inappropriate.
"The president certainly felt that Anthony's comments were inappropriate for a person in that position and he didn't want to burden General Kelly," she said.
Last week, Mr Scaramucci launched a foul-mouthed attack on his most senior colleagues, using language that US television networks refused to repeat.
In an exchange with a New Yorker reporter, Mr Scaramucci ranted about then chief of staff Reince Priebus and chief White House strategist Steve Bannon.
In a change from previous procedure, Ms Huckabee Sanders said that all staff at the White House will now report to chief of staff Kelly, including Ivanka Trump and Jared Kushner.
New chief of staff Kelly restoring traditional reporting lines at the WH:everyone reports to him now not directly to POTUS,inc.Jared &Ivanka

— Caitriona Perry (@CaitrionaPerry) July 31, 2017
Earlier, Mr Trump had tweeted that there was "no chaos" in the White House.
Highest Stock Market EVER, best economic numbers in years, unemployment lowest in 17 years, wages raising, border secure, S.C.: No WH chaos!

— Donald J. Trump (@realDonaldTrump) July 31, 2017
A few hours later he tweeted:
A great day at the White House!

— Donald J. Trump (@realDonaldTrump) July 31, 2017
Mr Scaramucci's departure follows one of the rockiest weeks of US President Donald Trump's presidency in which a major legislative effort – a healthcare overhaul - failed in Congress and both his spokesman and previous chief of staff left their jobs.
In a week & a half, POTUS has changed his Press Secretary, Comms Director, Chief of Staff and (by knock-on)Secretary of Homeland Security

— Caitriona Perry (@CaitrionaPerry) July 31, 2017