The scale of the task facing Permanent TSB's chief executive Jeremy Masding looks more daunting as the dust settles on the financial crisis.
It is clearly the weakest of the Irish banks.
Its actions t o address mortgage arrears have been far less effective than competitors AIB and Bank of Ireland.
Despite Mr Masding's attempts to highlight the positive developments this week he could not disguise the brutal reality that Permanent TSB is smothered by non-performing loans.
The three Irish banks issued interim results this week and the contrast between the big two and Permanent TSB was stark.
Here is the problem: at Bank of Ireland 5% of its owner-occupier mortgages in Ireland are impaired, the figure at AIB is 8% but at Permanent TSB it is an enormous 23%.
Questions are being asked about the quality of the mortgage solutions Permanent TSB has put in place and the strategy used to fix the problem.
One of the mechanisms to help those in arrears has been to issue split mortgages.
These allow homeowners pay part of the loan while the other part remains on ice.
AIB has 1,705 split mortgage arrangements. However, Permanent TSB has 6,288 such arrangements.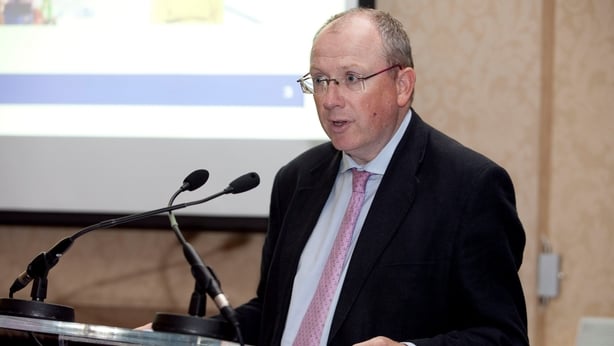 In an effort to get on top of the problem Mr Masding (above) says he will step up repossessions and sales of portfolios of mortgage loans.
The most likely buyers for batches of home loans will be vulture funds.
Taking action on arrears will have personal consequences for the families who live in those properties.
They will be the ones feeling the pain.
Mr Masding says nine out of ten of his solutions for home owners in arrears are working.
But non-performing loans are overshadowing progress in other areas such as growing market share and rebuilding profits.
It is now almost nine years since the Government issued the bank guarantee.
Six banks were covered by the arrangement.
Three banks were left operating as stand-alone entities.
During Ireland's EU-IMF bailout, serious consideration was given to merging Permanent TSB with AIB.
In some ways it could have made sense.
However, it would have left retail banking dominated by the duopoly of Bank of Ireland and AIB with nasty consequences for competition.
Mr Masding points out Permanent TSB received a €4bn bailout but returned €1.3bn to the taxpayer when it sold its assurance division Irish Life.
There is no doubt he took charge of a bank with big problems.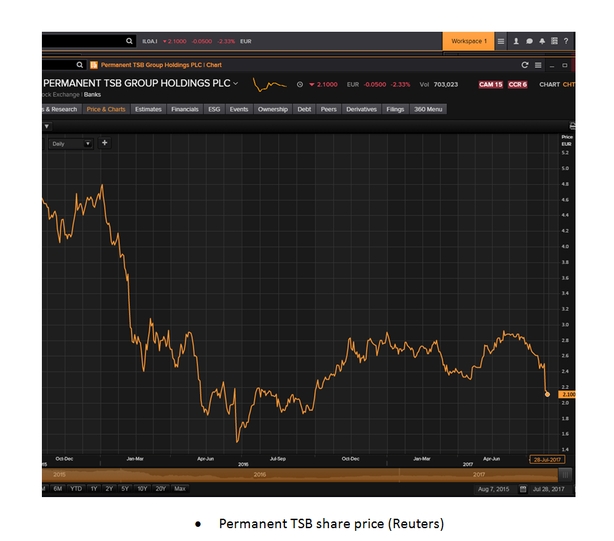 One way to gauge how observers view Permanent TSB is to look at its shares since the Government floated 25% of the bank on the Irish Stock Exchange in 2015.
Those shares have fallen from €4.40 to €2.10.
That is a drop of 52%.
Comments welcome via Twitter to @davidmurphyRTE