Russia has ordered the US to cut hundreds of diplomatic staff in retaliation for a new round of US sanctions, and said it was seizing two US diplomatic properties.
The decision, which carries echoes of the Cold War, was announced by the Foreign Ministry a day after the US Senate overwhelmingly approved new sanctions on Russia.
The US bill, which also imposes sanctions on Iran and North Korea, was backed by a significant margin of 98-2 with strong support from President Trump's fellow Republicans as well as Democrats.
It now passes to US President Donald Trump for final approval.
Russia had been threatening retaliation for weeks.
Russian Foreign Minister Sergei Lavrov told US counterpart Rex Tillerson that Moscow remained ready to work with Washington.
"Lavrov confirmed that our country is still ready to normalise bilateral relations with the US and to cooperate on the most important international issues," Russia's foreign ministry said after a phone call between the two top diplomats.
"However this is possible only on the basis of equality, mutual respect and a balancing interests," the ministry said. 
Russia's response suggests it has set aside initial hopes of better ties with Washington under Mr Trump, something the US leader, before he was elected, had said he wanted to achieve.
Relations were already at a post-Cold War low after US intelligence agencies accused Russia of trying to interfere in last year's US presidential election to boost Mr Trump's chances, something Moscow flatly denies.
The new sanctions were in part a response to the agencies' findings that Russia did meddle in the election, and to further punish Russia for its annexation of Crimea in 2014.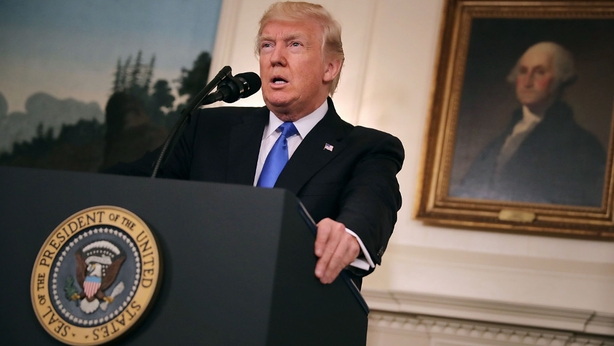 The Russian Foreign Ministry complained of growing anti-Russian feeling in the US, accusing "well-known circles" of seeking "open confrontation".
President Vladimir Putin warned yesterday that Russia would have to retaliate against what he called boorish US behaviour, and Dmitry Peskov, his spokesman, told reporters today that the Senate vote was the last straw.
A top White House aide said yesterday that Mr Trump might veto the legislation in order to push for a tougher deal. But the bill is expected to garner enough support in both chambers to override any veto.
The Russian Foreign Ministry said the US had until September 1 to reduce its diplomatic staff in Russia to 455 people, the number of Russian diplomats left in the US after Washington expelled 35 Russians in December.
It was not immediately clear how many US diplomats and other workers would be forced to leave either the country or their posts, but the Interfax news agency cited an informed source as saying "hundreds" of people would be affected.
The Russian Foreign Ministry's statement said the passage of the bill confirmed "the extreme aggression of the United States in international affairs".
"Hiding behind its 'exceptionalism', the United States arrogantly ignores the positions and interests of other countries," it said.
"Under the absolutely invented pretext of Russian interference in its domestic affairs, the United States is aggressively pushing forward, one after another, crude anti-Russian actions. This all runs counter to the principles of international law."
Deputy Foreign Minister Sergei Ryabkov met outgoing US ambassador John Tefft today to inform him of the counter measures, Russian news agencies reported. The US Embassy said the ambassador had expressed his "strong disappointment and protest".
Senator John McCain, a leading congressional voice calling for a firm line against Russia, said before the vote on yesterday's bill: "The United States of America needs to send a strong message to Vladimir Putin and any other aggressor that we will not tolerate attacks on our democracy."
"The Senate's overwhelming vote today sends an important message that America will not tolerate attacks on our democracy or national security interests," he said.
But the bill could end up penalising European firms that contribute to the development of Russia's energy sector.
New sanctions against Iran and its Islamic Revolutionary Guard Corps, which stands accused of supporting terrorism, and North Korea, for its missile tests, are also included in the bill.