The US Senate is to vote on legislation imposing new sanctions on Russia, Iran and North Korea later tonight, Senator Mike Enzi has said.
The measure has already passed the House of Representatives by a 419-3 vote.
It is also expected to garner very strong support in the Senate, despite concerns about it from President Donald Trump
A White House aide has said Mr Trump could veto the pending legislation in order to push for a tougher deal than the one winding through Congress.
"He may sign the sanctions exactly the way they are or he may veto the sanctions and negotiate an even tougher deal against the Russians," White House Communications Director Anthony Scaramucci told CNN.
His comments came after politicians on Wednesday reached an agreement that paves the way for the US Senate to pass a bill as soon as this week to impose new sanctions on Russia and bar Mr Trump from easing sanctions on Moscow without congressional approval.
Russia has warned it could retaliate against Washington, while the European Union said the US move might affect its energy security and prompt it to act, too.
The US House of Representatives has already approved the sanctions.
If the bill passes the Senate as expected, it would be sent to the White House for Mr Trump to sign into law or veto.
If Mr Trump vetos it, however, the measure is expected to garner enough bipartisan support to override it.
Mr Scaramucci cast the president's consideration of a possible veto in light of his core supporters in an interview on CNN's "New Day" programme.
"He is a counter-intuitive, counter-punching personality," citing the president's recent "fan base" at a recent rally.
"The American people get it. The American people like what he is doing. The establishment does not like what he is doing. He's going to disrupt the establishment."
Russian President Vladimir Putin has complained that the probe into Russia's alleged meddling in the US presidential election bore witness to increasing anti-Russian hysteria.
"We are just seeing a rise in anti-Russian hysteria," Mr Putin said at a news conference after talks with his Finnish counterpart Sauli Niinisto, adding: "It's a great pity that Russian-US relations are being sacrificed to resolve questions of domestic politics."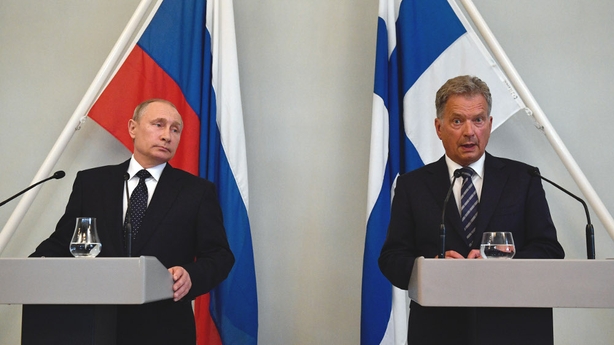 The bill would affect a range of Russian industries and might further hurt the Russian economy, already weakened by 2014 sanctions imposed after the Ukraine crisis.
An adviser to Mr Putin told Reuters that any tightening of the sanctions should not have a deeper impact but hope they would be lifted has faded.
Meanwhile, Mr Scaramucci found himself at the centre of a twitter storm last night when he tagged White House Chief of Staff Reince Priebus in a tweet calling on the FBI to investigate the leak of his financial information.
After details of his financial holdings were made public, White House Communications Director Anthony Scaramucci appeared to point the finger of blame at Mr Priebus.
"In light of the leak of my financial disclosure info which is a felony. I will be contacting @FBI and the @TheJusticeDept #swamp @Reince45," Mr Scaramucci tweeted.
Mr Scaramucci was appointed White House communications director just this week, but he has quickly become a public face of the administration and powerful surrogate for the president.
Earlier, Politico published details of Mr Scaramucci's finances, which are submitted to the government ethics office by all senior White House staff.
Mr Trump's White House has been beset by infighting, as different ideological factions leak damaging information about rivals in their war for dominance.
Since coming to office Mr Scaramucci has boasted of having a plan to deal with the leaks and staked his political future on rooting them out.
He later deleted the first tweet and appeared to deny calling for his colleague's prosecution.
Mr Scaramucci tweeted that it was a "public notice to leakers" that all senior administration officials "are helping to end illegal leaks. @Reince45".