A survey of parents has found that 72% of parents with school-going children feel the back-to-school spend is a financial burden.
The annual Irish League of Credit Unions' survey, which was conducted by market research company iReach during the period 22-29 June, with a panel of 1,000 people, found that a quarter of parents will have to deny their children some basic school items this year.
More than 25% of those surveyed also said the back-to-school costs will have a negative impact on household bills.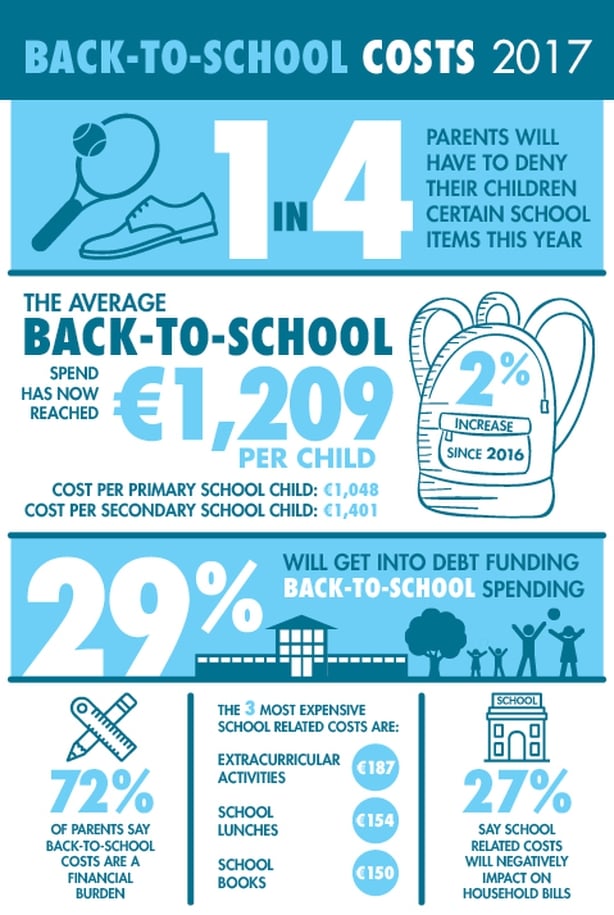 The survey found that the average return to school spend continues to increase and has now reached €1,209 a child, up from €1,185 last year.
29% of parents say they will get into debt funding the back to school spend , down slightly on last year.
Of those who said they would have to borrow, the average amount borrowed also dropped slightly – down from €357 last year to €345 this year.
Emmet Oliver, Director of Communications at the Irish League of Credit Unions, has said the three most expensive school-related costs are extra-curricular activities, school lunches and school books.
Speaking on RTÉ's Morning Ireland, Mr Oliver said one of the positive findings is that uniforms are going down in price.
"Retailers are being very aggressive against each other and you can get uniforms for €5."
He said book prices are being tackled, with the Government taking some action, with book rental schemes making some impact.