Thousands of homes and businesses across counties Louth and Meath face a fourth day without water, as efforts to repair a burst water main continue.
The Managing Director of Irish Water has said the water supply problem currently affecting the northeast could happen elsewhere.
Water is being transported from across the country to help thousands of households in Louth and Meath as efforts to repair a burst water main continue.
Irish Water said it will be Thursday before water supply is restored to 50,000 homes and businesses.
The problem has led to severe disruption to the water supply in the Drogheda area and parts of east Meath since Friday.
Jerry Grant said the utility has replaced around 860km of pipe across the country over the last three years and "a lot of it is asbestos cement".
Speaking on RTÉ's Six One, he said there is around 1,000km of pipe to replace over the next four or five years "and that is only the start of replacing the ageing water main network, not to mention sewers and all of the other challenges that we are facing".
Mr Grant also warned that will take a number of days for the supply in the northeast to be restored in full.
He said he has huge sympathy for people there but was confident the repair would be completed by Thursday.
"We are as confident as we can possibly be ... You can never be 100% certain because there are no guarantees with high pressure water mains...
"So we can't be complacent, but certainly by Thursday afternoon, we are hopeful of having a reasonable water supply back to the area. It will take a number of days for the supply to be restored in full".
Water Infrastructure manager Michael Cunniffe said that despite "critically low" reservoir levels he is confident there is enough supply to ration between households until repair work is completed on the burst main pipe.
Irish Water had hoped supply could be restored by today, however repair work has been more challenging than initially anticipated.
"With all the options we are exploring I would be confident enough that repairs will be in place and well under way to restoring full supply by Thursday," Mr Cunniffe said.
He added: "Our two main service reservoirs are currently very critically depleted.
"However, when demand goes down at night we are able to replenish those reservoirs somewhat in order for us to resupply the critical areas and still maintain our rationing arrangement that we have in place."
Staleen Water Treatment Plant supplies drinking water to Drogheda and surrounding areas, as well as parts of south Louth and east Meath, including Ashbourne and Ratoath.
The burst is located over four metres underground and requires a complex repair.
The age of the pipe has made repair work even more difficult, Irish Water said.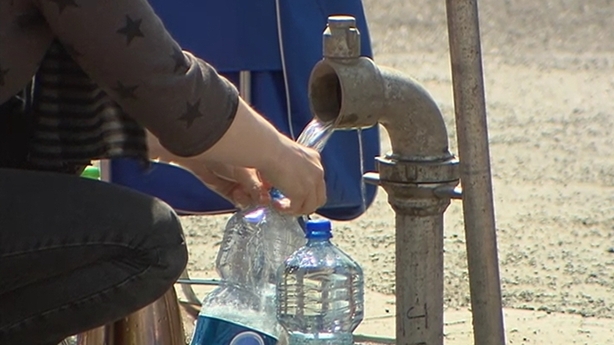 Mr Cunniffe warned a similar crisis could occur again because of years of under-investment in the water network infrastructure.
"With the lack of investment in the structure, that is one of the risks Irish Water has to deal with.
"When we were formed nearly four years ago we took on the infrastructure in poor condition.
"Our investment plans will go to try and replace those high-risk mains," he said.
Speaking on RTÉ's Morning Ireland, Conor Foley, Head of Irish Water operations for the East and Midlands, said all resources available are being used to try to restore supply.
In a statement this morning, Irish Water said it will now be necessary to build another "bespoke" solution "from scratch".
It added: "The rotating water roster, whereby water is rationed to different areas in a planned way has now been temporarily suspended.
"The shut-off should result in more available water in the reservoir.
"Irish Water must completely switch off the water in order to ensure supply to Our Lady of Lourdes Hospital in Drogheda is maintained."
People are advised to bring their own containers to avail of the water at the temporary water stations at locations across the region.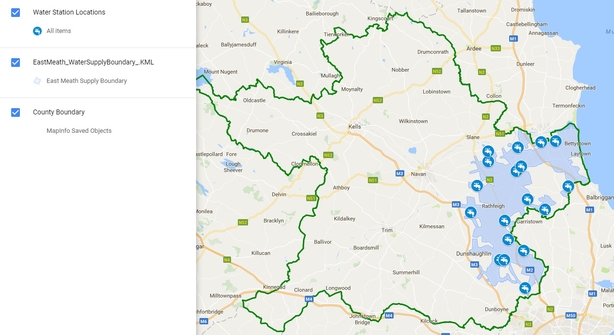 ---
Temporary water stations across east Meath:
Duleek - 3 (church)
Lagavoreen - 1 (entrance to housing estate)
Donore - 1 (church)
Ashbourne - 2 (race hill)
Stamullen - 1 (on Bellewstown Road, outside housing estate)
Kentstown - 1 (Londis car park)
Ardcath - 1 (church)
Ratoath - 2 (National School Fairyhouse Road, and St Paul's School)
Knockcommon - 1 (National school)
Kilmoon - 1 (Snailbox car park)
Curragha - 1 (Church)
Curragha - 1 (church)
Kilbride - 2 (church)
Rosnaree - 1 (church)
Skryne - 1 (GAA pitch)
Grange Rath - 1 (entrance to housing estate)
Ashbourne Town - 2 (Community Centre - Retail Park) Fire Service
Bettystown - Tesco car park
Donecarney - Church
Colaiste Na Hinse Secondary School
Mornington - Harry's Shop
Temporary water stations across Louth:
1 Stameen on the Dublin Road
2 Termonabbey
3 Marleys Lane
4 Bothar Brugha or Hardmans Gardens
5 Ballsgrove shops
6 Shop St North Quay
7 Clogherhead - outside the amusements on Main Street
8 Collon side of St Joseph's Church Lower Mell
9 Right hand side of entrance to Marley's Court, Marley's Lane
10 Drogheda Retail Park, Donore Road (near Costa Coffee)
11 Termonfeckin outside the national school
People are being reminded to boil water taken from these water stations as a precaution.