A man accused of murdering a member of a motorbike club had previously been threatened at his home by rival club members, the Central Criminal Court has heard.
Alan McNamara, 50, from Mountfune, Murroe, Co Limerick, has pleaded not guilty to the murder of 51-year-old Andrew O'Donoghue on 21 June 2015.
Robert Cusack, 28, from Abbington, Murroe, has pleaded not guilty to impeding the apprehension or prosecution of Mr McNamara.
The court has heard Mr O'Donoghue was a member of the Road Tramps club and was shot dead in a territorial dispute between rival clubs.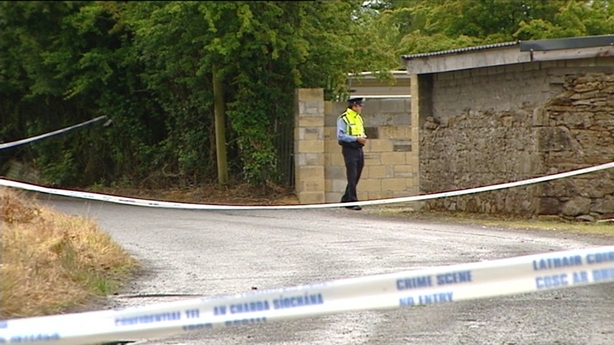 The jury also heard that a collection of weapons including shotguns, batons, iron bars and pepper spray, were found at and near the clubhouse of the Road Tramps motorbike club in Murroe.
Defence counsel for Mr McNamara told the court that the accused man had been threatened by members of the Road Tramps the night before the shooting.
Senior Counsel Hugh Hartnett said three men called to his house and waved a gun and threatened to burn his house down in front of his wife and children.
It followed an earlier incident outside a local pub when Mr McNamara was assaulted and robbed of his jacket because it bore the colours of a rival club.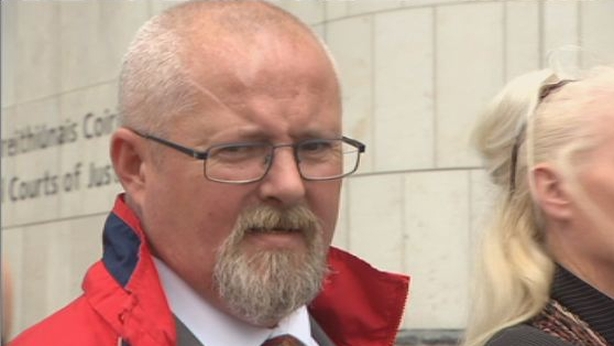 During cross-examination, a member of the Road Tramps club, Seamus Duggan, denied that club members felt entitled to stop rival clubs forming.
He agreed he had held Mr McNamara's wife back while two other men assaulted and robbed Mr McNamara because he wore the colours of a rival club to a local pub on 19 June 2015.
Mr Duggan said he felt he was entitled to hold Mrs McNamara back while the other two men "manhandled" Mr McNamara and took his jacket.
He said the club president would have been informed about the incident immediately.
He also confirmed that all three men were prosecuted in relation to this incident.
Mr Duggan said he did not know if the later incident at Mr McNamara's house occurred.
He denied that club members knew about it but had agreed not to talk about it.
We need your consent to load this rte-player contentWe use rte-player to manage extra content that can set cookies on your device and collect data about your activity. Please review their details and accept them to load the content.Manage Preferences
He denied there was an "omerta" surrounding the incident.
He denied that club members were prepared to use violence against someone they disapproved of.
He was shown photographs of a range of weapons found at the clubhouse and said these were for "protection in case someone tried to break in".
The weapons which were found in the clubhouse and in a car and caravan parked in the grounds included shotguns, iron bars, batons, a knuckle duster, a knife and cans of pepper spray.
It was also put to Mr Duggan that the Road Tramps club had forced another man out of the area ten years ago.
Mr Duggan said he knew nothing about that.
Club member Raymond Nealon, one of two men who took Mr McNamara's jacket from him at the pub, denied ever seeing such weapons in or around the club.
During cross-examination by defence counsel, Hugh Hartnett, he was asked if all this came as a "complete surprise" to him after 30 years of club membership. Mr Nealon replied "yes".
He accepted he was involved in taking the jacket from Mr McNamara because he "didn't want him in our area".
The incident was later "reported" to the club president, Kevin Ryan.
 He said he did not know who burned the jacket.
Mr Harnett suggested he was being "less than candid" in this answer.
'You're in that club all the time. You hold discussions there, you drink there, often stay there. This was a big deal that led to an even bigger deal and you say you don't know who burned the jacket?"
He also denied that he was one of three men who later drove to Mr McNamara's house.
It was also put to him that Mr McNamara had been assaulted years previously by men in balaclavas but he said he knew nothing about this.
He said he knew nothing about another man "being asked in a particular way" to leave the area ten years ago.
Mr Nealon also denied supporting the Ku Klux Klan.
It was put to him that a picture was found in the clubhouse of two members wearing full Ku Klux Klan costumes standing under the Road Tramps logo.
He said these were once used as Halloween costumes and "someone had brought them to the clubhouse and we put them on for a prank".
He accepted the photograph could have given the impression that the club supported the Ku Klux Klan
James McCormack was the third man at the pub that evening but denied there was an organised plan to assault Mr McNamara and take his jacket. He said it "just happened".
After repeated questions he accepted he had punched Mr McNamara in the face.
He gave the jacket to Mr Ryan and presumed he burned it but did not know for sure who had burned it and it was never discussed, he said.
He said he became aware of an allegation that Mr Ryan had gone to Mr McNamara's house later that evening but it was his understanding that Mr Ryan "had an alibi" and had been somewhere else.
It was put to him by Mr Hartnett that Mr Ryan, as club president, "gave the orders" and used a gavel in the committee room.
Mr McCormack said someone had to call the shots and be in charge.