The Government's Summer Economic Statement has confirmed that it will increase capital spending by €500m each year from 2019 to 2021.
This spending on the likes of hospitals, schools and roads will be boosted by funding that was initially set to be put into a rainy day fund.
The statement also puts the amount of extra money - or fiscal space - available next year at around €1.2 billion, with €500m of that remaining once the cost of new measures already agreed are taken into account.
The Government says it still plans to establish a rainy day fund, which will receive €500m a year between 2019 and 2021, as opposed to the €1 billion previously earmarked.
The statement says the change in focus is required to "further develop our economic and social infrastructure so that we can better meet the needs of our people as our economy, and society, grows."
It says the increased capital spending - which is now due to reach almost €7.8 billion by 2021 - will help to "enhance the competitiveness and resilience of the Irish economy."
Minister for Finance Paschal Donohoe had signaled the shift this morning on RTÉ's Today With Sean O'Rourke, which he said was being done to reflect the current state of the economy.
"We are going ahead and setting up a rainy day fund. We are committed to doing that from 2019 onwards," the Minister said.
"I believe the appropriate way of doing that is to put in €500m a year across those years to manage the kind of shocks that may develop externally and at home.
"But what we are doing differently is we are saying we are going to put a further €500m into increased capital investment in the country".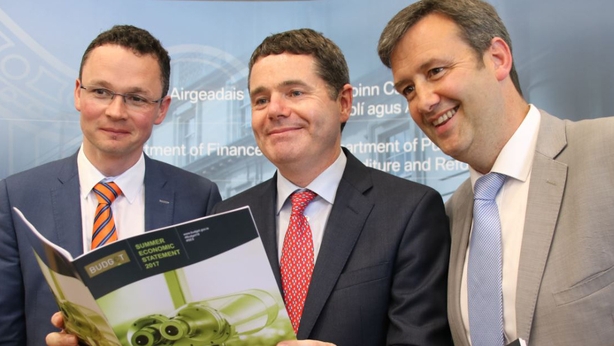 The minister defended the increased investment, saying: "We have visible increased pressure on housing and public transport and climate change and have to respond to that here and now. We face prospects and risks that would have looked impossible years ago."
Elsewhere in the Summer Economic Statement, the Government says it plans to balance its budget next year - while also working towards a debt to GDP ratio of 60%.
It will then target a reduction to 55%, falling to 45% "once major capital projects have been completed".
The country's economic growth forecast has remained at 4.3% for this year and 3.7% for next year.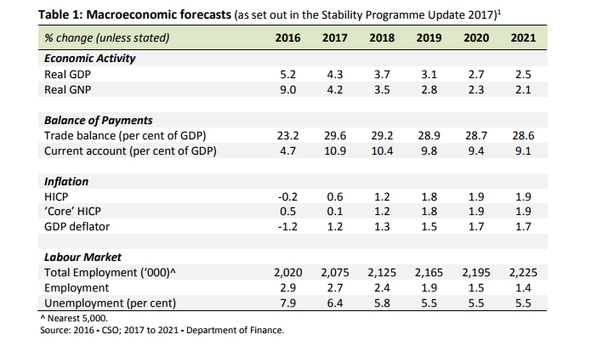 Launching today's Economic Statement, the minister said the economy is growing at a healthy pace and generating jobs-rich growth.
"Indeed, we are now approaching a situation in which jobs are available for all those who want them. Now is the time to build on the gains of recent years, to improve the resilience of the economy and to address the capacity constraints that are emerging," Mr Donohoe said.

But the minister added that we live in an increasingly uncertain world and must plan accordingly.
"To this end, the Government will maintain a rainy day fund while at the same time increasing public investment. We will continue to reduce public debt in order to build up fiscal buffers," he said.
"It is also important to make the taxation system more growth-friendly and the Government will continue to work in this area", he added.
The Government says it will also consider using some of the resources of the Ireland Strategic Investment Fund to support the rainy day fund.
The ISIF was established in 2014 and used the money left over from the National Pension Reserve Fund to support economic activity and employment.
The statement says the fund was established at a time when companies had limited access to capital, but the availability of private sector investment has improved at a faster rate than had been forecast.
On that basis the Government will consider 'reorientating' an element of the fund, while ensuring that the majority of its work continues to go towards "investing for a commercial return and economic impact".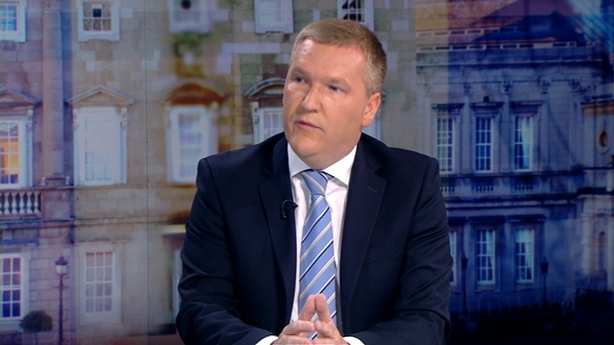 Fianna Fáil's finance spokesperson Michael McGrath said his party would have put €1 billion a year into the rainy day fund from 2019 as originally planned.
He said it was a priority for Fianna Fáil that the rainy day fund should survive as in the event of a downturn, taxpayers could be faced with tax increases.
The rainy day fund acts as an important cushion, he said.
Labour's Joan Burton said the Government's plans on capital spending are not enough and that the Government seems to be adopting a banker-driven approach to the rainy day fund.
Ms Burton said there was no need for a rainy day fund as there were other mechanisms in place.
Richard Boyd Barrett of Solidarity-People Before Profit described the fiscal space as pitiful and said there has been no discussion about increasing taxes on wealth and profits.
He said the fiscal space would have no impact on tackling housing and health issues.
Mr Donohoe has said he has no plans to decrease capital expenditure and his plans announced today are seeking to increase it.