Minster for Foreign Affairs Simon Coveney said that Britain's Brexit Secretary David Davis has agreed to visit the Irish border region with him to hear the concerns of people living in the area.
Mr Coveney said his messages had been "clear and blunt" in terms of Ireland's concerns about Brexit in a meeting with Mr Davis.
In relation to comments from chief EU negotiator Michel Barnier about there being no such thing as 'frictionless trade', Mr Coveney said Mr Bariner was reinforcing the point that there are consequences to leaving the EU.
That has been the EU position from the start, Mr Coveney said, adding that you cannot expect to hold onto the benefits of the EU while leaving the bloc.
Mr Coveney said there needed to be a unique solution found for the border issue in Ireland, and he was determined that he would not be a Minister who would allow the relationship on the island of Ireland to go backwards because of Brexit.
Investigation launched into IAA staff member's comment
Separately, an internal investigation has been launched by the Irish Aviation Authority after a member of its expert staff criticised Mr Coveney in crude terms on social media.
In a posting on a LinkedIn page, the IAA staff member used an expletive about the minister and described him as "arrogant" for his dealings with an Aer Corps officer in 2015.
The posting from early yesterday also included a link to an Irish Times article in which Mr Coveney's contacts with an Air Corps pilot were revealed.
The LinkedIn page has since been deactivated. The IAA staff member's comments received 3 'likes'.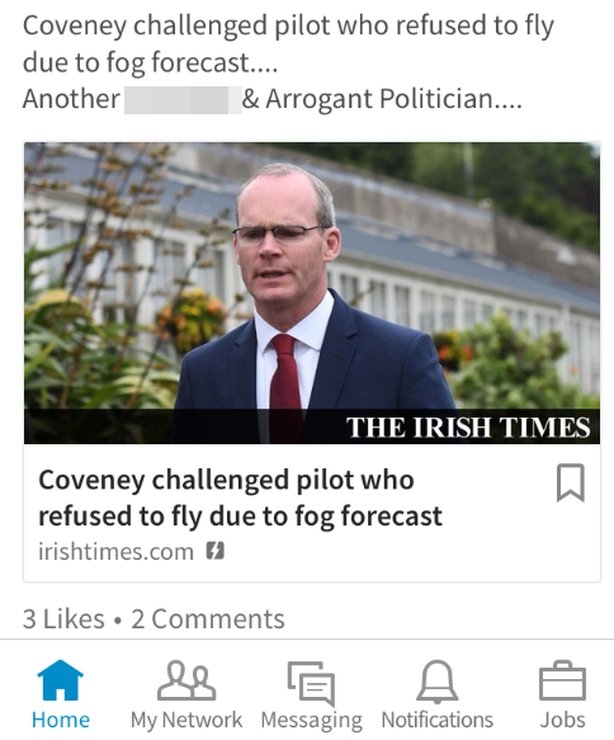 In post In a statement to RTÉ, the IAA confirmed that it was aware of the matter and investigating it. "We are aware of this matter, and the matter is currently being investigated internally", a spokesman said.
In response to questions about the IAA's staff social media policy, the statement said "The IAA has a strict social media policy, which all employees must adhere to. We have no further comment to make on this matter at the time."
Mr Coveney has rejected any suggestion he tried to intimidate the pilot who refused to fly him to Cork because of predicted bad weather.
According to the report in The Irish Times, Mr Coveney contacted the pilot directly after his flight to Cork was cancelled.
The incident happened in 2015 when Mr Coveney was Minister for Defence.
Minister Simon Coveney has rejected any suggestion he tried to intimidate a pilot who refused to fly him to Cork https://t.co/egZNaiYM91 pic.twitter.com/nHiEjoYTIN

— RTÉ News (@rtenews) July 6, 2017
Speaking in the UK, where he was meeting with politicians in relation to Brexit, Mr Coveney said he did not feel reports about the incident reflected the truth.
He said he was a hands-on Minister and this was an example of a hands-on conversation he would have had, but that was not an attempt to intimidate or influence anyone.
Mr Coveney said he had the utmost respect for the Defence Forces in Ireland and it was regrettable that this story seemed to be suggesting something different to that.
Taoiseach Leo Varadkar also rejected the claim when speaking in the Dáil yesterday.