The European Union and Japan have agreed to a major free trade deal in Brussels.
The agreement, which is seen as a boost for the global trading system, comes after four years of talks between the EU and Japan.
Agriculture and food exports from Europe are set to gain full, duty free access to Japan's market under the deal.
The Irish Farmers' Association has welcomed the imminent signing of the deal.
IFA President Joe Healy said the relaxation of trade restrictions would benefit the Irish beef trade in particular.
More info: EU-Japan trade deal factsheet
The big win for Japan is the removal of import barriers on Japanese cars and car parts to Europe.
Tariffs will be removed from 99% of the goods traded between the EU and Japan, although in some sectors lengthy transition periods will apply.
For Ireland, the main potential gain is the opening of Japan's food and agriculture market, until recently among the most restrictive in the world.
🇪🇺 🇯🇵 A political agreement has been reached at ministerial level on an #EUJapan trade deal to be discussed at the EU-Japan Summit tomorrow pic.twitter.com/sYAFUfecEr

— European Commission (@EU_Commission) July 5, 2017
Ireland's exports to Japan in 2015 were worth €7 billion, while we imported €2.8 billion worth of goods and services.
Agriculture Commissioner Phil Hogan spent last weekend in Tokyo along with EU Trade Commissioner Cecelia Malmestrom working out the final sticking points around access for dairy products.
The deal, which comes on the eve of the G20 summit, is seen as a push back against the protectionist policies of the Trump administration and post Brexit Britain.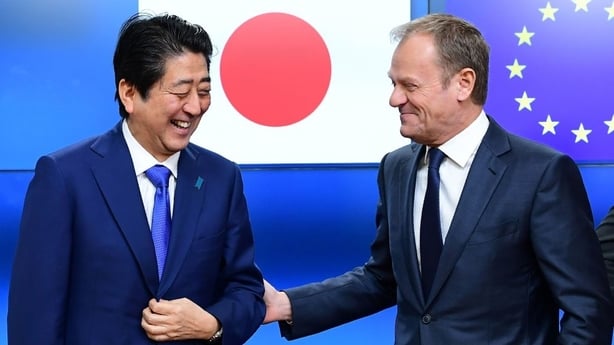 "We promised to do everything in our power to conclude political and trade talks between Japan and the European Union on the eve of the G20 summit. And we did it," European Council President Donald Tusk told a news conference.
"Together, we are sending a strong message to the world that we stand for open and fair trade. As far as we are concerned, there is no protection in protectionism," European Commission President Jean Claude Juncker said.
Japanese Prime Minister Shinzo Abe said that with 40% of world trade, the EU and Japan would form the world's biggest open economic area, accounting for a third of global economic output.