Police in London have said it will be months before the final death toll in the Grenfell Tower fire disaster is known.
Prime Minister Theresa May has revealed that 120 other high-rise buildings also had exterior cladding that failed fire tests.
At least 80 people are dead, or missing and presumed dead, from the inferno that destroyed the 24-storey tower block in west London on 14 June as families and children slept, and that figure is expected to rise.
A six-month-old baby was among the latest victims to be identified, found dead in her mother's arms in the smoke-filled stairwell.
Westminster Coroner's Court opened and adjourned inquests into seven Grenfell Tower victims, including baby Leena Belkadi and her eight-year-old sister Malak.
Retired Court of Appeal judge Sir Martin Moore-Bick has been appointed to lead the public inquiry into the disaster.
Mrs May insisted residents will be given a say over the direction of the investigation and Judge Moore-Brick's appointment is expected to be officially announced tomorrow.
Detective Superintendent Fiona McCormack, the officer in charge of the police investigation, said the final death toll would only be known after officers completed a painstaking search and recovery operation which would take until the end of the year to complete.
She said: "We are many months from being able to provide a number that we believe accurately represents the total loss of life inside Grenfell Tower."
The authorities have been under pressure to say exactly how many people lost their lives amid accusations from local residents that the true figure is being kept quiet.
The blaze in a social housing block close to one of Britain's richest neighbourhoods has become a lightning rod for anger at Mrs May's government with opponents blaming public spending cuts for the fire having such a devastating effect.
Ms McCormack said a list of the tower's occupants from its management company had been inaccurate, and police were using "every imaginable source" - from government agencies to fast food delivery companies - to find out who was in the apartments.
Police had spoken to at least one occupant of 106 of the block's 129 apartments and this revealed that 18 people living in those homes had died.
"That means though, and it is a terrible reality, that there are 23 flats where despite huge investigative efforts we have been unable to trace anyone alive who lived there," Ms McCormack said.
"So at this stage we must presume that no one in those 23 flats survived."
She said it was not clear how many people lived in the 23 apartments, although there had been 26 emergency calls made from people who said they were in the properties at the time.
However, because of the intense heat, the remains of some victims might never be located and some might never be identified. A small number of apartments remain too unsafe for investigators to enter.
The fire broke out in a fridge freezer but spread rapidly, engulfing the entire tower block and police said aluminium tiles and insulation which made up exterior cladding had failed fire safety tests.
Mrs May told parliament that cladding on 120 other tower blocks has flunked tests, showing there was a wider fire safety issue.
"As we have seen from the number of buildings where the cladding has failed the combustibility test..., this is a much wider issue," she said.
"It's an issue that has been continuing for many years, for decades, in terms of cladding being put up in buildings. There are real questions as to how this has happened, why it's happened and how we can ensure that it doesn't happen in the future."
Police have said they will consider manslaughter charges as part of a range of possible criminal offences committed by those responsible for Grenfell Tower and refurbishment work, completed in 2016, which added the cladding.
Ms McCormack said 60 firms involved in the refurbishment were assisting the investigation.
Councils warned about cladding weeks before London fire
Every London council was warned by Britain's fire service that cladding on high-rise buildings could be dangerous just weeks before the tragedy.
In a letter sent to all 33 local authorities and housing providers in the capital in May, the London Fire Brigade urged them to consider if panels could be flammable.
The safety advice came in the wake of a fire at Shepherd's Court in Hammersmith, west London, in August 2016, where cladding was found to have aided its spread.
The letter said: "In the case of this fire, we believe such panels were a contributory factor to the external fire spread."
Flammable cladding is suspected to have accelerated the scale of the west London blaze on 14 June.
In the correspondence, a "number of cases" were said to be found where fire protection on external facades "did not comply" with building regulations.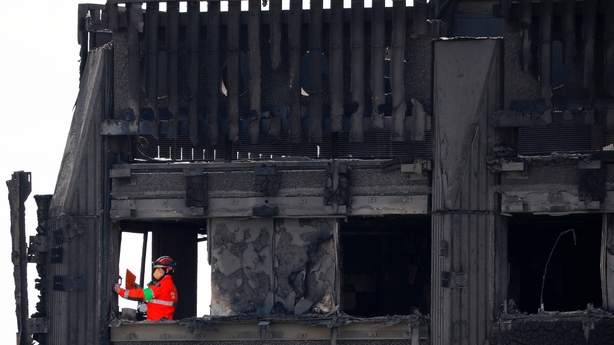 Suggestions were made in the letter, signed by assistant commissioner Dan Daly, that contractors might have believed wrongly that separate safety certificates for glazing also extended to cladding.
The letter said: "In the light of fires that have occurred, I would urge you to consider carefully your arrangements for specifying, monitoring and approving all aspects of future replacement and improvement to building facades and construction of new buildings for which you are responsible.
"Contracts for the provision and installation of replacement elements of building facades, including insulation, replacement double glazing and associated spandrel and in-fill panels must ensure compliance with all parts of Part B if they are to secure public safety and minimise fire losses.
"I would therefore strongly urge that you consider this issue as part of the risk assessment process for premises under your control.
"I suggest that you make sure all relevant information about any replacement window and facade schemes is fully available to fire risk assessors.
"Where no reliable information is available for a given property, it is our general expectation that a strategy to assess the risk and where necessary implement short, medium and long term actions to address the risk.
"This assessment will need to take account of other fire safety measures already in place in the building as well as potential mitigation measures to ensure that any potential fire spread does not pose a risk to health and safety."
The Royal Borough of Kensington and Chelsea, where Grenfell Tower is located, would have received a copy of the letter, LFB said.
Kensington and Chelsea Council said this afternoon: "We know there are many questions relating to fire safety standards.
"The council is committed to cooperating fully with both the public inquiry and the criminal investigation.
"We do not think it is right to make comments relevant to the inquiry or subject to the investigation until this issue has been discussed with the police and the solicitors to the public inquiry once they have been appointed.
"The council does not want to prejudice the fair conduct of the public inquiry in any way. We will update you as soon as those discussions have taken place."