Seventy five high-rise buildings in 26 local authority areas in Britain have failed fire safety tests, Communities and Local Government Secretary Sajid Javid has said.
Hospitals and schools will also be tested to make sure they are not encased in combustible cladding, Mr Javid told the House of Commons this evening.
The tests have been carried out in the wake of the Grenfell Tower blaze in which 79 people are believed to have died.
The so-called combustibility test has been failed by every building tested so far, Mr Javid said.
Grading the material on a scale of fire-resistance, the assessment determines whether the material meets building regulations.
The minister reiterated concerns in Whitehall that councils were not being fast enough in submitting samples for testing.
Meanwhile, sales of the panels attached to Grenfell Tower have been halted for high-rise buildings by its manufacturer.
Arconic stopped global sales of its Reynobond PE cladding for tall buildings, citing concerns about the "inconsistency of building codes across the world".
Coated in aluminium, the material has a plastic core which is suspected to have accelerated the spread of the deadly London blaze on 14 June.
Reynobond PE is subject to stricter regulation on towers in countries such as Germany and the US than it is in the UK.
The manufacturer said in a statement: "Arconic is discontinuing global sales of Reynobond PE for use in high-rise applications.
"We believe this is the right decision because of the inconsistency of building codes across the world and issues that have arisen in the wake of the Grenfell Tower tragedy regarding code compliance of cladding systems in the context of buildings' overall designs.
"We will continue to fully support the authorities as they investigate this tragedy."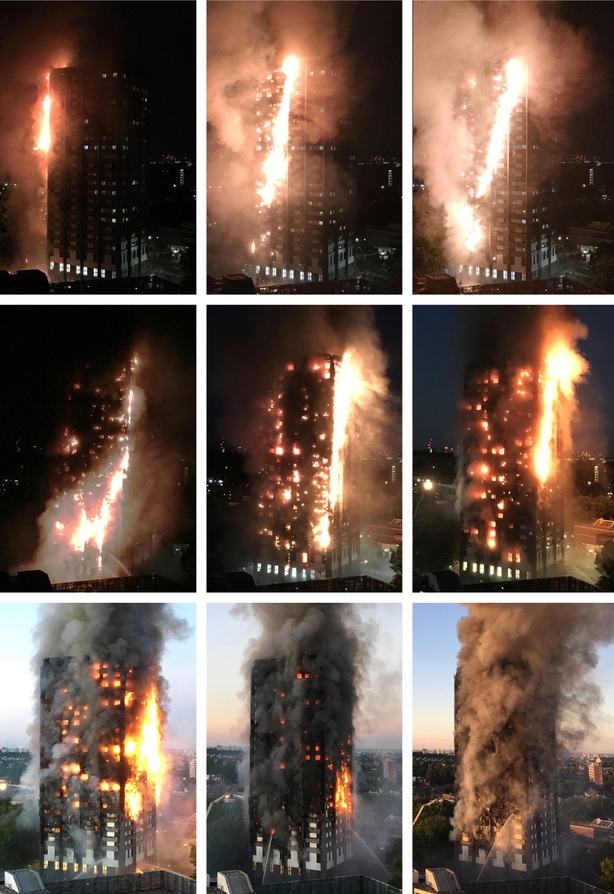 Mr Javid also said that more than 1,000 fire doors were missing from Camden tower blocks evacuated in the wake of the Grenfell fire.
He outlined "multiple fire safety inspection failures" revealed in tower blocks evacuated by Camden Council after firefighters said they could not guarantee the safety of the buildings.
Responding to concerns from MPs over fire safety in tower blocks, Mr Javid said "literally hundreds of fire doors were missing" from the north London tower blocks where thousands of residents were told to leave their homes last week.
He agreed with Labour that concerns over the use of flammable cladding was "not the whole story" and outlined a string of failures over insulation, breaches of internal walls and missing fire doors.
Mr Javid told MPs: "When the commissioners went into those tower blocks in Camden, in their own words, they found multiple fire safety inspection failures, failures which frankly should not have happened in tower blocks of any type, certainly those tower blocks in Camden.
"For example there were problems with gas pipe insulation, there were stairways that were not accessible, there were breaches of internal walls and most astonishingly there were hundreds, literally hundreds, of fire doors missing.
"The estimate by Camden Council itself is they need at least 1,000 fire doors because they were missing from those five blocks.
"So that had nothing to do with the cladding.
"Clearly something has gone wrong there, drastically wrong, but it's an example when these issues need to be looked at very carefully this is happening in this day and age in our country."
Local authorities and housing associations must act immediately to ensure public safety regardless of cost, as the Government will offer financial assistance, Mr Javid said.
Responding to a later question, he did not rule out the potential for further evacuations similar to that carried out by Camden.