A major evacuation is under way this evening on a London housing estate over fire safety fears in the wake of the Grenfell Tower disaster.
Some 800 households in five tower blocks on the Chalcots Estate in Camden are being moved to temporary accommodation after firefighters said they could not guarantee the safety of the buildings, council leader Georgia Gould said.
The buildings have been found to be covered with the same type of cladding as used at Grenfell, where at least 79 people died in a fire on 14 June.
Ms Gould told Sky News that council officials and firefighters had been examining the Chalcots buildings today, and the decision to evacuate was made at around 6.30pm.
She said: "At the end of today, they told us they could not guarantee our residents' safety in those blocks and so I have made the really, really difficult decision to move the people living there into temporary accommodation while we do the urgent works to guarantee safety.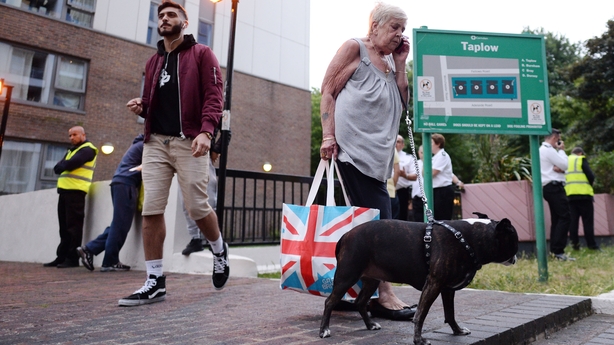 "I know it's difficult but Grenfell changes everything and I just don't believe we can take any risk with our residents' safety and I have to put them first."
A rest centre has been set up at a local library, she added.
Camden Council initially said just some 161 households in the Taplow building on the estate were being "temporarily decanted" to allow up to four weeks of work to be done to the building.
But Ms Gould later told Sky News that the number had increased to encompass all the buildings.
We need your consent to load this rte-player contentWe use rte-player to manage extra content that can set cookies on your device and collect data about your activity. Please review their details and accept them to load the content.Manage Preferences
Meanwhile, manslaughter charges are being considered by detectives investigating the Grenfell Tower fire in London as it emerged the structure had failed fire safety tests.
Metropolitan Police Detective Superintendent Fiona McCormack said a faulty fridge caused the fire.
Cladding and insulation encasing the building did not pass any fire-safety tests, she added, increasing concern the 24-storey block's facade accelerated the blaze's spread.
As police continued to unpick the roots of the disaster, Ms McCormack said a string of criminal offences were now being considered.
Documents and materials had been seized from a "number of organisations", she added.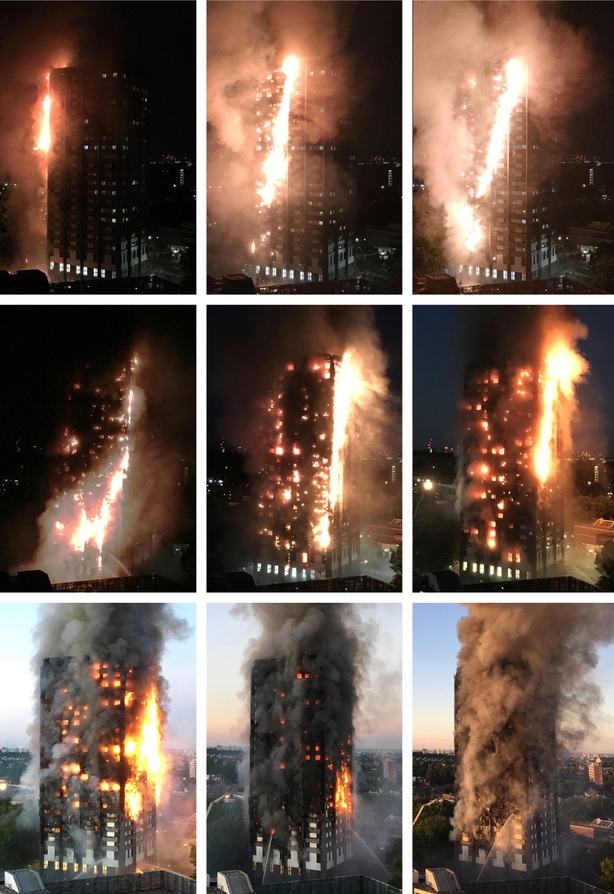 She said: "We are looking at every criminal offence from manslaughter onwards, we are looking at every health and safety and fire safety offences and we are reviewing every company at the moment involved in the building and refurbishment of Grenfell Tower."
A Hotpoint FF175BP model was found to have been the fridge at the centre of the tragedy and followed witness reports from 14 June that one resident claimed his appliance was responsible.
Tests on the building's material as part of the police investigation were "small scale", the officer said, but added: "All I can say at the moment is they (tiles and insulation) don't pass any safety tests.
What we are being told at the moment by the Building Research Establishment is that the cladding and insulation failed all safety tests
The government said at least 11 buildings across eight local authority areas in England were found to have flammable cladding.
Towers in Camden, Manchester and Plymouth are among the at-risk buildings, Communities and Local Government Secretary Sajid Javid said in a letter to MPs.
Hundreds of further buildings are being tested by the British government to see if they pose a fire threat.
While the death toll remains at 79, Ms McCormack addressed concerns that many more had died and were unaccounted for in official figures.
She repeated calls for members of the public with information about people who may have been in the tower at the time of the fire to come forward.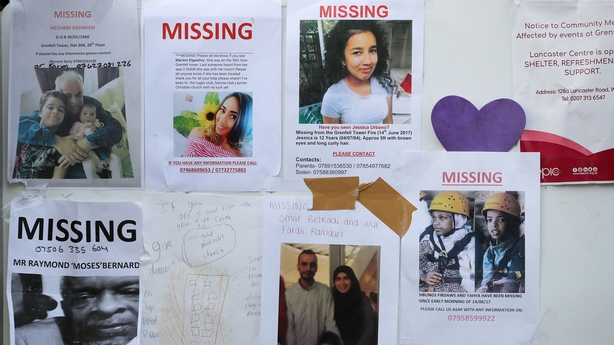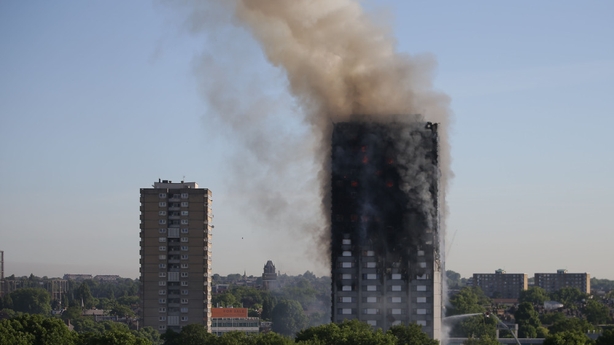 An amnesty for people who may have been living in the tower illegally has been suggested, supported by Mayor of London Sadiq Khan.
Ms McCormack said: "Every complete body has been removed from the building."
She added: "I remain really concerned though that we do not have a complete picture.
"There may well be people who no one has contacted us about - who they know were in the building or have close links to Grenfell Tower.
"We are not interested in people's reasons for not telling us sooner and as the mayor has already said, people should be not be nervous about contacting us.
"The Home Office has assured us that they are not interested in people's immigration status and we are not interested in looking at that.
What we are interested in is making sure that we know who is missing and we take every possible step to establish if they are safe and well
Describing how the investigation was proceeding, she added: "We have been in Grenfell Tower, from top to bottom, last week.
"Next week we will be installing a lift to the outside of the building to assist. But our forensic search may not be complete until the end of the year."
Business Minister Greg Clark said an immediate examination is under way into the Hotpoint fridge freezer.
"This product, which was manufactured between 2006 and 2009, has not been subject to product recalls and this testing will establish whether any further action is required", he said in a statement.
"I have made clear to the company that I will expect them to replace any item without delay if it is established that there is a risk in using them."
Hotpoint 'assisting authorities'
A Hotpoint spokesman said: "Words cannot express our sorrow at this terrible tragedy. We offer our most profound condolences to the victims, those who have lost loved-ones, homes, and possessions, and to their friends and families.
"Our thoughts and prayers are with all those involved, including the emergency services who risked their lives to extinguish the blaze and rescue those in the building.
"We have just been informed that the fire may have originated in a Hotpoint fridge freezer (model number FF175BP).
"We are working with the authorities to obtain access to the appliance so that we can assist with the ongoing investigations. Under these circumstances, we are unable to speculate on further details at this time. We are addressing this as a matter of utmost urgency and assisting the authorities in any way we can. We will provide additional updates as our investigations progress."