The death toll from the Grenfell Tower fire in London has risen to 79, police said, as Britain marked a minute's silence to remember those killed in the fire.
Five people have been formally identified after a blaze tore through the residential block last Wednesday in west London, Metropolitan Police Commander Stuart Cundy said.
The rest are missing and presumed dead.
Mr Cundy said "the awful reality is that we may not be able to identify all those that died" inside what is now a blackened and charred shell.
Five of the victims have been named by police as Khadija Khalloufi, 52, Ya-Haddy Sisi Saye, 24, also known as Khadija Saye, Anthony Disson, 65, 39-year-old Abufars Ibrahim and 23-year-old Mohammad Alhajali.
There were emotional scenes at the site in north Kensington at 11am as firefighters halted work to join residents for a minute's silence held to remember those who lost their lives and all others affected by the blaze.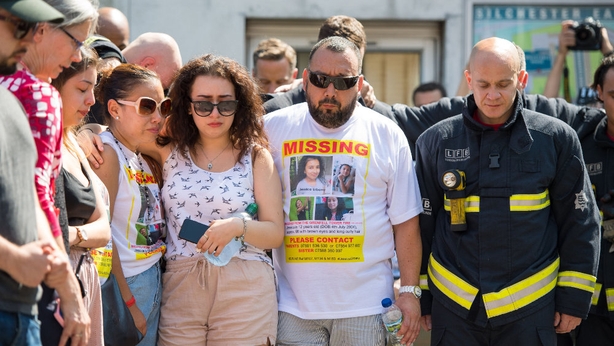 The silence was also observed at government buildings across the country.
A minute's silence was held in remembrance for the victims of the Grenfell Tower fire in London pic.twitter.com/X2Br3Kgq5U

— RTÉ News (@rtenews) June 19, 2017
Mr Cundy said the death toll may still change, but not as significantly as it has in recent days.
He fought back tears as he told reporters at New Scotland Yard about the scene inside the 24-storey tower.
He said it had been "incredibly emotional working in there", adding: "On Saturday I went in myself and went to the top floor.
"And it is incredibly hard to describe the devastation in some parts of that building."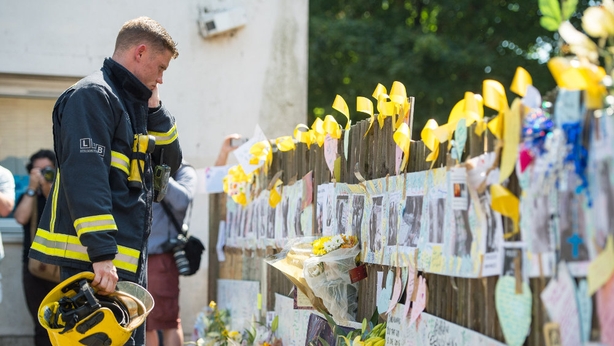 Speaking later outside Scotland Yard, Mr Cundy added: "I have investigated major crime for most of my service and I have seen some terrible things. But I don't think anything prepared me for what I was going to see when I was in there.
"It's hard to describe my feelings, because I cannot imagine, and I would not want to put myself in the position of those families who have lost their loved ones.
"But being with colleagues from the London Fire Brigade when I was in there, colleagues from the London Ambulance Service and other police officers, I think it's fair to say it is incredibly emotional working in there.
"But we will do it with our utmost professionalism and we will do everything we can as quickly as we can to locate everybody who is in there."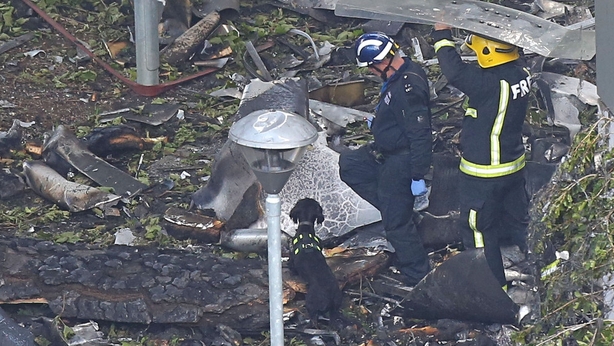 Five people who had been reported missing after the disaster have been found safe and well, he added.
Amid anger in the wake of the disaster, which was described by London Mayor Sadiq Khan as a "preventable accident", the government announced those left homeless will be given at least £5,500 from an emergency fund.
Residents will be given £500 in cash followed by a bank payment for the rest and the money will come from a £5m fund announced by Prime Minister Theresa May on Friday.
Mr Cundy said police had received 70 pictures and videos of the fire from the public and urged them to send more as officers investigate the blaze.
He would not be drawn on the specifics of the criminal investigation of the fire, including whether anyone had been arrested or raids carried out.
He said that a team of some 250 investigators were now working on the case, with a primary aim being to identify victims and inform their loved ones as soon as possible.
Councillor expects death toll to rise
A local Labour councillor has said he believes the death toll will continue to rise.
However, Robert Atkinson said the matter was complicated by the fact that it is not known how many people were in the tower block when the fire broke out.
Speaking on RTÉ's News At One, Mr Atkinson said there will be a series of legal inquiries into the disaster.
He said it was important that all parties involved are given legal advice.
Mr Atkinson said the situation is still chaotic but things are beginning to get sorted out.
Those who have been made homeless, he said, have been given temporary accommodation and the search is on for more long-term accommodation.
Mr Atkinson said he would agree with the requisition of nearby properties that have been kept deliberately empty.
He added there are plenty of empty buildings nearby, including student accommodation at Imperial College.