There were 79 unemployment blackspots in the country last April where more than 27% of the workforce declared themselves as being unemployed, according to the latest results of the 2016 Census published by the Central Statistics Office.
By far the highest number of blackspots was in Limerick City and County, where the average unemployment rate in 18 electoral districts was 35.7%.
This was followed by Waterford City, where 31.5% of the workforce in nine electoral districts declared in the census that they were unemployed.
Dublin City recorded seven similar unemployment blackspots, with four more in South Dublin.
Cork City had five electoral districts where unemployment rates averaged 32.7%.
The Census also found that the percentage of people who declared themselves unemployed was 12.9% for the country as a whole - twice as high as the official Live Register numbers suggest.
Nationally the census measure of unemployment was particularly high among younger people, with 43.6% of those aged 15 to 19 saying they were unemployed as well as 21.8% of those aged between 20 and 24.
The census also showed recorded a very large increase in the number of retired people, which went up by 19.2% in the five years between 2011 and 2016 and now stands at 545,407 people.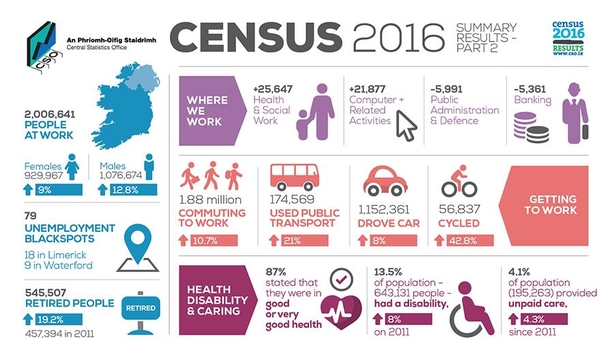 ---
The figures also showed an increase of 10.7% in the numbers of people commuting to work.
The figure stood at 1.88 million people in April last year.
The number of people driving themselves to work went up by 85,180 and now stands at 1,152,631.
In addition, another 77,335 people travel to work as passengers in a car. This compares to a total of 174,569 who use public transport, an increase of 30,144.
The number of people cycling to work increased by 39,803 to 56,837 over the five years since the previous census.
The Census results also show that there were 2.3 million people in the Irish labour force in April 2016, an increase of 3.2% on the figure 5 years earlier.
---
Number of people at work increased
The number of people at work increased by almost 200,000 during that five-year period to 2,006,641.
There were 293,839 non-Irish nationals at work here, which was an increase of 9.6% since April 2011.
The sectors where the increases in employment took place included health and social work where 26,000 extra people found jobs.
Employment in computer related activities went up by 22,000, while construction sector employment grew by 15,000 in the five years to April 2916.
Employment in public administration and defense fell by 5,500 during that period.
---
Minor increase in number reporting good health
The report also contains results on general health and shows a small increase in the reporting good and very good health which was up from 72.5% to 73.8% of the population.
The number of disabled people rose by 48,000 and stood at 643,000 in April 2016.
The number of carers has increased by 8,200 to 195,263, which is 4.1% of the population. The number of hours spent caring has also increased.