Taoiseach Leo Varadkar has named his Cabinet in the Dáil, with a number of new ministers announced.
Mr Varadkar and his Cabinet ministers visited Áras an Uachtaráin tonight to accept their seals of office from President Michael D Higgins.
The Cabinet then gathered in another room to hold its first meeting.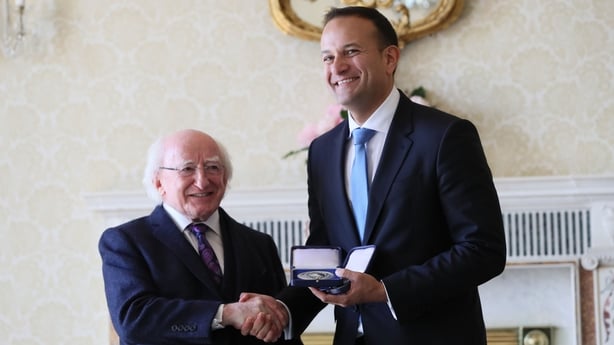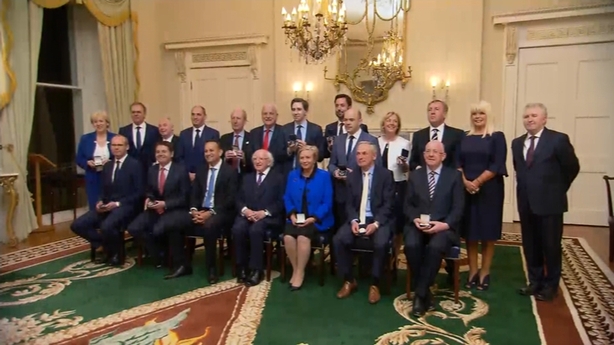 Frances Fitzgerald has remained as Tánaiste and becomes Minister for Jobs, Enterprise and Employment.
The Departments of Finance and Public Expenditure and Reform have been combined, with Paschal Donohoe assuming the ministerial role there.
Mr Varadkar's rival for the Fine Gael leadership, Simon Coveney, has been named as Minister for Foreign Affairs with special responsibility for Brexit, with Charlie Flanagan moving to the Department of Justice.
Leo Varadkar names his new cabinet pic.twitter.com/ructiX2x7P

— RTÉ News (@rtenews) June 14, 2017
Simon Harris will remain as Minister for Health, with Mr Varadkar saying that he will be "responsible for bringing forward legislation to allow for a referendum on the Eighth Amendment in 2018."
Eoghan Murphy has been appointed minister for Housing - a key priority for the Government and a challenging one also with a review of the housing programme planned.
Regina Doherty becomes Minister for Social Protection and Labour, which is a key spending department.
Michael Ring is promoted to Cabinet with regional and community affairs getting its own department.
Chief Whip, meanwhile, will be Donegal TD Joe McHugh. 
Mary Mitchell O'Cconnor was the only minister demoted from cabinet and will now be a Super Junior Minister in the Department of Education.
---
---
It is understood she was disappointed by the move and that may have contributed to the delays in proceedings.
Heather Humphreys sees her department split in half but she retains Arts Culture and the Gaeltacht which is really what the department was before it was expanded in last year's reshuffle.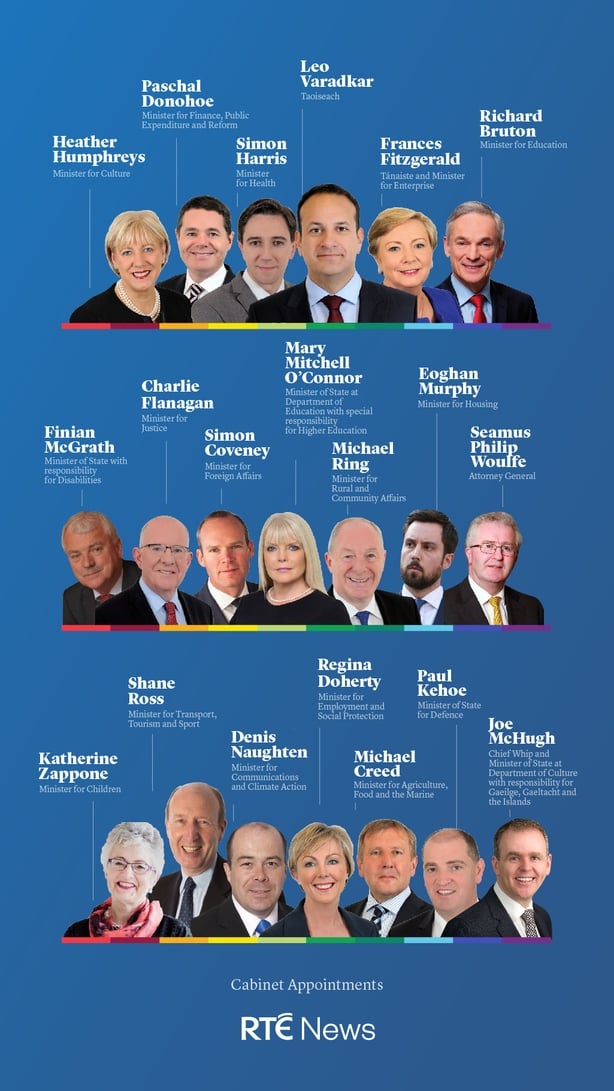 Fianna Fáil leader Micheál Martin responded to the appointments by saying there had been "a policy of drift" within the government departments.
He told the newly appointed members of cabinet they would be measured not on glossy brochures but on the hard substance of whether they are delivering. 
Sinn Féin's Mary Lou McDonald welcomed the prioritising of a referendum on the Eighth Amendment, but called for it to be early in the new year.
Labour leader Brendan Howlin described the amalgamation of the Departments of Finance and Public Expenditure as the Taoiseach's first "mistake". 
Mr Varadkar was earlier elected as the country's 14th Taoiseach in the Dáil by 57 votes to 50, with 45 abstentions.
He then travelled to Áras an Uachtaráin where President Michael D Higgins presented him with his Seal of Office.
President Michael D Higgins presents the seal of the Taoiseach and the seal of the Government to Taoiseach Leo Varadkar pic.twitter.com/66vSL1wVmN

— RTÉ News (@rtenews) June 14, 2017
Mr Varadkar said he would approach the office of Taoiseach with a profound sense of humility and would focus on solutions.
In his first Dáil speech after being elected Taoiseach, Mr Varadkar paid tribute to his predecessor, acknowledging Enda Kenny's role in rebuilding the country.
Leo Varadkar addresses the Dáil after being elected Ireland's 14th head of government https://t.co/e4wwQRuvEP

— RTÉ News (@rtenews) June 14, 2017
Mr Varadkar also noted that Mr Kenny made it possible for him to be an equal citizen in his own country with the same-sex marriage referendum.
He said he has been elected to lead, but he plans to serve.
Mr Varadkar said politics is not perfect but that it is the best way to solve problems and build a better future.
Politics is a way to inspire people to be part of something bigger, he said, adding: "I believe in the power of politics".
Democracy, he said, is not just about diversity, but about proportionality.
The Taoiseach said the equal right to speak must apply to ministers and backbenchers and not just to minority opposition parties.
He said the Government he will lead will be one of the European centre.
The government I lead will not be left or right. The government I will lead will be one of the new European centre - Leo Varadkar pic.twitter.com/TJLjRoL86U

— RTÉ News (@rtenews) June 14, 2017
Mr Varadkar also spoke about building "a republic of opportunity" in which every citizen and every part of the country will get the same opportunity to succeed.
He said he would clash with the Opposition but said he was also willing to work together with them on matters relating to Northern Ireland and to matters outside the State.
After two elections there was a responsibility on all the parties in Northern Ireland to form a new administration, he said.
Quoting Michael Collins, Mr Varadkar said that with the right social and economic system in place, Ireland could become a shining light onto the world.
A century on, that dream lives on in every deputy in the Chamber, he said.
The process to elect Ireland's 14th head of government began shortly after noon and the result of the Dáil vote was announced around 2.20pm.
Nominating Mr Varadkar for the position, Mr Kenny said he was confident Mr Varadkar would carry out the role of taoiseach with energy, integrity and skill.
As the youngest person to hold the office, Mr Kenny said Mr Varadkar would speak for a new generation of Irish women and men, represent a modern and diverse Ireland, and speak for them like no other.
Enda Kenny says Leo Varadkar represents a new modern Ireland and is a voice for men and women in the country pic.twitter.com/I87BR3ABFo

— RTÉ News (@rtenews) June 14, 2017
The nomination was seconded by Dublin Rathdown TD Josepha Madigan, who said Mr Varadkar was a leader for Ireland of today; open, decent and compassionate, a leader of our time and the right person at the right time.
The Opposition responded to his nomination with Mr Martin and Sinn Féin leader Gerry Adams both suggesting Mr Varadkar could drag the Government to the right.
Mr Martin said his party continues to oppose core Fine Gael policies as outlined in its manifestos and its approach to government. 
"However because we wish our country well we also wish Deputy Varadkar well and we hope that he is successful in significantly changing the performance of the government he is a member of and which he will now lead," Mr Martin added.
There is no doubt his unique personal story and success is important for many and should be valued - Micheál Martin on Leo Varadkar pic.twitter.com/hJshH5wMHB

— RTÉ News (@rtenews) June 14, 2017
Mr Martin said that if Mr Varadkar operates in good faith and with transparency, the confidence and supply agreement will run its full course, "but if you see every issue as a partisan opportunity, and seek to manipulate the Budget process to suit immediate electoral strategies then you know the consequences".
While he said it was a special day for Mr Varadkar whose unique personal story and success should be acknowledged and valued, he was sharply critical of the minister's track record and what he said was his courtship of the media.
Mr Martin suggested Mr Varadkar could be a more aggressive and partisan leader and called on him to address the appointment of the Attorney General to the Court of Appeal.
Mr Adams told Mr Varadkar that the difficulties facing the country all demanded a reforming taoiseach.
He said his fear is that Mr Varadkar will drag the Government even more to the right.
Gerry Adams responds to Leo Varadkar's claims that Sinn Féin represents the biggest threat to democracy by calling it nonsense pic.twitter.com/DRR6M8dms8

— RTÉ News (@rtenews) June 14, 2017
The Sinn Féin leader appealed to Mr Varadkar to turn away from the politics of austerity and cuts, and favour instead investing in people and services.
He said Sinn Féin would not support the nomination, but said he looked forward to working with Mr Varadkar on the basis that he is willing to take meaningful action to deal with issues of today.
He added: "I think he is a decent man, I wish him well, I do not know him well though he and I once attended the same pilates class."
Mr Howlin wished Mr Varadkar well, but said his party could not support the nomination.
He said Labour would continue to oppose the Government, saying its Programme for Government, and the confidence and supply agreement which underpins it, are deeply flawed documents.
"For over a year, we have endured this do-nothing Dáil." He added: "I hope that you will restart the engines of Government upon your election."
Mr Howlin called on Mr Varadkar to be compassionate and also to end any access that Tipperary TD Michael Lowry may have to his office or ministers for his support.
Mr Lowry used his speaking time to criticise Mr Howlin's remarks, saying he had the same entitlements to access the system of Government as anyone else in the House.
The Independent TD said he had been reliable in his support of the Government and indicated this would continue.
Independent TD Michael Harty said he planned on abstaining, citing the need for major reform.
Dr Harty said for Mr Varadkar to achieve reform he had to speak to people on the ground, including junior staff on the front line of the health service.
However, Ruth Coppinger said that Solidarity/People Before Profit would not be voting in favour of his appointment.
She told the Dáil that he was taking the helm at a time when the aspirations of the people were beyond what the State was capable of offering.
Her party colleague Richard Boyd Barrett said Mr Varadkar's comments about representing people who got up early in the morning were "a new low in politics".
Richard Boyd Barrett criticises the political and media bubble, saying the past few weeks have all been about personalities and no policies pic.twitter.com/HTQrXbC7rk

— RTÉ News (@rtenews) June 14, 2017
Green Party leader Eamon Ryan said they had not seen a scintilla of Green in Mr Varadkar in the last 20 years.