British Prime Minister Theresa May's gamble on a snap election looks set to cost her overall control of the House of Commons, according to an exit poll released this evening.
The BBC/Sky/ITV poll suggested the UK was heading for a hung parliament, with Conservatives 12 seats short of the 326 they need for an absolute majority in the Commons.
The poll put Tories on 314 seats, with Labour on 266 - up 34 seats.
The Scottish Nationalist Party are predicted to take 34 seats, a significant drop from it current 56 seats, while the Liberal Democrats were polled to get 14 seats, up six.
UKIP was forecast not to take any seats.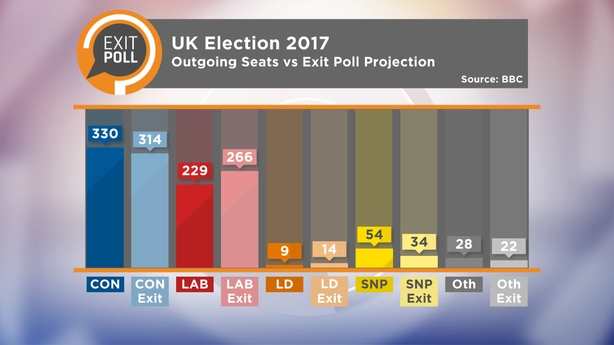 By just after midnight, Labour had five seats declared while the Conservatives had one seat.
Going into the election, Mrs May had 330 seats and had hoped to strengthen her majority.
On 19 April, the day after Mrs May called the election, the Conservatives' poll lead over Labour averaged 17 points. By the final day of the campaign, the lead was averaging seven points.
But as many as one in five voters was still undecided this week after a seven-week campaign overshadowed by the suicide bomb attack on Manchester Arena on 22 May in which 22 people were killed and after Saturday's London Bridge attack where eight people died.
---
---
George Osborne, former UK Chancellor of the Exchequer said: "It is early days. It's a poll. If the poll is anything like accurate this is completely catastrophic for the Conservatives and for Theresa May.
"It's difficult to see, if these numbers were right, how they would put together the coalition to remain in office.
"But equally it's quite difficult looking at those numbers to see how Labour could put together a coalition so it's on a real knife edge..."
The pound plummeted more than 1.5% against the US dollar and 1% against the euro as the shock figures set the scene for political turmoil at Westminster.
Former UKIP leader Nigel Farage has questioned Mrs May's continued leadership of the Conservatives.
"Whatever the true result, the Conservative party needs a leader that believes in Brexit," said Mr Farage.
A senior Labour source noted that Mrs May had said repeatedly during the election campaign that if she lost six seats she would no longer be prime minister.
"If this exit poll is correct, her credibility is completely shot," said the source.
Green co-leader Caroline Lucas said she could "hardly dare hope" that the exit poll was right, adding: "To be clear, Greens will never support a Tory government."
Former Labour MP and Strictly Come Dancing star Ed Balls warned the exit poll could signal a second election. He told ITV: "If this is correct, we'll have another general election soon."
DUP would be serious players in hung parliament, says Donaldson
In Northern Ireland, the first results are expected at around 1am.
The DUP's Jeffrey Donaldson hailed the exit poll, saying his party would be "serious players" in a hung parliament, and vowed to lend its support to the Tories on issues such as Brexit and keeping the UK together.
He told the BBC: "This is perfect territory for the DUP because obviously if the Conservatives are just short of an overall majority it puts us in a very strong negotiating position and certainly that is one we would take up with relish."
Northern Ireland Secretary James Brokenshire defended Mrs May's decision to call an election.
He told Sky News: "I think it was right because ultimately she was presented with a situation in the House of Commons, also the House of Lords of people wanting to frustrate the whole Brexit process."
Northern Irish voters cast a ballot for the seventh time in three years.
The poll comes just three months after a snap Assembly election triggered by the collapse of power-sharing.
In the past three years, there has also been another general and Assembly election, a European election, a local government election and the EU referendum.
The General Election could see numerous seats change hands in Scotland.
A clear indication of who might form the next government is expected to emerge in the early hours of tomorrow morning.
---
How to follow UK Election 2017 on RTÉ
Continuous updates on online/mobile, including results feeds, live blogs and analysis
Watch a Results programme on RTÉ One and News Now until 4am tomorrow.
Listen to an extended edition of The Late Debate on RTÉ Radio 1.
Radio 1's Morning Ireland programme starts at 6am tomorrow.
An hour-long UK Election 2017 will air at 9am tomorrow on RTÉ One and News Now.
---