Police fired an "unprecedented" 50 bullets to kill the three London Bridge terrorists because they believed the attackers were wearing suicide belts, the country's head of counter-terrorism has said.
A white van was driven through pedestrians on London Bridge last night before travelling to nearby Borough Market, where three men got out of it and went on a rampage of stabbing people in restaurants and bars.
Seven people were killed and 48 injured in the attack yesterday, with 21 said to be in a critical condition in hospital.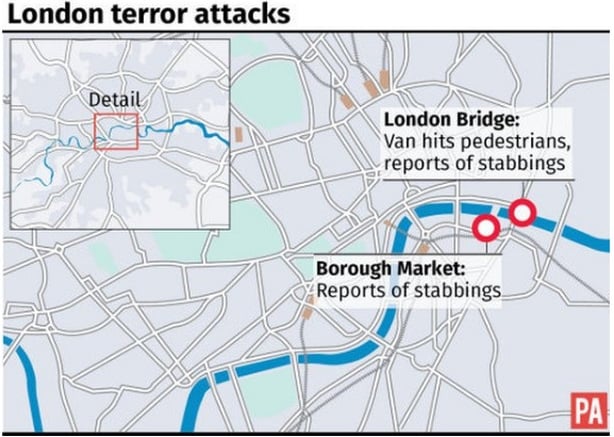 Assistant Commissioner Mark Rowley said: "Eight police firearms officers discharged their weapons.
"Whilst this will be subject to an investigation by the IPCC, our initial assessment is in the region of 50 rounds - in the region of 50 bullets - were fired by those eight officers. The three attackers were shot dead.
The situation these officers were confronted with was critical - a matter of life and death - three armed men wearing what appeared to be suicide belts.
Mr Rowley added: "As the officers confronted a terrorist, a member of the public also suffered a gunshot wound.
"Although the injuries are not critical in nature, they are in hospital receiving medical attention."
Mr Rowley said that the van used in last night's terror attack in London had been recently hired by one of the three attackers.
The so-called Islamic State has claimed responsibility for the attack, according to an affiliated news agency.
Counter-terrorism police and security services have launched a huge investigation to piece together the circumstances of the terror attack.
Police raided a building in Barking this morning that was the home address of one of the three attackers.
Scotland Yard said seven women aged between 19 and 60 were detained under the Terrorism Act while five men aged 27 and 55 were also arrested - one of whom has since been released without charge.
---
Read More:
---
British police have said they will release the names of the three attackers as soon as is operationally possible.
They also said they are searching four properties this evening in relation to the attacks.
British Prime Minister Theresa May condemned last night's attack and said the strategy for dealing with terrorism needed to be reviewed, adding that there is "far too much tolerance of extremism in our country".
The attack was the third to hit Britain in quick succession after a similar incident on Westminster Bridge in March and a suicide bombing that killed 22 people at a pop concert in Manchester less than two weeks ago.
Addressing media outside Scotland Yard, Metropolitan Police Commissioner Cressida Dick said: "Last night we saw another appalling and tragic incident in London - something we hoped we would not see again."
Commissioner Dick said police understood that there were three attackers and they were shot dead by police who were called to reports of a white van striking pedestrians on London Bridge at around 10pm last night.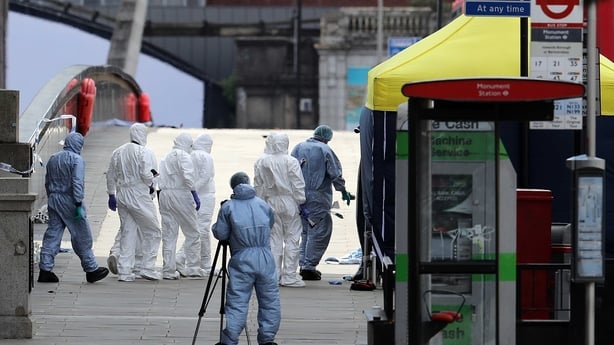 The white van then continued to drive to Borough Market.
The three men left the vehicle and began to stab people, including a British Transport Police Officer.
The suspects were confronted and shot by police at Borough Market within eight minutes of the first call being made.
Commissioner Dick said police do not believe any suspects are at large but they need to make "absolutely sure".
Witnesses reported seeing a vehicle, travelling at about 80km/h, strike people walking along the footpath.
London Ambulance Service Assistant Director of Operations Peter Rhodes said: "We took 48 patients to five hospitals across London and treated a number of others at the scene for minor injuries."
'Threat neutralised within eight minutes'
The commissioner said: "Our understanding is that there were three people involved in the attack.
"We have witness reports of three people armed with knives and three attackers. And we believe the threat that they posed was neutralised within eight minutes.
"Of course it's a very complex and confused scene, and a confused series of events, so it's important that we first of all make sure that there is no one else outstanding.
"We don't believe there is but we must make absolutely certain ... and as I said we have a very large investigation ongoing and we will be seeking to establish whether anyone else was working with or assisting in any way, or helping in the planning of this attack in the way that you would expect.
"So at the moment we believe there were three attackers and we believe they are dead."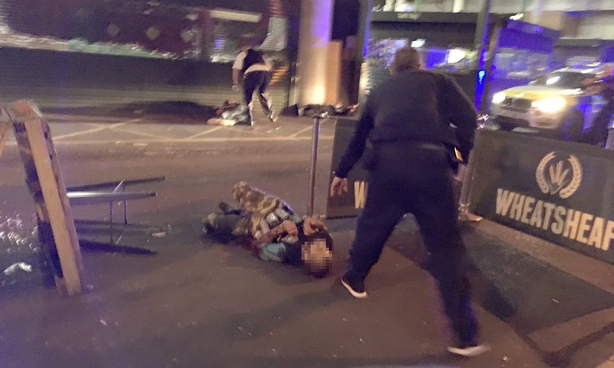 The official terror threat level in the UK is currently at severe, the second highest category.
Commissioner Dick said authorities are already at a "very high level of alertness".
She said: "Severe means that an attack is highly likely, and the threat level was at severe.
"So, we were prepared potentially for an incident as we have been for some considerable time. The threat level is a matter, as you know, for the independent JTAC, the terrorism analysis centre, and they take a whole range of factors into account in setting the threat level.
In my view, we responded extremely well to this ghastly, ghastly incident.
"I can tell you that we will be doing absolutely everything in our power to try to stop such horrendous attack as this.
"We will be working with the government, and with our colleagues in the intelligence services to do so."
Political parties suspend election campaigns
The main political parties have all suspended their general election campaigns in the aftermath of the attack.
The UK goes to the polls on 8 June.
It is the second time that campaigning has been suspended. It was suspended for three days after the Manchester attack on 22 May.
The Joint Terrorism Analysis Centre moved the terror threat up to 'critical' following the Manchester bomb, triggering heightened security measures including the deployment of military personnel to support police under Operation Temperer.
The threat level was last weekend lowered to the second highest category of 'severe'.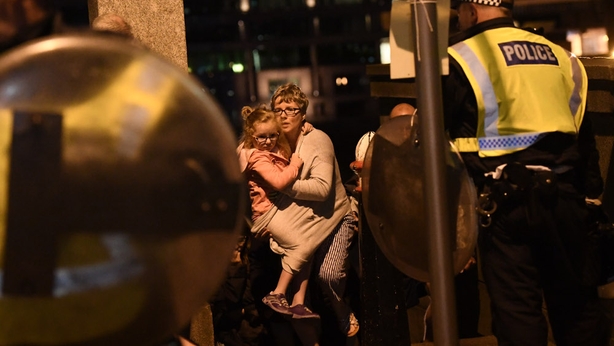 The attack has received widespread condemnation from political leaders, with London mayor Sadiq Khan calling it "deliberate and cowardly".
He said: "This was a deliberate and cowardly attack on innocent Londoners and visitors to our city enjoying their Saturday night.
I condemn it in the strongest possible terms. There is no justification whatsoever for such barbaric acts.
Mrs May said: "Our thoughts are with those who are caught up in these dreadful events."
The government's Cobra emergency committee met today, Downing Street said.
Scotland's First Minister Nicola Sturgeon said: "Following the horrific terrorist attack in the centre of London last night, we are working closely with the UK government and Police Scotland to monitor the situation. Later today I will chair a meeting of the Scottish Government's Resilience Committee.
"My thoughts are with the families and friends of those who have tragically lost their lives and with everyone who has been harmed or affected by these terrible incidents."